We're all in IT together.
Security is still top of mind for executives as the nation (and world) continues to navigate uncertainties brought upon us all by the pandemic. More specifically cloud security and security at the edge are where CIOs are prioritize efforts, and spend according to several studies that are referenced in the articles below. Leading vendors of enterprise IT solutions regonized this emerging trend early-on and have rolled out product improvements or new solutions all-together to help companies more effectively secure their enterprise endpoints as their employees work from anywhere.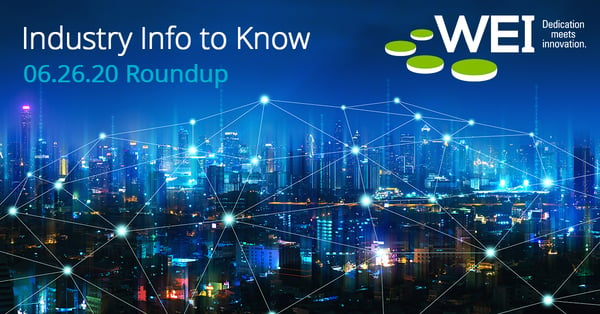 If you're new to our Industry Info to Know weekly blog—welcome! Each Friday you can expect to see a new "Industry Info to Know" blog post from WEI consisting of a roundup of articles from industry experts, analysts, and our partners that we find insightful and helpful. We will also include links to industry news that you need to know about—news that will impact your business so you can plan ahead for it. We all need to help each other right now—we're all in IT together.
There were quite a few articles that caught our attention this week. Let's take a look...
Industry News & Insights
There's No Vaccine For Data Leaks: Why One Cyber Attack Leads To Another
While a vaccine may eventually eradicate COVID-19, there will never be a cure for evolving cyber threats—and no business can afford to forget about their IT health. This article from Forbes discusses ransomware and offers tips for building your business IT immunity.
Read more >>
HPE CEO Talks COVID-19, Racism, Edge-to-Cloud Strategy
Did you catch Antonio Neri's keynote from the virtual HPE Discover? This article from SDxCentral provides a nice summary of his talk and highlights the technologies companies will leverage moving forward as they adjust to a new economic climate and new business needs as the pandemic rolls on.
Read more >>
Future of Work: VDI and DaaS Will be Critical
The recent scramble to implement or expand work-from-anywhere solutions has caused many to give End User Computing (EUC) technologies a second or third look. This blog examines key findings from recent ESG research—including the benefits and challenges of VDI and DaaS technology—to help you make smarter EUC decisions.
Read more >>
Amid Times of Rapid Change, Security Functions Must be Nimble
Fixed-in-place security solutions are anything but agile so when a rapid transition takes place they struggle to keep up. Their policies and configurations are not dynamic, requiring time-consuming, resource-heavy attention to update them for new conditions. Read this Fortinet blog to learn six factors that will help you develop an agile security response to rapidly changing business needs.
Read more >>
Businesses to Spend More on Security as the Number, Size of Cyberattacks Grow
Nearly 70% of organizations expect an increase in the "the number and size" of cyberattacks in the next 12 months, according to Deloitte's Cyber risk in the wake of COVID-19: Building Greater Resilience survey of more than 880 C-suite members and executives. Learn more about the findings from Deloitte's survey in this article from CIO Dive.
Read more >>
Dell Bridges Cloud to Edge With HCI
Dell announced two new VxRail systems that it says extend the benefits of hyperconverged infrastructure (HCI), like automation and simplified operations, to remote and space-constrained edge locations. Learn more about these two VxRail systems, which can help organizations deploy and manage applications and data across clouds, the data center, and the edge using the same software stack and management tools.
Read more >>
HPE Greenlake And Qumulo SHIFT Provide Expanded Cloud Capability
HPE is expanding its Greenlake effort to provide cloud-like self-service pay as you go, a scalable experience for data at the edge, in colocation and data centers as well as in the cloud. Qumulo also announced SHIFT—allowing Qumulo file customers to leverage the ecosystem of cloud-native applications and services attached to Amazon S3—and it's included as part of the standard Qumulo subscription with no Qumulo capacity charge for data in AWS S3. This Forbes article explains how both of these cloud-oriented services can help companies control costs without compromising scale as they emerge from the pandemic.
Read more >>
Nutanix Rolls Out Software to Support Remote IT Teams
Nutanix recently rolled out three products to help remote IT deploy, upgrade, and troubleshoot cloud software from home or a central office. These new tools, which are all available as part of the Nutanix hyperconverged infrastructure (HCI) software stack at no extra charge, provide an immediate benefit to IT teams that are now working remotely because of the COVID-19 pandemic. Learn more in this article from SDxCentral.
Read more >>
Illumio Edge Extends Zero Trust To The Endpoint
The endpoint is the front line when it comes to cybersecurity. Illumio just launched Illumio Edge to extend the concept of zero trust to the endpoint and raise the bar for securing endpoints. This Forbes article shares more details about this new solution offering, which was built around the premise that the first endpoint that gets compromised should be the last device that gets compromised.
Read more >>
C-suite Leading AI Projects as Companies Accelerate Strategies
In the wake of COVID-19, 41% of companies accelerated their AI strategies, with one in every five companies "significantly" speeding up their strategy. Learn more about how business leaders changed or evolved their AI initiatives in this CIO Dive Brief that features research from a survey of 374 line-of-business and technology leaders.
Read more >>
Questions about what you read in these articles? We look forward to tackling your most challenging questions and IT challenges. Contact us today.
Assess your remote workforce strategy today
We are finding that companies were all over the gamut when it comes to preparedness for remote workers at scale. WEI has experience and expertise in VDI and Desktop as a Service solutions from the industry's leading vendors. We invite you to take us up on a VDI assessment or VDI Health Check up today.
How can we help?
We've been in tight communications with all customers and are providing peace of mind with the mantra, "Whatever you need, we'll make IT work." And we've answered the call—helping our customers with everything from supplying equipment, parts, cloud advice, architecture design, VDI, networking support, remote monitoring, staff augmentation services, and so much more... Contact us today to learn how we can help your business.
NEXT STEPS: Explore our other editions of the 'Industry Info to Know' Blog Series:
Subscribe to our blog using the form on this page to ensure you get a copy of this weekly email each Friday in your inbox.