Whatever you need, we'll make it work.
Each Friday you can expect to see a new "Industry Info to Know" blog post from WEI consisting of a roundup of articles from industry experts, analysts, and our partners that we find insightful and helpful. We will also include links to industry news that you need to know about—news that will impact your business so you can plan ahead for it. We all need to help each other right now—we're all in IT together.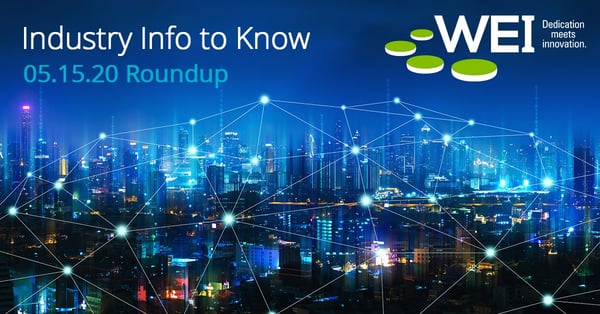 As a team of trusted advisors to your company, we put a lot of effort into perfecting our practice. We are continuously learning, testing, and expanding our expertise across all facets of the enterprise IT landscape. That being said, we have an obligation to stay ahead of trends, look forward to the future of IT and provide insights to help our customers navigate the ever-evolving IT landscape.
Here are the articles that caught our attention this week. Let's take a look...
Industry News & Insights
Adapting Cloud Security and Data Management Under Quarantine
With remote operations in place, organizations face mixed IT environments that could raise new concerns as they maintain operations. This Information Week article features Wendy Pfeiffer, CIO of Nutanix, as she shares her perspective on multi-cloud adoption, security factors, and considerations for operating in a hybrid mode to support your remote workforce.
Read more >>
Shifting From Remote-Lite To Remote Right, Businesses Must Prepare For A Post COVID-19 World
Digital transformations that would've taken months or even years literally happened in weeks, proving transformation can happen quickly if the need arises. However, this doesn't mean the companies have reached the end state of a robust IT strategy for digital business. This Forbes article shares 6 considerations for ensuring your digital transformation strategy is well thought out and all encompassing.
Read more >>
Fortinet CMO: Pandemic Puts SD-WAN, Security in the Spotlight
"As the networking landscape evolves in the wake of the pandemic, security and SD-WAN are more important than ever," said Fortinet CMO John Maddison during this week's Fortinet Accelerate virtual conference. Learn about his other predictions that could potentially impact your business as you plan for the year ahead.
Read more >>
Regulatory Compliance in the Public Cloud
When architecting a public cloud solution with compliance in mind, planning and research need to be top of the list. Each regulatory compliance law or policy will outline the technical requirements that need to be met. This Aruba blog shares a few of the questions to consider for your cloud strategy to ensure compliance if the data has to be stored in the cloud for a lengthy period of time.
Read more >>
Evolving IT into a Remote Workforce
Is it possible to transition most IT staff members into a remote workforce? How would this impact IT organizations, and what would be the challenges? This article from Information Week focuses on the IT roles that can be done remotely, which ones can't and how it will impact the IT organization so you can plan ahead.
Read more >>
Industry Conferences Update
We are actively monitoring the status of industry tradeshows and conferences and will provide updates as they come in. We've been referring to this helpful roundup from SDxCentral: COVID-19 Trade Show Impact (Update).
Assess your remote worker strategy today
We are finding that companies are all over the gamut when it comes to preparedness for remote workers at scale. WEI has experience and expertise in VDI and Desktop as a Service solutions from the industry's leading vendors. We invite you to take us up on a VDI assessment or VDI Health Check up today.
How can we help?
We've been in tight communications with all customers and are providing peace of mind with the mantra, "Whatever you need, we'll make IT work." And we've answered the call—helping our customers with everything from supplying equipment, parts, cloud advice, architecture design, VDI, networking support, remote monitoring, staff augmentation services, and so much more... Contact us today to learn how we can help your business.
NEXT STEPS: Explore our other editions of the 'Industry Info to Know' Blog Series:
Subscribe to our blog using the form on this page to ensure you get a copy of this weekly email each Friday in your inbox.