Whatever you need, we'll make it work.
As a team of trusted advisors to your company, we put a lot of effort into perfecting our practice. We are continuously learning, testing, and expanding our expertise across all facets of the enterprise IT landscape. That being said, we have an obligation to stay ahead of trends, look forward to the future of IT and provide insights to help our customers navigate the ever-evolving IT landscape.
We're committed to gathering and sharing knowledgeable and actionable articles to help move your business forward. Articles that cover the topics that are impacting your business now, so you can adjust your strategy to ensure your business thrives during times of uncertainty and beyond.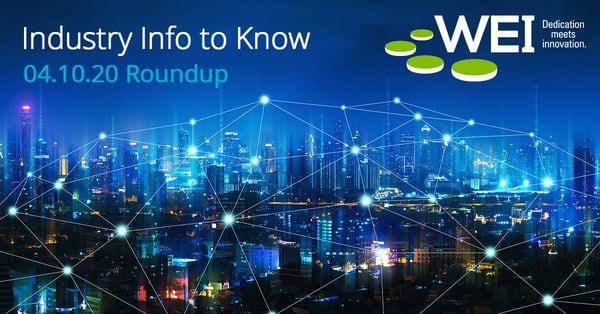 Each Friday you can expect to see a new "Industry Info to Know" blog post from WEI consisting of a roundup of articles from industry experts, analysts, and our partners that we find insightful and helpful. We will also include links to industry news that you need to know about—news that will impact your business so you can plan ahead for it. We all need to help each other right now—we're all in IT together.
Let's take a look at the articles that caught our attention this week.
Industry News & Insights
How to Strengthen Your Security in 2020
This Cisco blog post discusses security technologies that Cisco finds highly important, but had surprisingly low adoption rates according to their 2020 CISO Benchmark report. Are you utilizing these security solutions? Read more >>
Coronavirus Is 'The Epitome' Of A Real-Life SD-WAN Use Case
This article from CRN talks about the acceleration and growth of SD-WAN as users move off the campus network to remote connections. Learn more about why companies are turning to SD-WAN to quickly and securely connect users to applications. Read more >>
Enable Secure, Remote Connectivity with Aruba RAP
This week's WEI blog post from Victor Fabian, Senior Mobility and Access Architect, explains how you can manage remote workspaces with Aruba's Remote Access Points. Learn more about this solution and its benefits. Read more >>
Cloud Security for Rapidly Increasing Remote Work
This Fortinet blog highlights the 'remote worker challenge' and addresses five critical business continuity use cases with cloud security to help you quickly and cost effectively respond to immediate security requirements. Read more >>
What's Better in a Pandemic: VDI or VPN?
VMware's EUC blog tackles this question by discussing the attractive characteristics of each solution, as well as drawbacks to consider, to help you decide what's right for your business as you support an increase in remote workers. Read more >>
Gartner CFO Survey Reveals 74% Intend to Shift Some Employees to Remote Work Permanently
Learn more about the recent Gartner survey of CFOs and Finance leaders who indicated plans to move at least 5% of previously on-site workforce to permanently remote positions post-COVID 19. This is a trend we're watching closely.
Read more >>
Industry Conferences Update
We are actively monitoring the status of industry tradeshows and conferences and will provide updates as they come in. We've been referring to this helpful roundup from SDxCentral: COVID-19 Trade Show Impact (Update).
Assess your remote worker strategy today
We are finding that companies are all over the gamut when it comes to preparedness for remote workers at scale. WEI has experience and expertise in VDI and Desktop as a Service solutions from the industry's leading vendors. We invite you to take us up on a VDI assessment or VDI Health Check up today.
How can we help?
We've been in tight communications with all customers and are providing peace of mind with the mantra, "Whatever you need, we'll make it work." And we've answered the call—helping our customers with everything from supplying equipment, parts, cloud advice, architecture design, VDI, networking support, remote monitoring, staff augmentation services, and so much more... Contact us today to learn how we can help your business.
NEXT STEPS: Explore our previous editions of the 'Industry Info to Know' Blog Series:
Subscribe to our blog using the form on this page to ensure you get a copy of this weekly email each Friday in your inbox.