Whatever you need, we'll make it work.
Each Friday you can expect to see a new "Industry Info to Know" blog post from WEI consisting of a roundup of articles from industry experts, analysts, and our partners that we find insightful and helpful. We will also include links to industry news that you need to know about—news that will impact your business so you can plan ahead for it. We all need to help each other right now—we're all in IT together.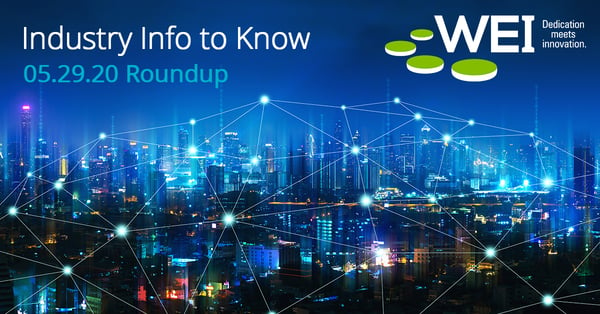 As a team of trusted advisors to your company, we put a lot of effort into perfecting our practice. We are continuously learning, testing, and expanding our expertise across all facets of the enterprise IT landscape. That being said, we have an obligation to stay ahead of trends, look forward to the future of IT and provide insights to help our customers navigate the ever-evolving IT landscape.
Given the changes impacting security, connectivity, scaling virtual infrastructure, supporting a remote workforce, shifting to the cloud, navigating supply chain constraints (the list goes on), IT leaders are looking to the future for next gen technologies with steadfast requirements of flexibility, agility, efficiency, and resiliency. Hopefully this week's roundup of insightful articles can help.
Here are some of articles that caught our attention this week. Let's take a look...
Industry News & Insights
Remote Work and the Threat Landscape
This article from Cisco's security blog takes a look at some of the trends they've seen in a shifting threat landscape, including attackers who are adapting techniques to take advantage of new opportunities. Once you understand what attackers are doing, it's easier to mount a better defense against new trends in this evolving threat landscape.
Read more >>
Pre-pandemic IaaS Priorities: Public Cloud Reigns, Usage to Grow
This article from CIO Dive shares findings from a survey of almost 1,300 technology professionals covering cloud usage, cloud deployment models, and managing cloud costs. It also includes a few recommendations from Forrester.
Read more >>
Fortinet Survey Uncovers Critical Insights for Addressing the Growing Skills Gap
As the concept of remote work becomes the norm and infrastructures become more distributed, the need for IT professionals that have timely security skills and knowledge will only grow. The cybersecurity skills gap is very real, impacting organizations in a way that can increase the potential for data breaches and network intrusions. This Fortinet report also reveals what organizations can do to build out and strengthen their teams.
Read Now >>
Checklist: Is Remote Desktop Services (RDS) Right for WFH Needs?
Like other solutions, organizations can use a Microsoft Remote Desktop client to connect remote employees with business applications, files, and data that live in a central location, such as an on-premises server. This HPE article provides are a few reasons why organizations may want to consider RDS for their remote workforce strategy.
Read now >>
Use of cloud collaboration tools surges and so do attacks
According to McAfee, the number of external threats targeting cloud services increased by 630% since the pandemic crisis began, with the greatest concentration on collaboration platforms. This article from CSO Online shares more details from a recent McAfee report and provides security recommendations, such as implementing a cloud-based secure gateway and more.
Read now >>
Industry Conferences Update
We are actively monitoring the status of industry tradeshows and conferences and will provide updates as they come in. We've been referring to this helpful roundup from SDxCentral: COVID-19 Trade Show Impact (Update).
Assess your remote worker strategy today
We are finding that companies are all over the gamut when it comes to preparedness for remote workers at scale. WEI has experience and expertise in VDI and Desktop as a Service solutions from the industry's leading vendors. We invite you to take us up on a VDI assessment or VDI Health Check up today.
How can we help?
We've been in tight communications with all customers and are providing peace of mind with the mantra, "Whatever you need, we'll make IT work." And we've answered the call—helping our customers with everything from supplying equipment, parts, cloud advice, architecture design, VDI, networking support, remote monitoring, staff augmentation services, and so much more... Contact us today to learn how we can help your business.
NEXT STEPS: Explore our other editions of the 'Industry Info to Know' Blog Series:
Subscribe to our blog using the form on this page to ensure you get a copy of this weekly email each Friday in your inbox.