Whatever you need, we'll make it work.
As a team of trusted advisors to your company, we put a lot of effort into perfecting our practice. We are continuously learning, testing, and expanding our expertise across all facets of the enterprise IT landscape. That being said, we have an obligation to stay ahead of trends, look forward to the future of IT and provide insights to help our customers navigate the ever-evolving IT landscape.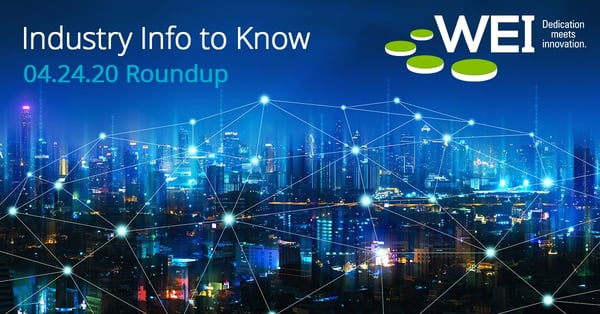 Each Friday you can expect to see a new "Industry Info to Know" blog post from WEI consisting of a roundup of articles from industry experts, analysts, and our partners that we find insightful and helpful. We will also include links to industry news that you need to know about—news that will impact your business so you can plan ahead for it. We all need to help each other right now—we're all in IT together.
There were a lot of great articles that caught our attention this week. Let's take a look...
Industry News & Insights
How Johnson & Johnson IT is Managing a Global Crisis
In this article from CIO.com, J&J CIO Jim Swanson reveals how he and his IT team are helping keep operations running at the $82B healthcare giant, as well as the lessons learned—and silver linings—of leading through crisis.
Read more >>
Dell Unveils $9B Financing Program to Insulate Customers from COVID-19 Fallout
This Forbes article shares details surrounding this week's announcement from Dell Financial Services about the availability of $9B in financing for customers struggling to fund their critical infrastructure needs.
Read more >>
Six Considerations for Business Continuity in the Age of Telecommuting
Security decisions intended to support telecommuting could also help to build resiliency to defend against future cyberattacks. Fortinet offers six considerations for business leaders as they work to execute workforce-enabling goals.
Read more >>
3 Critical Strategies for Protecting Remote Workers Data
As organizations deal with the new rigors of remote-working and the challenge of protecting critical business data on PCs, this article highlights a few Veeam solutions that can help. Get the Veeam perspective on tool configurations as well as some advice for successful data protection.
Read more >>
Empower your Employees to Work Remotely with VDI
VDI ensures your users have their desktop and necessary applications at their fingertips so that they have the same predictable experience every time they log on. Read about 8 advantages of VDI over other remote work technologies in this WEI blog post.
Read more >>
Building a Dynamic Digital Workplace that will Address Today's Challenges and Stand the Test of Time
This article from HPE's VP for IoT and Intelligent Edge Services for HPE Pointnext Services explores key attributes of a 'dynamic digital workplace environment' and shares tips for building a digital environment that effectively addresses remote work challenges and more.
Read more >>
VMware App Volumes on Nutanix
One of the components of end-user computing is application management and delivery. This Nutanix blog article about application delivery for virtual desktops dives into how VMware App Volumes on Nutanix improves availability and performance.
Read more >>
Industry Conferences Update
We are actively monitoring the status of industry tradeshows and conferences and will provide updates as they come in. We've been referring to this helpful roundup from SDxCentral: COVID-19 Trade Show Impact (Update).
Assess your remote worker strategy today
We are finding that companies are all over the gamut when it comes to preparedness for remote workers at scale. WEI has experience and expertise in VDI and Desktop as a Service solutions from the industry's leading vendors. We invite you to take us up on a VDI assessment or VDI Health Check up today.
How can we help?
We've been in tight communications with all customers and are providing peace of mind with the mantra, "Whatever you need, we'll make IT work." And we've answered the call—helping our customers with everything from supplying equipment, parts, cloud advice, architecture design, VDI, networking support, remote monitoring, staff augmentation services, and so much more... Contact us today to learn how we can help your business.
NEXT STEPS: Explore our other editions of the 'Industry Info to Know' Blog Series:
Subscribe to our blog using the form on this page to ensure you get a copy of this weekly email each Friday in your inbox.