Whatever you need, we'll make it work.
Each Friday you can expect to see a new "Industry Info to Know" blog post from WEI consisting of a roundup of articles from industry experts, analysts, and our partners that we find insightful and helpful. We will also include links to industry news that you need to know about—news that will impact your business so you can plan ahead for it. We all need to help each other right now—we're all in IT together.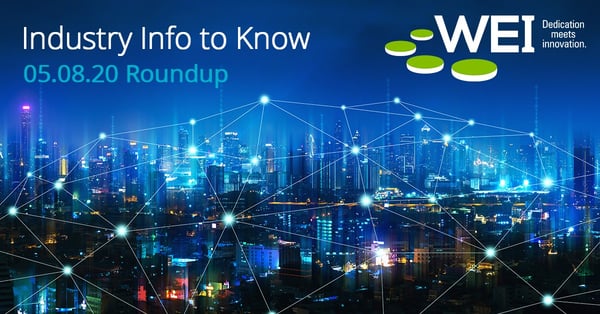 As a team of trusted advisors to your company, we put a lot of effort into perfecting our practice. We are continuously learning, testing, and expanding our expertise across all facets of the enterprise IT landscape. That being said, we have an obligation to stay ahead of trends, look forward to the future of IT and provide insights to help our customers navigate the ever-evolving IT landscape.
There were a lot of great articles that caught our attention this week. Let's take a look...
Industry News & Insights
Remote access needs strategic planning right now
Regardless of the length of the current pandemic disruption, IT must plan for situations in which it will have to support a large distributed workforce. This Network World article discusses why IT pros should start work on a better remote-access architecture, focusing on secure access service edge (SASE).
Read more >>
Nutanix DR Multi Site Recovery
In a world where uncertainty is certain and IT disasters don't come with a warning, IT leaders cannot afford to take the risk of not being prepared. Learn about how Nutanix supports three major DR topologies, with details for multi-site disaster scenarios and recovery workflows.
Read more >>
Simplifying the DevOps and NetOps Journey using Cisco SD-WAN Cloud Hub with Google Cloud
One of the goals of NetOps and DevOps teams is to optimize the application experience, but complex infrastructure and dynamic application flows pose challenges. In this post from Cisco, learn how Cisco SD-WAN Cloud Hub with Google Cloud simplifies workflows by automating the tasks needed to deliver a better application experience.
Read more >>
Last-mile challenges with remote work
How do you create a consistently functional remote work environment when faced with inconsistent home internet connections that your employees are using? This article from an HPE VP shares six best practices that can help you significantly improve the overall functionality of your remote work environment in the face of inconsistent last-mile connections.
Read more >>
IT must think like a business and go beyond traditional business partnerships
This CIO.com article shares how corporate IT at Oshkosh Corporation has shifted its mindset from supporting core technologies to one that is more closely in tune with business objectives and customer needs. Plus, learn about 5 keys steps for digital transformation that helped them transition the business.
Read more >>
Cisco spotlights new IT roles you've never heard of
Cisco's 2020 Global Networking Trends report provided a glimpse into what that future means for IT networking professionals. This article discusses new jobs that will emerge to address changing IT needs such as business translator, network guardian, network detective, and more.
Read more >>
Key stories for IT leaders as companies navigate the pandemic
This pandemic has reshaped the economy, the workforce and how technology supports all of it. CIOs are now looking to the future to prepare for the lingering effects it will have on business technology. See what CIO Dive has pulled together as some of the most pertinent stories to emerge from the last two months.
Read more >>
Industry Conferences Update
We are actively monitoring the status of industry tradeshows and conferences and will provide updates as they come in. We've been referring to this helpful roundup from SDxCentral: COVID-19 Trade Show Impact (Update).
Assess your remote worker strategy today
We are finding that companies are all over the gamut when it comes to preparedness for remote workers at scale. WEI has experience and expertise in VDI and Desktop as a Service solutions from the industry's leading vendors. We invite you to take us up on a VDI assessment or VDI Health Check up today.
How can we help?
We've been in tight communications with all customers and are providing peace of mind with the mantra, "Whatever you need, we'll make IT work." And we've answered the call—helping our customers with everything from supplying equipment, parts, cloud advice, architecture design, VDI, networking support, remote monitoring, staff augmentation services, and so much more... Contact us today to learn how we can help your business.
NEXT STEPS: Explore our other editions of the 'Industry Info to Know' Blog Series:
Subscribe to our blog using the form on this page to ensure you get a copy of this weekly email each Friday in your inbox.