We're all in IT together.
People nationwide are starting to return to work with some version of familiar normalcy emerging as states open up their economies. Work as we know it has forever changed, though, and some companies are proving to be well equipped for the future while others are still struggling with how to adapt and effectively plan for what's next. Flexible, scalable systems proved to be a saving grace for business continuity, but what else is needed should a mandatory quarantine happen again? While there is a second wave of COVID-19 predicted, it is more critical than ever for executives and IT leaders to reflect on how their business responded—what worked and what didn't—and develop long-term strategies to get ahead of potential supply chain delays and hardware scarcity scenarios.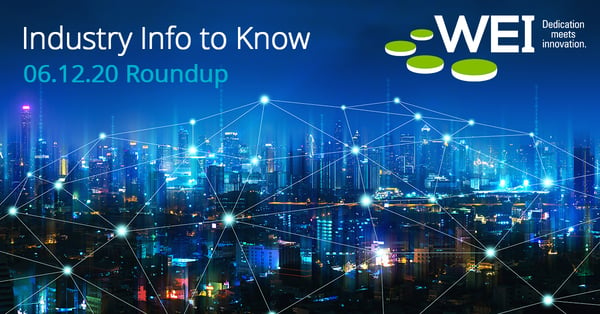 Given the changes impacting security, connectivity, scaling virtual infrastructure, supporting a remote workforce, shifting to the cloud, navigating supply chain constraints (the list goes on), IT leaders are looking to the future for next gen technologies with steadfast requirements of flexibility, agility, efficiency, and resiliency. Hopefully this week's roundup of insightful articles can help!
Here are some of the articles that caught our attention this week. Let's take a look...
Industry News & Insights
Pandemic Increased Automation Appetite, But Adoption Hurdles Await
As stay-at-home orders rolled out, businesses reactively turned to automation amid disruption. Now that automation technology proved it can help businesses adapt to market changes, it still must overcome key hurdles. Learn three ways companies are applying automation in their business, and the three key hurdles that can prevent successful process automation in this article from CIO Dive.
Read more >>
CISOs on CISOs: Securing Operational Technology in a Dynamic Landscape
Operational Technology (OT) security has been in the limelight over the last year as it has become a prime target area for cyberattacks. This Fortinet blog post gathers three CISO perspectives on how organizations can create a secure OT environment without sacrificing the performance and flexibility of OT, and how to best secure OT networks in today's evolving threat landscape.
Read more >>
Top 3 Pandemic Security Lessons Learned (So Far)
While the pandemic isn't over, a few key themes have emerged from recent interviews with security executives. From these conversations with SDxCentral editors, here are the top three security lessons learned (so far) from COVID-19.
Read more >>
Qumulo DataBytes: 90% of Orgs Say On-Prem Storage Should Align to Current & Future Cloud Goals
The faster organizations can create, store, analyze and share their data on-prem and in the public cloud, the faster they can accelerate winning business strategies. Yet it can be difficult for organizations to transition to the cloud. Hear from Qumulo in this blog post about how their cloud-native file system delivers an identical experience and capabilities across edge, data center and multi-cloud environments.
Read Now >>
Are You Prepared For The Next Wave Of The Pandemic?
The good news is that many companies have proven to be remarkably resilient in the face of the pandemic. It is critical that technology and digital leaders now develop a scorecard of sorts to evaluate how they have done, and where they can improve, and to define a playbook for the next wave, should it materialize. Learn more in this Forbes CIO Network article.
Read now >>
25+ Top Hyperconverged Infrastructure Resources
Hyperconverged infrastructure technology has proved to provide the flexibility and scalability IT organizations need to meet rapidly changing business demands. Check out this helpful blog post from Nutanix which shares a comprehensive list of resources all about HCI.
Read now >>
Take Your People from Crisis Management to the New Normal
Changes triggered by the current crisis may be considered "quick fixes" by many organizations. However, what was a necessity during the crisis can become a prime opportunity to implement organizational changes that are long overdue. Hear from HPE's worldwide head of Management of Change team as she shares how to transition from crisis management to the new normal in three key phases.
Read now >>
Questions about what you read in these articles? We look forward to tackling your most challenging questions and IT challenges. Contact us today.
Assess your remote workforce strategy today
We are finding that companies were all over the gamut when it comes to preparedness for remote workers at scale. WEI has experience and expertise in VDI and Desktop as a Service solutions from the industry's leading vendors. We invite you to take us up on a VDI assessment or VDI Health Check up today.
How can we help?
We've been in tight communications with all customers and are providing peace of mind with the mantra, "Whatever you need, we'll make IT work." And we've answered the call—helping our customers with everything from supplying equipment, parts, cloud advice, architecture design, VDI, networking support, remote monitoring, staff augmentation services, and so much more... Contact us today to learn how we can help your business.
NEXT STEPS: Explore our other editions of the 'Industry Info to Know' Blog Series:
Subscribe to our blog using the form on this page to ensure you get a copy of this weekly email each Friday in your inbox.