Whatever you need, we'll make it work.
Times they are a-changing! The dust may be settling a bit as companies are adjusting to a distributed enterprise, which takes on a whole new meaning from what we knew three months prior. IT leaders are reflecting on the quick decisions that were made and are starting to develop strategies beyond a temporary pivot. Business leaders had their business continuity strategies tested and are finding out just how resilient their business is. Business is moving, and sure it looks a little different than how it did a short time ago, but IT resiliency is now the topic of discussion.
Given the changes impacting security, connectivity, scaling virtual infrastructure, supporting a remote workforce, shifting to the cloud, navigating supply chain constraints (the list goes on), IT leaders are looking to the future for next gen technologies with steadfast requirements of flexibility, agility, efficiency, and as you will see in this week's theme of the blog post—resiliency.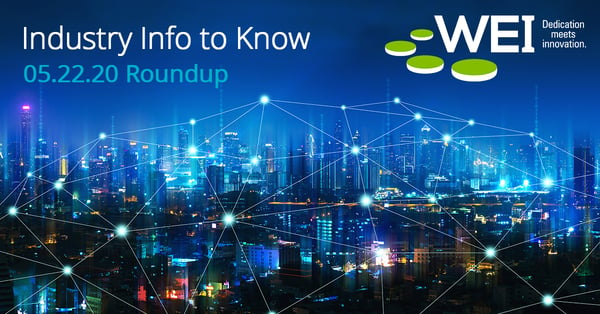 Each Friday you can expect to see a new "Industry Info to Know" blog post from WEI consisting of a roundup of articles from industry experts, analysts, and our partners that we find insightful and helpful. We will also include links to industry news that you need to know about—news that will impact your business so you can plan ahead for it. We all need to help each other right now—we're all in IT together.
As a team of trusted advisors to your company, we put a lot of effort into perfecting our practice. We are continuously learning, testing, and expanding our expertise across all facets of the enterprise IT landscape. That being said, we have an obligation to stay ahead of trends, look forward to the future of IT and provide insights to help our customers navigate the ever-evolving IT landscape.
There were several great articles that caught our attention this week. Let's take a look...
Industry News & Insights
Creating a Resilient and Scalable IT Team with Automation
In a regular business environment, the expectation from IT leaders is to create a resilient IT infrastructure—but it's more important now than ever. Hear from Nutanix in their blog post about automating IT operations, creating ITaaS, and why automation across systems is critical for creating a resilient IT organization.
Read more >>
Life After The Lockdown: IT Spending Priorities Now
IT spending plans for most companies have been significantly, if not radically, altered by the pandemic. This article from Forbes' CIO Network highlights why CIOs shouldn't slash IT spending across the enterprise, but instead look for opportunities for 'enlightened investments'. The article shares considerations for operational resiliency and efficiency, data management, information security, and more.
Read more >>
How to Complete a Cloud Readiness Assessment
Cloud migration is a considerable investment that takes a lot of time and hard work from IT teams. A formulated plan can reduce the time and money it takes to migrate, which is critical given the recent urgency to shift workloads to the cloud. SDxCentral offers detailed guidance for a cloud readiness assessment in this article―oh and by the way, WEI can help you with this.
Read Now >>
Battle-Tested IT: Business Continuity During Uncertain Times
Business continuity isn't just about protecting against data loss but providing always-on access to applications and data. This Nutanix blog post discusses why it's time to switch off the panic button and switch on the built-in resilience and data protection with a programmatic approach for BCDR that encompasses cloud-based DR, security, protection against data loss, and more.
Read now >>
Why Smart Leaders Know a Paradigm Shift Beats the Status Quo
Here at WEI we are committed to challenging the status quo in our mission to develop solutions that deliver real business outcomes for our customers. This article from Pure Storage offers advice for IT leaders navigating change in their IT organization and the importance of incorporating technology with a strong strategy.
Read now >>
Secure and Protect Your Public Cloud
While cloud providers maintain the patching and maintenance of the underlying infrastructure, it is on the cloud consumer to guarantee the security of their environment. This Aruba blog post talks about public cloud security threats and why microsegmentation can help overcome security concerns for both on-premises and cloud environments.
Read more >>
Choose Flexible Edge Deployments Carefully
Each edge computing deployment has very specific requirements, but since the need for edge applications may shift over time, it's important to find an architecture that is flexible enough to meet future needs. Learn more in this article from Network World which breaks down all the components of edge computing and discusses benefits, challenges, and recommendations.
Read more >>
Industry Conferences Update
We are actively monitoring the status of industry tradeshows and conferences and will provide updates as they come in. We've been referring to this helpful roundup from SDxCentral: COVID-19 Trade Show Impact (Update).
Assess your remote worker strategy today
We are finding that companies are all over the gamut when it comes to preparedness for remote workers at scale. WEI has experience and expertise in VDI and Desktop as a Service solutions from the industry's leading vendors. We invite you to take us up on a VDI assessment or VDI Health Check up today.
How can we help?
We've been in tight communications with all customers and are providing peace of mind with the mantra, "Whatever you need, we'll make IT work." And we've answered the call—helping our customers with everything from supplying equipment, parts, cloud advice, architecture design, VDI, networking support, remote monitoring, staff augmentation services, and so much more... Contact us today to learn how we can help your business.
NEXT STEPS: Explore our other editions of the 'Industry Info to Know' Blog Series:
Subscribe to our blog using the form on this page to ensure you get a copy of this weekly email each Friday in your inbox.