Whatever you need, we'll make it work.
As our customers can attest, WEI is obsessed with customer success. Part of our mission is to develop custom IT solutions for our customers that achieve real business outcomes. Customer satisfaction is our number one goal, not just throughout an engagement, throughout our long-term partnership. We want to earn your trust and earn the badge of trusted advisor to your company. That being said, we have an obligation to stay ahead of trends, look forward to the future of IT and provide insights to help our customers navigate the ever-evolving IT landscape. And we are also tech geeks, we love technology. It's exciting to live and work in such a dynamic industry, and we love that we get to be part of that journey with our customers, helping them deliver their next innovation ahead of the curve.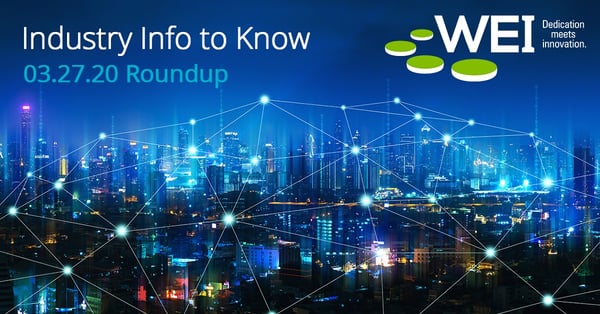 Unprecedented times are no different, and we're taking action. We're committed to gathering and sharing knowledgeable, insightful, and actionable articles to help move your business forward. Articles that cover the topics that are impacting your business now, so you can adjust your strategy to ensure your business thrives during times of uncertainty and beyond.
Each Friday you can expect to see a new "Industry Info to Know" blog post from WEI consisting of a roundup of articles from industry experts, analysts, and our partners that we find insightful and helpful. We will also include links to industry news that you need to know about—news that will impact your business so you can plan ahead for it. We all need to help each other right now—we're all in IT together.
Let's take a look at the articles that caught our attention this week.
Industry News & Insights
What Cisco Networking Learned During the Pandemic
This article from SDxCentral shares findings from Cisco based on the recent impact to their remote connections, call centers, and security; and it discuss their five-pronged approach to enable its employees to work from home.
7 steps to write a coronavirus crisis management plan
Whether you are in planning mode or have moved to more proactive approach, make sure you have all your bases covered with this helpful article from TechRepublic.
How To Get Your People Engaged And Aligned During The Coronavirus Outbreak
Teamwork and collaboration is critical to effectively respond to fluctuating demands on your IT organization as you support a 'new normal.' Get tips for aligning your team for success.
What can happen to a company if coronavirus sends every employee home
This CNBC article written by Nutanix CIO, Wendy M. Pfeiffer, shares three tips for ensuring your infrastructure can support a spike in remote workers, and other unforeseen needs during this time.
Tech Partner Insights
Helping Your Company Accept—and Conquer—Any Business Challenge
This WEI blog post offers advice on delivering a great digital workspace experience with VDI as you scale remote workers.
Secure Remote Access for the Teleworker Accessing the Cloud
Fortinet shares recommendations for a unified security approach for remote access and the advantages of it.
Global Traffic Spikes. No Panic at the Cisco!
Get insights from Cisco's Executive Platform blog about the 'Future of the Internet' thanks to the recent record-breaking traffic spikes.
How to Enable Your Remote Workforce with VMware
This page from VMware is jam-packed with helpful content around the various VMware solutions companies are using to enable and secure a remote workforce with business continuity top of mind.
Industry Conferences Update
We will also be actively monitoring the status of industry tradeshows and conferences and will provide updates as they come in: COVID-19 Trade Show Impact (Update).
Assess your remote worker strategy today
We recognize one of the major challenges facing our customers is around supporting remote workers and providing them the same experience as if they were working from the office. WEI has experience and expertise in VDI and Desktop as a Service solutions from the industry's leading vendors. We invite you to take us up on a VDI assessment or VDI Health Check up today.
NEXT STEPS: Subscribe to our blog using the form on this page to ensure you get a copy of this weekly email each Friday in your inbox.