We're all in IT together.
2020 has presented CIOs and IT Executives with unforeseen health and humanity challenges that affected the way business gets done, and significantly impacted how enterprise IT supported their users. And it's been one thing after another. Technology limitations were tested, as well as your company's leadership to lead through uncertainty. It's been a busy (and interesting) year for sure, and hopefully this week's roundup of articles can help as your company continues to architect a resilient IT environment for operating in a new normal—one that keeps employees productive and secure from where ever they choose to work.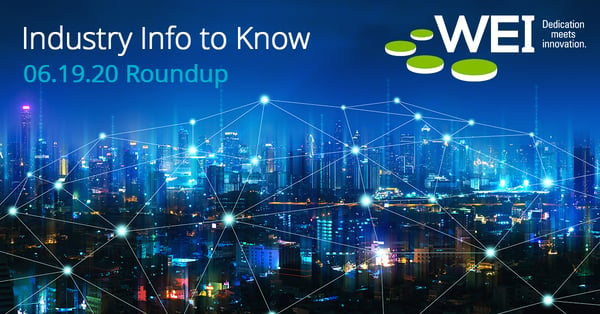 There were quite a few articles that caught our attention this week. Let's take a look...
Industry News & Insights
SASE Is Here to Stay
Secure access service edge, better known by its acronym SASE, is quickly crystallizing as the way forward for the distributed enterprise. Read this article from SDxCentral to learn about SASE, why you should consider getting it, and how it may impact the adoption of SD-WAN in the enterprise.
Read more >>
Finding the New Normal: Contact Tracing Can Keep Federal Workers Safer
This Aruba blog discusses the concept of leveraging your existing wireless infrastructure to facilitate contact tracing and location tracking. The post offers questions to consider as you develop your objective, how Aruba addressed this problem, and of course offers tips for how Aruba wireless solutions can help.
Read more >>
Defining a Data Privacy Strategy in the Digital Era
Personalized customer experiences, automated business operations, and data science-driven insights all depend on the quality and volume of your data. That's why your data privacy strategy must not be solely compliance-driven. This article from CIO.com discusses three key steps to help your business redefine your data privacy strategy.
Read more >>
CISO on CISO: A Discussion on Zero-Trust Network Access
With an ever-expanding digital infrastructure and an increasingly sophisticated threat landscape, IT leaders are facing pressure daily to establish and maintain trust across their networks. This Fortinet blog provides insights from two Fortinet CISOs on areas or technologies that provide the most "bang for your buck" with regards to securing organizations using the Zero-Trust model and offers best practices.
Read Now >>
Intelligent Automation and the Rise of Strategic IT
From adapting to unprecedented macro-economic changes due to the pandemic, to creating more cost-effective operations for existing functions, businesses are rapidly adopting new technology that enables intelligent automation. Read this opinion piece from Nutanix that talks about the adoption of automation across industries and the positive outlook ahead for balancing "human work" and "machine work."
Read now >>
Secure Telework: Addressing the Needs of Your Remote Super Users
Most companies have figured out how to enable employees to connect back to the data, applications, and assets they need to do their work. But every organization has a group of employees with specific challenges in this new WFH paradigm—they need faster, more reliable, and more secure access to a wide variety of resources (including applications and data) than your other remote workers. Hear from Fortinet about how their Secure SD-WAN solution can address these Super User needs.
Read more >>
The Path Forward Requires Empathy and Transparency in Leadership
Forward-thinking CIOs, IT executives and other line-of-business leaders recognize the importance of a whole company approach to fostering change, creating a better culture and business continuity during this global crisis. This article from CIO.com calls on executive leadership to reflect on how they will lead their companies through change amidst some of those most unique challenges ever presented.
Read now >>
Intent-Based Networking Innovations: 5 New Ways Cisco Helps IT Run Faster and Smarter
Cisco has continued to invest in their intent-based networking (IBN) platforms to ensure your IT organization is able to say "yes, we can absolutely do that" when your business leaders have a new digital initiative, regulation or disruption to solve. Read this blog from Cisco to learn about the latest IBN innovations that deliver new advanced insights and automation capabilities.
Read more >>
Leveraging Fortinet's Dynamic Cloud Security Offerings to Secure VPN Connections
A distributed remote workforce has become the new reality for many organizations, and they continue to look for ways to enhance security, especially when multiple devices are being used on personal networks to connect back to corporate networks. This blog post from Fortinet shares how three enterprise organizations are leveraging FortiGate-VM solution to secure VPN connections to the cloud, providing seamless VPN connectivity to critical business applications located in the cloud.
Read now >>
Questions about what you read in these articles? We look forward to tackling your most challenging questions and IT challenges. Contact us today.
Assess your remote workforce strategy today
We are finding that companies were all over the gamut when it comes to preparedness for remote workers at scale. WEI has experience and expertise in VDI and Desktop as a Service solutions from the industry's leading vendors. We invite you to take us up on a VDI assessment or VDI Health Check up today.
How can we help?
We've been in tight communications with all customers and are providing peace of mind with the mantra, "Whatever you need, we'll make IT work." And we've answered the call—helping our customers with everything from supplying equipment, parts, cloud advice, architecture design, VDI, networking support, remote monitoring, staff augmentation services, and so much more... Contact us today to learn how we can help your business.
NEXT STEPS: Explore our other editions of the 'Industry Info to Know' Blog Series:
Subscribe to our blog using the form on this page to ensure you get a copy of this weekly email each Friday in your inbox.