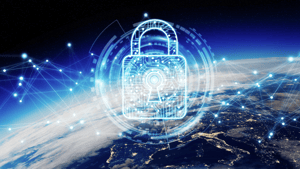 Working to keep up with the speed of business, especially on a global scale, has companies reconsidering how they operate – and digital transformation is at the top of their minds. But despite its wide-ranging advantages, digital transformation also comes with additional risks, and increases the complexity of an already-complex security architecture.
Top challenges faced by security leaders
For IT and cybersecurity leaders, digital transformation initiatives create business changes that result in new technological realities in three core areas:
Migration of workloads and applications to the cloud
Rapid expansion of IoT devices across multiple environments
Expanded business presence across distributed markets and geographies
But as we just covered, these new realities also create new problems. Let's take a closer look.
1. Expanding Attack Surface
Sensitive data can now live across multiple clouds, and within reach of a growing number of IoT devices. Enterprise mobility means traffic is moving across the public internet instead of private networks, and extends to the edges of the network, from mobile devices and wireless access points.
To combat these new vulnerabilities, many organizations have deployed an array of disaggregated point security products. In fact, as many as three-quarters of security organizations admit their security architecture is often fractured, and nonintegrated, leaving multiple security and compliance gaps that wastes staff resources and increases risk – leaving security teams to address threats reactively instead of proactively.
2. Advanced Threat Landscape
The number and frequency of security threats continues to grow, with a noticeable increase every quarter. This is due in part to the availability of Malware-as-a-Service (MaaS), and other on-demand services on the darknet.
Advanced threats are also becoming more sophisticated, with many of them now featuring multi-vector attacks, targeting different points on the attack surface in a coordinated swoop. Now an attack can blitz an organization from a central data center out to the network edge, targeting a full spectrum of endpoint devices, and applications across on-premises and cloud environments.
These advancements make it more difficult to detect and respond to breaches, extending the average time of detection by a full week.
3. Greater Complexity
The breadth of point security products, and the growing disaggregation of the security architecture, is increasing the complexity of security management for enterprises. Upwards of 75 different security solutions are used by the average enterprise, many of which address only a single element of the attack surface or compliance requirement.
This increased complexity is stretching already overburdened cybersecurity teams, and hiring additional employees to handle the work is made difficult by the severe shortage in professionals with the right set of skills.
Protect your enterprise with Fortinet Security Fabric
The Fortinet Security Fabric addresses these security challenges by providing broad visibility of the entire digital attack surface, integrated AI breach prevention, and automated operations, orchestration, and response. The Security Fabric contains eight different solution areas.
1. Multi-Cloud Security
Fortinet solutions for cloud security provide superior visibility, protection, and control across public, private, SaaS, and hybrid cloud environments. Fortinet Cloud Security offers single pane-of-glass visibility and unified security across multiple cloud deployments.
2. Secure Access
Enterprises with distributed branch locations face complexity in a world of multi- and hybrid-cloud deployments. The Fortinet SD-Branch solution integrates Fortinet Secure SD-WAN with the LAN at each branch location and includes common management tools on a single pane of glass. With SD-Branch, organizations have improved visibility at the branch and corporate levels, and can enable security and networking processes.
3. Security Operations
The Security Fabric brings in context from network elements beyond the Fortinet family of products (i.e., preexisting infrastructure) to enhance security operations. This provides organizations with comprehensive protection that covers both IT, and security risk management, across the entire enterprise. FortiSIEM, FortiAnalyzer, and FortiManager, as well as FortiGuard threat intelligence data, collectively address these needs.
4. Network Operations
As organizations embrace digital transformation, they unintentionally create complex, vulnerable network environments that are difficult to secure. Organizations need a security strategy that prioritizes automation-driven network operations that help prevent network breaches. Fortinet's Network Operations Solution provides an integrated security architecture with automation-driven network operations capabilities that can eliminate breaches, and unify siloed environments.
5. Endpoint and Device Protection
The growth of ransomware, increase in exploits, and lack of shared intelligence among disparate security products results in a slower, less effective endpoint threat response. Fortinet Endpoint and Device Protection Solutions offer the necessary IoT and device security to see, and control, all devices across the entire network. With proactive endpoint protection, organizations can ensure their networks are secure from the latest threats.
6. Application Security
Attacks that target applications require additional protections that a firewall or an intrusion prevention system (IPS) cannot provide. Organizations need web application firewalls, application delivery controllers, and sandboxing to address the latest threats. Within the Security Fabric, web-based applications receive more protection than if point security products were used.
7. Fabric Connector Automation
Fortinet Fabric Connectors deliver turnkey, open, and deep integration into partner technologies and platforms in multi-vendor ecosystems, enabling security automation and simplified management. By integrating with customers' multi-vendor ecosystems, Fortinet Fabric Connectors synchronize security with dynamic operational changes, automate security tasks, support DevOps processes, and time-to-market needs, while ensuring coverage of the entire attack surface from Internet of Things (IoT) devices to the cloud.
8. API's
Technology alliance partners integrate with the Fortinet Security Fabric via APIs to actively collect, and share threat and mitigation information, to improve threat intelligence, enhance overall threat awareness, and broaden end-to-end threat response. The APIs enable automated operations through dynamic sharing of local and global threat intelligence across security components, which can use that information to orchestrate a coordinated, rapid threat response to stop cyberthreats anywhere along the attack chain.
Get ready for digital transformation with WEI
Digital transformation is an opportunity to increase flexibility and cost efficiency, as well as an opportunity to build better experiences for the customer. Make sure your enterprise is prepared for the risks that come with it.
NEXT STEPS: Check out the white paper below to learn how other IT leaders have started to shift their approach to enterprise security.