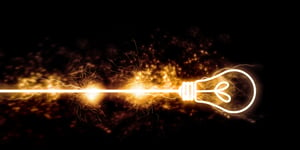 In today's digital world, businesses with high-functioning IT departments have a significant advantage over their competition. More and more companies now choose to transform their organizations and redefine their IT services. If done correctly, digital transformation can revolutionize the way IT departments respond to dynamic business needs, thereby maximizing their potential and enabling them to serve customers and staff better. Digital transformation requires a strategic approach. The following tips can help you develop a robust plan for digital transformation within your organization.
1. Use Digital Transformation to Meet Business Goals
Digital transformation does not mean just modernizing your IT department with state-of-the-art technology. True transformation reinvents the way your company uses technology to meet goals, maximize efficiency, and remain competitive. A successful transformation strategy clearly defines business-wide goals and seeks to turn IT into a valuable partner for achieving those objectives. Business leaders often consider IT to be a reactive branch of the company, existing only to solve technical problems as they arise, and many organizations feel that IT is a hindrance to success. Through digital transformation, IT becomes highly proactive, driving innovation and giving the organization an edge over its competition.
2. View IT as a Valuable Business Service
For a successful transformation, IT leaders must adopt a service-oriented mindset and strive to turn the department into a valuable resource for customers and employees. An effective digital transformation strategy provides IT with the essential tools to help maximize employee productivity, strengthen data security and improve responsiveness and agility.
With the right tools and mindset, the IT department can use pooled data and metrics to elevate customer service and develop innovative strategies for better customer relations. A digitally transformed, high-functioning IT organization not only operates more efficiently at a reduced cost, but it also helps maximize profits by creating and growing new revenue streams.
3. Migrate to the Cloud
A robust digital transformation strategy includes implementing a "cloud first" policy. All new applications and workloads should be built and hosted on a cloud infrastructure unless there is a viable reason to use a different architecture. Organizations can choose from private, public, or hybrid cloud solutions, but the most efficient IT departments use multi-cloud environments to take advantage of the benefits offered by each option as needed, ensuring that every application can be used to its full potential.
4. Utilize Multiple Types of Infrastructures
The most successful digital transformation strategies create increased flexibility by using multiple computing architectures. When IT departments have a mix of infrastructures to choose from, they can ensure that workloads are run on their best-suited platforms. The flexibility to move workloads as needed helps reduce bottlenecks and maximize efficiency. IT organizations should always re-evaluate workloads and relocate them when necessary, to keep applications running at peak performance.
Efficient relocation of workloads is impossible without the right tools and expertise. A winning transformation strategy focuses on increasing network bandwidth and scalability, utilizing software-defined storage options and employing straightforward data migration tools and methods. Digital transformation leaders often choose to partner with IT experts who can help them determine the right infrastructures and tools for optimizing productivity.
5. Continuously Seek to Improve
Digital transformation is an ongoing process, not a one-time event. Organizations should always be on the lookout for ways to improve their operations and optimize their data centers. A successful digital transformation strategy offers flexibility and leaves room for new services as they become available, ensuring that your IT organization always has the tools it needs to fulfill company goals. Business needs are continually changing, and digitally mature companies allow their IT departments to fine-tune their operations proactively for sustained profit maximization.
With a robust digital transformation strategy, your IT department can become a key contributor to your company's success. A solid strategy identifies business goals and employs the optimal digital tools and methods to turn IT services into a critical component of meeting business goals. Multicloud environments and a balanced mix of infrastructures give IT the ability to utilize the best platform for each application and relocate workloads as needed, while flexibility and a service-oriented mindset create a department that functions as an invaluable resource for both staff and customers. With the right tools and expertise, IT will help maximize efficiency and drive innovation. Fortunately, WEI has is an IT solutions provider with decades of experience that can help to guide your organization through the process of digital transformation.
Next Steps: Download our white paper, "How Hybrid cloud Can Launch Your Digital Transformation," to learn where enterprises currently stand and how hybrid cloud can effectively move the process forward.