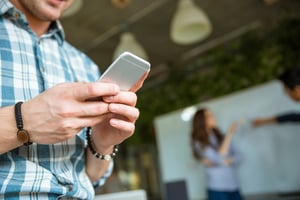 Mobile applications and devices are seeping into every aspect of our personal and professional lives. To keep up with the changing times and the demands of consumers and employees, it's important for enterprises to leverage the mobility trend to their advantage.
In this article I will discuss the how enterprise mobility supports the modern business and why your organization needs to take a mobile-first approach to your enterprise.
1. Access to Data While on the Go
Just as employees are able to communicate from anywhere, enterprise mobility allows them to access the data and information they need outside of the walls of your organization. Vincent Sharps of MindGrub writes in his article, How Enterprise Mobile Apps are Fueling Business Growth, "Employees can tap into the information they need while attending meetings, at networking events, and a whole host of other business opportunities while on the go.
2. Improve Productivity
With the ability for your employees to communicate and access data from anywhere, it should come as no surprise that another positive impact of enterprise mobility is increased productivity. Your team doesn't have to wait until they get into the office in order to complete an order, file a document or write an email. How does this support your enterprise? Employees are able to get more done by maximizing their time depending on their needs and where they are. For example, they no longer have to wait until they're back in the office to supply a potential client with the information requested, and instead can use the office time for other tasks that require internal face-to-face collaboration.
3. Creates a Smart Workplace
Mobile devices, such as tablets and smartphones with unified communications and collaboration (UCC) tools, that are connecting to enterprise applications as well as the internet are replacing fixed office PCs. These connected devices, along with IoT sensors and gateways, will require individual endpoint policy orchestration and enforcement verses group endpoint segmentation through routing, VLANs and other common approaches. Workplaces enabled with the right technology to support this will enable creativity, collaboration, and freedom of choice. Most of these systems interoperate in real time, providing sophisticated data analytics and improved user experiences to workers, building managers, IT professionals and other stakeholders.
A smart workplace allows for employees to take advantage of rapid innovation in the mobile, IoT and cloud era, with a non-stop networking experience on a single software defined infrastructure. In a mobile first enterprise, users and devices drive the behavior of the underlying network to provide better reliability, security and analytics than its predecessors. People can move while connected and your enterprise can remain innovative without being tied to a wired infrastructure or fixed physical space.
Enterprise Mobility Security Concerns
While there are numerous ways mobility supports the modern enterprise, we'd be remiss if we didn't address the obvious challenge that comes with accessing data and communicating outside of your organization's office: Security.
In order to properly deploy a mobile strategy, your enterprise needs to consider security options and put into place the proper measures to protect your sensitive data. You must be able to implement the right set of tools to quickly translate complex corporate security policies and requirements without wasting valuable time and resources.
It's also important to take a proactive approach to security rather than a reactive one. Don't wait for your employees to use personal cloud services to store information from your enterprise; instead offer them access to a cloud environment where you can monitor and manage the security protocols.
Solution Spotlight: Aruba's Mobile First Architecture
Aruba's Mobile First Architecture is designed for the smart digital workplace. It provides a strategic foundation to deliver winning experiences and improve worker productivity, while reducing risk. Traditional networks, even with add-on complexity, cannot support the smart digital workplace effectively, since they are built upon last generation assumptions, wired-centric connections and IT's centralized control of the technology environment.
Embracing enterprise mobility is a positive step into the future of your business. If you're ready to begin the journey, WEI can help you determine how Aruba's Mobile First Architecture will support and protect your organization.
NEXT STEPS: Keep learning about this topic by reading our tech brief, The Challenge of Supporting Today's Mobile Environments in the Enterprise.