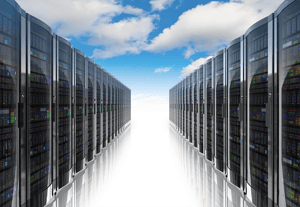 Business models are constantly evolving as enterprises undergo digital transformation – an inevitability as industry moves towards the on-demand service that customers look for today. Last week we explored how HPE GreenLake can help build a custom solution for your business's storage needs. Today, we're diving into why it makes financial sense, too.
How does HPE Greenlake save you money?
Organizations that use HPE GreenLake Flex Capacity gain benefits and cost savings by:
Increasing business productivity by improving time-to-value of business initiatives
Realizing capex savings by reducing the need to invest in IT infrastructure
Providing organizations with a flexible infrastructure to scale quickly as required by the business
Reducing or removing the time associated with capacity planning
Improving IT productivity with additional support resources and HPE's expertise
Providing self-service reporting and dashboards on their metered usage to budget and forecast demand
These benefits were confirmed by the Forrester study commissioned by HPE. They interviewed five existing HPE GreenLake Flex Capacity customers which, when combined with their financial analysis, found that a global organization with 5 petabytes of storage and $4M worth of physical assets could expect to experience benefits of $13.3M present value (PV) over three years, versus costs of $5M PV, for a net present value (NPV) of about $8.3M. Over the same period, the organization could achieve a 166 percent return on investment.
Quantifiable benefits for your business
In addition to the rapid ROI and NPV, Forrester identified several quantified benefits representative of what these same organizations experienced.
Shortened time-to-market of deploying global IT projects by 65 percent. Customers interviewed for the study noted a significant decrease in time-to-market for the global IT projects after investing in HPE GreenLake Flex Capacity. It was achieved through having a buffer of onsite capacity already implemented, the usage of which was metered and organizations only charged for what was used. Organizations can also access budget reports and forecast future capacity demands, which improves the efficiency of executing IT projects, allowing capacity to be quickly scaled up without spending valuable time procuring it. Additionally, organizations take advantage of HPE Pointnext, HPE's own support services, to provide the right storage, compute, and backup resources allowing organizations to focus on projects instead of infrastructure.
Reduced capex spend by 30 percent. HPE GreenLake Flex Capacity enabled organizations to avoid overprovisioning for infrastructure, and eliminated expenses for technology refreshes. Instead, companies could use more powerful technology to scale usage up or down as required by their business needs.
Saved 90% of the professional services/contractor costs. By replacing their legacy infrastructure, customers avoided maintenance and professional services expenses with HPE GreenLake Flex Capacity.
Improved IT resources productivity by 40 percent. With HPE GreenLake Flex Capacity supporting your choices for on-premises infrastructure and data center management tasks including support, administration, and planning, organization's internal IT professionals could take on a more strategic role of supporting business initiatives.
Unquantifiable benefits for your business
Organizations interviewed for the Forrester study also experienced the following benefits, which were not quantified for the study.
Improved business productivity due to fewer system outages and faster application performance.
Access to the latest technology in hardware, resulting in better data compression, deduplication, and, ultimately,

cost savings

on storage.
Reliability and transparency with growing workloads and business demands.
Improved security utilizing HPE expertise to proactively manage and

support on-premises servers, storage, and

networking.
What does it cost to implement HPE GreenLake?
The figures in this section are representative of what businesses who were interviewed by Forrester experienced.
HPE GreenLake Flex Capacity implementation and integration costs totaling approximately $323K. This includes planning, defining requirements, data migration, and testing on the HPE platform. In addition, the implementation time takes into account the internal procurement process requirements. The full end-to-end

transition took six months

and the equivalent of 12 full-time resources for 40 percent of their time.
HPE GreenLake Flex Capacity annual costs totaling approximately $4.7M. This included the annual HPE GreenLake Flex Capacity contract across the entire infrastructure, including compute, storage, and backup.
Let's talk about digital transformation

Contact WEI today to start a conversation about your digital transformation goals, obstacles, and timeline for implementing new technology. Our experience with the latest cutting-edge enterprise technology solutions and our experience architecting hybrid cloud/multi-cloud solutions will prove valuable as you assess the 'right' new technology for your environment.
You may also be interested in:
Several of our customers invested in composable infrastructure from HPE and it became a pivotal point in their digital transformation journey. With help from WEI's solution architects and engineers, we customized the design and implementation of HPE Synergy for each customer's unique environment. Read a case study about data center modernization with HPE Synergy here: Financial Tax Software Provider Achieves $1M Cost Savings with Infrastructure Modernization.
Learn more about this game-changing infrastructure solution in our white paper below.