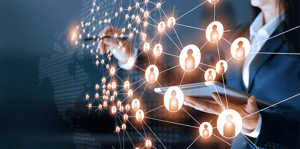 Applications are the backbone of business-critical operations, and their use is increasing at an almost exponential rate – especially among distributed enterprises with multiple remote offices. To support this, many are switching from performance-inhibited wide-area networks (WANs) to software-defined wide-area-network (SD-WAN) architectures.
SD-WAN offers faster connectivity, cost savings, and performance for software-as-a-service (SaaS) applications, as well as digital voice and video services. However, it also has its own shortcomings – especially when it comes to security. That's where Fortinet Secure SD-WAN comes in.
Staying competitive with SD-WAN architecture
Let's back up a little bit. Distributed enterprises are adopting digital transformation (DX) technologies – like SaaS applications and IP-based tools for voice and video – to increase productivity, improve communications, and foster rapid business growth. But these cloud-based tools and services put a lot of demand on legacy WAN infrastructures, especially when user expectations are for high-quality performance.
This issue is especially pressing to businesses seeing rapid growth. Sixty percent of companies have already adopted at least some SaaS applications, with 64 percent of IT decision-makers saying that their organization's adoption is outpacing their ability to secure and manage it. While the benefits are still considerable, its shortcomings can't be overlooked:
Complexity – SD-WAN architectures can be difficult to troubleshoot and hard to manage across all the branches. This adds to the burden on limited IT staff and often creates defensive gaps for threats to exploit.
Security – Without the centralized protection provided by backhauling traffic through the data center (traditional WAN architecture uses a hub and spoke model), moving direct internet broadband links exposes organizations to new risks. Effective SD-WAN implementation requires additional security within the enterprise infrastructure to secure those connections and inspect high volumes of traffic – all without inhibiting network performance.
Encrypted traffic inspection – Most SD-WAN solutions lack the ability to inspect secure sockets layer (SSL)/transport layer security (TLS) encrypted traffic, which comprises 72 percent of network traffic today. Specifically, as cyber criminals are hiding malware to infiltrate networks and using it to exfiltrate additional appliances to inspect encrypted traffic at the edge of the network.
[Featured Video]
5 Reasons Network Pros Implement SD-WAN
Fortinet Fortigate combines advanced networking and security
Fortinet Fortigate next-generation firewalls (NGFWs) include Fortinet Secure SD-WAN capabilities providing both networking and security for SD-WAN branch networks in a single solution. It provides efficient protection across all branch locations by providing consistent policy enforcement with single-pane-of-glass management. Its capabilities include:
Application Awareness and Automated Path Intelligence - Fortinet Secure SD-WAN uses "first packet identification" to intelligently identify applications on the very first packet of data traffic. This broad application awareness helps network teams see which applications are being used across the enterprise, enabling them to make well-informed decisions regarding SD-WAN policies. This opens the doors to automated path intelligence, which allows prioritizing routing across network bandwidth based on the specific application and user.
NGFW Security and Compliance - Fortinet Secure SD-WAN delivers enterprise-class security and branch networking capabilities with a single-box solution: FortiGate NGFW. Features include:

SSL/TLS inspection and threat protection to provide visibility and prevention against malware.
Web filtering service to enforce internet security and reduce complexity, eliminating the need for a separate Secure Web Gateway device.
Complete threat protection, including sandboxing, anti-malware, and intrusion prevention system (IPS).
Highly scalable overlay VPN tunnels with high throughput for ensuring that traffic is always encrypted and stays confidential.
Granular SLA analytics, including applications transactions for quick remediation.

Simplified Management, Orchestration, and Overlay Control - Fortinet Secure SD-WAN can be administered through FortiManager, a single intuitive and unified management console. It includes options for a cloud-based or hosted solution for remote control and orchestration

across thousands of locations

. With FortiManager, FortiGate devices are true plug and play. Centralized policies and device information can be configured with FortiManager, and the FortiGate devices are

automatically updated to the latest policy configuration

.
Total Cost of Ownership - The move to public broadband means that expensive MPLS connections can be replaced with more cost-effective options. With the Fortinet transport-agnostic solution, enterprises can utilize the entire available bandwidth by using the connections in active-active mode. Fortinet Secure SD-WAN delivers the industry's best total cost of ownership (TCO).
Customize your transformation to SD-WAN with WEI
There are many different SD-WANs on the market today, but only Fortinet Secure SD-WAN integrates enhanced SD-WAN features with proven security capabilities, delivering security-driven networking that improves branch efficiency without compromising protection. Contact WEI today to learn more.