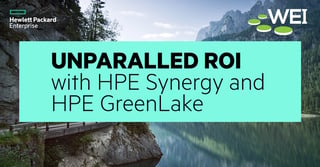 Have you ever felt that something was too good to be true? Something that appeared to solve every problem without sacrificing anything in return? You might think there's a hidden catch somewhere, but when it comes to HPE GreenLake cloud services with HPE Synergy, it really is that good.
In a time when enterprises are asking more of IT than ever before, a solution that can provide a cloud-like experience with on-premises control, and can do it while reducing costs and complexity, is exactly what these organizations need to be successful.
Before we delve into exactly how HPE GreenLake and HPE Synergy work together to deliver increased value to HPE customers, let's discuss the highlights of each solution on its own.
HPE GreenLake Brings The Cloud To You
HPE GreenLake is a fully managed, scalable cloud infrastructure service, which offers enterprises an as-a-Service delivery model for on-premises infrastructure. More specifically, it offers IT-as-a-service to simplify IT with consistent cloud operations
In designing GreenLake, HPE has cast aside the one-size-fits-all approach to supported technology by allowing enterprises to choose the most appropriate supported HPE or third-party technology. HPE also offers flexible pay-as-go models and makes it easy for enterprises to scale to their exact needs without worrying about costs.
HPE GreenLake has a variety of use cases, from data transformation and unlocking insights, to application modernization and offering a cloud-like experience on virtual machines. Thanks to its built-in flexibility, enterprises can utilize HPE GreenLake to fulfill their exact needs instead of making do with the rigidity found in competing options.
HPE Synergy Can Power Any Workload Within The Hybrid Cloud
HPE Synergy, a composable bladed infrastructure, can power any workload on a single infrastructure and can run both traditional and cloud-native workloads, reducing management complexity and cost.
Its compute models offer IT the ability to make use of processors that consume higher levels of power, and provide a larger number of cores than past systems. This allows HPE Synergy to run applications that require higher performance CPUs, and more memory configurations.
HPE Synergy also simplifies the firmware and driver distribution process, while offering automatic updates for a single frame or group of frames from a single management point.
[Featured Video]
Real Tech with WEI - HPE Synergy Episode
HPE Synergy and GreenLake Together
Now that we've discussed the benefits of each solution on its own, let's talk about how they work together.
When combined, the two allow enterprises to run almost any business workload on one cloud-like platform, without sacrificing the control of on-premises infrastructure. They help enterprises optimize value per workload, simplify management, reduce costs, and allow IT to focus on business initiatives instead of just keeping the lights on.
According to HPE, the benefits can be broken down into four main categories:
Efficiency: HPE GreenLake cloud services with HPE Synergy frees IT staff from routine tasks, consolidates IT into a flexible, simple platform, and improves productivity for infrastructure teams by 60%.
Speed: Together, the solutions allow for faster deployment time and offer a 75% faster time to market than other solutions.
Control: By utilizing HPE GreenLake cloud services with HPE Synergy, enterprises can meet low-latency performance needs, secure IT and data, and enjoy a 35% lowered cost of operations.
Economic: In addition to the aforementioned operations savings, enterprises will also see reduced costs by eliminating overprovisioning, reducing overhead, and a reduction in the costs associated with IT resources.
By combining the flexibility of the cloud with the control of on-premises infrastructure, all wrapped up in an IT-as-a-Service package, HPE is offering enterprises a new way to meet challenges head on and turn IT into a source of innovation.
Are You Interested In HPE GreenLake Cloud Services With HPE Synergy?
As a global, edge-to-cloud company, HPE is helping enterprises around the world implement solutions that improve productivity and reduce costs. In combining HPE GreenLake with HPE Synergy, they are helping enterprises take control of their digital infrastructures.
Did You Know? WEI is an HPE Platinum Partner and we have extensive experience implementing HPE Synergy for Fortune 500 companies. If data center modernization is on your roadmap, contact us to start a conversation about how HPE Synergy can fit in your environment AND ask us how HE GreenLake services can help you deliver IT services to the business FASTER.
NEXT STEPS: Learn 6 tips for mitigating financial risk and maximizing operational reward with Composable Infrastructure in our FREE white paper below!