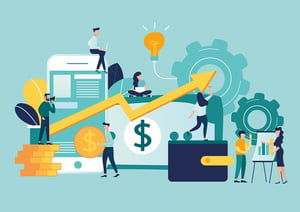 It seems like everyone is going hybrid these days when it comes to enterprise architectures. According to Gartner, 75 percent of midsize and large organizations will have adopted a multi-cloud and/or a hybrid IT model by now. The reason is pretty simple, while 97 percent of IT decision makers confirm a positive experience with the public cloud, not everything can go there. Unfortunately, there are issues such as security, compliance, and the uncomfortable uncertainty of managing your stuff 'up there'―wherever that place is―that prevents companies from the public cloud experience for all. If everything could reside in a public cloud however, what a wonderful world it would be.
The inequality within hybrid models
The adoption of a hybrid model brings about a lot of flexibility. It lets you choose where to host your applications, workloads and resources. But with hybrid architectures, many organizations quickly discover an unsettling consequence―inequality. While the public cloud is a panacea for matters such as scalability, rapid deployment time, resource utilization efficiencies and reduced startup costs, many of your critical applications that remain on-prem continue to be saddled with the typical restraints as was exemplified in a recent survey by 451 Research that examines the typical cloud experience through the lens of 1,001 "on the ground" practitioners. Here are a few of the key findings from that report that illustrate the ongoing challenges of the on-premises model:
Scalability and agility were the biggest worries, with 80 percent citing that deployment times are too slow.

Capacity planning was a major challenge for 71 percent of IT leaders, with 92 percent acknowledging a wait time of 30 days or longer to get new capacity installed.

83 percent of enterprises are still using fixed-capital models for on-premise capacity, reducing the agility of budgets and innovation

.
There's no doubt, that from the on-prem world, the grass looks a lot greener on the other side of the fence. And so lies the conundrum. How do IT decision makers balance the need for greater agility, and improved provisioning times that you typically get from a cloud experience while maintaining security and control of their resources? In the end, most IT leaders play it safe, which creates unnecessary 40-50 percent server capacity and lost opportunities.
Consumption-based IT
What IT leaders need is a cloud-like experience on-premises. Doing so would eliminate the blaring gaps that exist when comparing the on-prem experience to that of the public cloud. But is that even possible?
Here's some good news at a time when good news is at a premium! You actually can have high resiliency, scalability, and effective capacity utilization while still remaining secure, compliant and in control. It's a new cloud-like financial model referred to as consumption-based IT and it is available today through HPE GreenLake services. While you may not have heard of GreenLake, you have certainly heard of its parent company, HPE. So popular is the idea of transforming your on-prem environment to a public cloud-like experience, that GreenLake is HPE's fastest growing business. With 10 years of experience as a market leading IT-as-a-Service provider, GreenLake has demonstrated to its customer base that you can have the cloud experience everywhere.
How the HPE GreenLake model works
There are definite reasons why the public cloud experience is superior to the on-prem strategies of most enterprises today. Public clouds are comprised of the latest equipment and service catalog technology. All of it is administered by experts in their field who utilize best practices, operational techniques and orchestration to ensure optimum performance. This what you get with GreenLake. You can achieve that cloud-like experience with the latest technology from HPE such as HPE SimpliVity, HPE Synergy, Nimble Storage and ProLiant Gen10 servers. They also incorporate third party software and services including Docker, Hadoop, SAP HANA, Nutanix AHV, VMware Cloud Foundation, Microsoft Azure and AWS. Multi-vendor flexibility without the lock in, that's nice! All of this is then managed by them, while ensuring that you are calling the shots. By handing over the administrative burden to dedicated specialists, your own IT department can focus on business objectives and value added projects.
Four steps for adopting ITaaS with HPE GreenLake
The GreenLake blueprint involves the following essential steps to adopting an IT-as-a-Service experience across your entire enterprise.
Define the right mix to remain in control of your complete enterprise according to your current business needs
Implement in-place scalability and on-demand processes in order to stay ahead of business demand, while only paying for what you use (this is key!)
Optimize skill sets within your organization by offloading management of your hybrid environment to HPE GreenLake Management Services
Access your operating model to simplify IT, while providing increased security, visibility and flexibility at the same time
Greater cash flow and cost visibility
The GreenLake model is a pay-per-use model. No longer do you have to play it safe with excessive and wasteful capacity that approaches 40-50 percent for the average enterprise. By eliminating overprovisioning and upfront capital expenditures, HPE customers are seeing an average cash flow saving of 30-40 percent on average after adopting the GreenLake consumption-based IT model. On top of everything else they offer, GreenLake's metering and analytics software helps customers determine the true cost and profitability to each of their allotted IT services.
Talk to WEI about consumption-based IT
There is nothing new about the concept of consumption-based IT. What's new is that it is no longer just available in the public cloud. It's available for your on-prem data center as well. If you want to learn how eradicating the inequality of workloads and performance within their hybrid architectures, then talk to WEI where we can introduce you to the GreenLake model, as well as the concept of having the best of both worlds at your doorstep.
Pay-per-use models are looking to be the future of IT cost models, ask us how your business can start reaping the benefits. Send me a message on LinkedIn to start a discussion, or contact our team here. We look forward to helping you find opportunities to move your business forward in the most cost-effective manner.
You might be interested in our white paper about implementing a hybrid IT model and how to overcome some of the common challenges we've seen across enterprise organizations. Click below to read more.