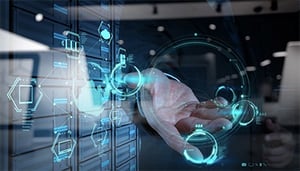 One of the biggest struggles with managing an enterprise data center is the need for various tools with multiple interfaces to manage the different systems associated with IT. This struggle is compounded with the fact that each of these data center systems do not talk to each out of the box, and complex integrations begin to take over. HPE Synergy addresses this challenge by delivering an infrastructure that can manage the technical, as well as the organizational side by combining storage, compute, and network equipment into one.
What is Composable Infrastructure?
To put it simply, composable infrastructure treats computing, storage, and devices as resources that can be pooled together and used as needed. You are able to adjust the infrastructure depending on what workloads you require at the time so that you can optimize your IT performance and improve agility within the organization.
Network World compares this type of infrastructure to a public cloud, stating, "The approach is like a public cloud in that resource capacity is requested and provisioned from shared capacity – except composable infrastructure sits on-premises in an enterprise data center."
Unlike other infrastructure systems, a composable infrastructure does not have pre-configured workloads. This freedom from pre-configured workloads allows your enterprise to reduce its under-utilization and over-provisioning, which in turn creates a more agile data center.
So how can HPE Synergy benefit your enterprise? Keep reading for five ways that this composable infrastructure solution can help your organization.
5 Benefits of HPE Synergy for Your Enterprise
Run anything: With HPE Synergy you're able to run resources at any time within a single pool. This allows you to instantly configure your system according to the specific needs of each application.
Software defined intelligence: Not only can you instantly configure the system to meet your needs, HPE's composer uses integrated software-defined intelligence, which is able to accelerate operations using a single interface.
Pooling resources: HPE Synergy allows you to pool resources together with their operating system image using repeatable templates. This ability gives you the option to precisely compose and recompose infrastructures almost immediately. As PCWorld explains, "When a template is launched, it configures the hardware programmatically, without human intervention, according to HPE, reducing the chance for errors and speeding up the process. The management software can also store OS images and apply them when a server is configured, automating that process as well."
Scalability: Auto-integrating infrastructure makes scaling simple and automated. IT can easily assemble the building blocks your enterprise needs. Automatically update firmware, set BIOS settings and configure network connectivity.
Open integrations: HPE Synergy provides a fully programmable interface that allows your enterprise to take full advantage of potential vendor partnerships. With open-source automation and DevOps tools such as Chef, Docker, and OpenStack, you're able to seamlessly integrate multiple management tools and future-proof your data center.
5 Questions To Ask Yourself About Composable Infrastructure
While composable infrastructure may seem like the answer to your data center needs, before you jump in head first you need to be aware that a successful move to composable infrastructure won't happen without careful planning and a team that has the skills needed to take on such a project. To help you know if you're ready to deploy composable infrastructure in your organization, here are five questions you need to ask:
What are your operational and financial goals?
What problem are you trying to solve: single and discrete or a systemic?
How quickly do you need to deploy your applications?
Does average server over-provisioning amount to more than 85 percent?
What are your organization's requirements for data security?
Do you need help answering these questions? Contact WEI to kick off a discussion. We have experience implementing HPE Synergy and have several assessments to help you make the right decisions along your data center modernization journey.
Next Steps: Learn how to drive data center modernization with composable infrastructure by downloading our white paper.