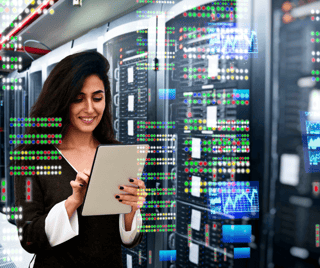 Cloud operations have significantly reshaped digital transformation, especially storage-as-a-service. The focus for storage management is shifting from infrastructure to applications, revolutionizing how businesses handle data. Despite these advancements, challenges such as costly services, data availability rates, scalability, and complex management require careful consideration and resolution.
Fortunately, HPE GreenLake for Block Storage provides storage solutions to ensure efficient and accelerated digital transformation. With a 100% data availability guarantee and excellent value for money, the service is integrated into an expanded HPE Alletra MP, offering self-service agility for all applications with enterprise block storage to simplify data management.
As with any new service, the primary question is: "Why do I need HPE GreenLake for Block Storage and HPE Alletra?" Let's explore how these services simplify and modernize operations.
Get To Know HPE Alletra MP
HPE, an industry leader in storage with brands like Primera, Nimble, 3PAR, and Apollo, is now embracing a streamlined brand strategy with HPE Alletra MP. This platform is a key component of HPE GreenLake for Block Storage that promises to deliver comprehensive data management solutions to businesses of any size.
HPE Alletra supports the following storage protocols without the need for new hardware:
Traditional file storage for documents
Block storage for database applications
Object storage for unstructured data
Through its versatile and flexible architecture, this solution handles various types of data storage, making it a comprehensive response to diverse storage needs.
Enhanced Features Of HPE GreenLake For Block Storage
HPE GreenLake for Block Storage is the first modular disaggregated storage service that delivers a cloud-operational experience to your business. This cutting-edge solution enables trusted users within your organization to self-provision storage, paving the way for a seamless edge-to-cloud transformation.
If you run the solution through HPE Alletra you will receive an array of benefits for your business, including:
Intelligent Cloud Experience: HPE Alletra simplifies management by providing an AI-powered cloud experience on-premises, empowering businesses with smart self-service provisioning while ensuring workload protection and management.
Uncompromised App Performance: HPE GreenLake on Alletra is equipped with enterprise-grade storage that meets every service-level agreement (SLA) across the

hybrid cloud

to provide a 100% data availability guarantee. This ensures fast performance and ultra-low latency for business applications, even at scale.
Flexible Options: As an as-a-service option, Alletra offers flexibility in deployment and subscription depending on the organization's budget and goals. Subscription models like GreenLake and products like Alletra Storage MP highlight the trend towards commoditization, offering technology without the need for extensive management.
Unified Management Console: This feature offers global data management and monitoring insights from any device or location. Users can easily access data on app storage usage, volume performance, and overall consumption.
Data Protection: HPE Alletra offers robust data protection through replication and restore point management.
Efficiency: The service enables seamless and independent scaling of performance and capacity by deploying block or file workloads on a single multi-protocol architecture. Furthermore, it facilitates faster deployment of new applications and services with less overhead. This enables teams to focus on more strategic business initiatives and reduces worries about managing storage infrastructure.
Simplified Data Management: HPE Alletra offers self-service agility for all apps with enterprise block storage built on an expanded HPE Alletra, making data management simpler.
HPE GreenLake for Block Storage transforms storage services, providing a cloud-like experience for your enterprise. This allows your team to prioritize strategic initiatives while ensuring dependable, high-performance storage in hybrid environments.
Final Thoughts
HPE's groundbreaking solutions, such as GreenLake and Alletra MP, have taken the lead in storage management. These offerings showcase their adaptability to incorporate specialized technologies to meet diverse business requirements. Alletra Storage MP effortlessly integrates with software-defined storage, highlighting the significance of hardware-software compatibility.
As with any solution, it's important for businesses to assess their individual needs and goals. Contact our experts at WEI to learn more about how HPE Alletra and HPE GreenLake for Block Storage can enhance your data management.

Next steps: The future of data storage is here with the HPE Alletra Storage platform supporting both block and file stores, along with the HPE GreenLake edge-to-cloud platform that enables workload administration and data protection from a single-pane-of-glass. Learn more by downloading our free tech brief, Eliminate Costly Data Silos For Data-First Modernization.
Click to read Eliminate Costly Data Silos For Data-First Modernization