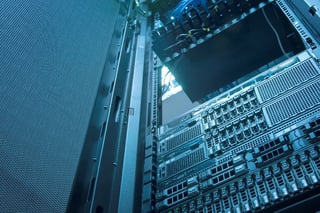 Digital transformation is reinventing the IT infrastructure. Enterprises are shifting to software-defined data centers and the new technology that comes with them. AI and machine learning (ML), cloud utilization, and software-defined storage are just a few of the many new tools that organizations now employ to help them harness the power of their data. As a result, IT infrastructure management has become increasingly complex. IT staff can no longer be expected to manage every part of the infrastructure. However, the answer to this issue is simple: let technology manage itself. AI/ML intelligent data platforms can provide comprehensive data management throughout the infrastructure.
What is an Intelligent Data Platform?
Many enterprises are already using automation to take the burden of routine management off of IT. However, intelligent data platforms go far beyond the simple automation of standard procedures. They can provide complete, full-stack monitoring through AI/ML and data analytics. Human IT staff can rarely see the broad-spectrum potential impact of changes in one part of the stack. Intelligent data platforms have a big-picture view of the entire infrastructure and can comprehend the far-reaching consequences of any change to the system. As the name implies, this enables them to make real-time, intelligent decisions for data optimization.
What can an Intelligent Data Platform do for You?
Enterprises can invest in every new piece of technology to modernize their IT infrastructures, but they will not be able to maximize the value of their data without effective management. The further technology progresses, the more complex management becomes. Humans are simply incapable of taking into account every factor of data optimization. However, this is no problem for an AI/ML-driven Intelligent Data Platform. An Intelligent Data Platform can provide optimal management of data in real-time throughout its life cycle.
With efficient data management, your IT infrastructure investments can reach their full potential. An Intelligent Data Platform provides cost-effective performance and availability optimization. Automation and increased agility enable IT to focus on business goals instead of routine maintenance. Intelligent Data Platforms are not limited to on-premise utilization. They can also simplify the management of hybrid cloud environments. This eliminates the ineffective, siloed management approach that many hybrid cloud users are forced to use.
HPE's Solution
The HPE Intelligent Data Platform uses workload-optimized, independent systems to monitor every part of the infrastructure. The collected data is then sent to HPE's Global Intelligence Engine (GIE). The cloud-based GIE uses AI/ML to recognize and resolve potential issues preemptively. Global learning and workload fingerprints allow GIE to optimize the infrastructure, maximizing availability, performance, and efficiency. GIE enables enterprises to utilize their storage capacity, decreasing storage expenses more effectively. Unlike simple automation, GIE can make adjustments in real-time to compensate for I/O surges and workload changes.
GIE also oversees more than just the infrastructure layer. Its comprehensive management and monitoring capabilities extend to:
Virtualization platforms
Applications
Storage infrastructure and management systems
Data protection and recovery
VM migration and management
Workload visibility
The HPE Intelligent Data Platform's full-stack oversight ability is critical to its success. High-visibility into the entire system enables the platform to optimize its predictive analytics and management capabilities.
HPE Nimble Storage
A key element of the HPE Intelligent Data Platform is Infosight, developed by the HPE-acquired enterprise storage vendor, Nimble Storage. Infosight is an industry-best predictive data analytics platform. Together with HPE Nimble Storage All-Flash Arrays, Infosight delivers extremely powerful data management. HPE Nimble Storage combines predictive analytics with flash-efficient architecture to provide:
Proactive, full-stack problem recognition and resolution
High scalability and flexibility
Efficient data protection and recovery
Industry-leading availability and resilience
Simple, effective deployment and management
A cloud-ready, future-proof storage solution
Intelligent data management is becoming a necessity for today's complex IT infrastructures. Human staff are no longer capable of recognizing and taking into account the widespread impact of system changes and optimizing data accordingly. An Intelligent Data Platform can do what a human IT professional cannot. AI/ML, advanced data analytics, and full-stack visibility give the platform a complete view of the infrastructure. This allows the platform to consider every factor and achieve true data optimization. HPE's Intelligent Data Platform and Nimble Storage provides best-in-class intelligent data management. With HPE's solution, enterprises can optimize their IT infrastructure management and maximize the value of their data.
NEXT STEPS: Click below to discover the steps outlined in our white paper titled "Enterprise Storage Checkup" to ensure you are getting the most value out of your storage investment.