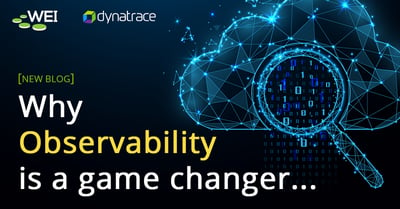 When we look at how IT technology has changed within the enterprise over the past decade, we often point to the proliferation of virtualization and the cloud. That is understandable as these technologies have played significant roles in the digital transformation of the world today. Now that these technologies have become conventional standards within the enterprise today, there is another identifiable technology sector that has emerged in importance and stature – cloud and application monitoring. The growing presence of these solutions is a testament to the fact that enterprises are realizing the substantial benefit of application and performance monitoring across networks of growing complexity.
The accelerating presence of cloud and application monitoring
The growing size of the Application Performance Monitoring (APM) industry is reflective of its determined value. The size of the APM market is expected to grow from $7 billion in the year 2020 to a projected size of 11.9 billion by 2027. That is a compound annual growth rate of 11.2 percent over a seven-year period. These numbers may in fact prove too conservative as the APM market was previously forecasted to cap at $5 billion in 2019 at a CAGR of 12.8 percent. We find the same accelerating trends for cloud monitoring as well that is experiencing a CAGR of 18.1 percent. This market was valued at just over $1 billion in 2019 and is projected to grow to $3.75 billion in 2027.
This accelerated growth is supported by the rising demand of cloud and mobile computing along with the technological advancement of performance monitoring. While funding costs have served as a traditional constraint in the past for growth, the biggest restraint for further growth is lack of awareness. While 76 percent of IT professionals in a survey last year said that monitoring the performance of their public cloud infrastructure is either moderately or very important, less than 20 percent said they can monitor these environments properly.
Observability and performance are essential

While enterprise managers have always relied on monitoring to some extent, APM today is proving a necessity in order to keep pace with the speed of business. That's because the stakes are higher today, as are user expectations. While digital transformation has provided companies the means to inject continual innovation by enhancing the digital experience of its customers and employees, it has also magnified user expectations concerning those digital experiences. What's more, in a world in which workloads can originate from anywhere and traffic loads can be scaled in real time, users have an innate dependency on their apps today like never before.
Monitoring translates into visibility. According to a report involving IT professionals from 15 countries, 48 percent of IT professional attribute delays with troubleshooting application performance issues with a lack of visibility, while 38 percent blamed it on application outages. Lack of visibility however is not a new problem however, but instead is one that has grown in correlation to expanding enterprises and network complexities.
But visibility alone isn't exactly enough, you need advanced observability. The concept of observability is gaining rapid momentum as companies accelerate their digital transformation strategies by building out massive cloud-native environments that are hard to observe and operate due to their dynamic and complex nature. Let's take a closer look at what observability is all about and why it's critical.
What is observability and why does it matter?
According to Dynatrace (who in 2020 was named a leader in Gartner's Magic Quadrant for APM for the 10th consecutive time) defines observability as:
Observability is the extent to which the internal states of a system can be inferred from externally available data. An observable software system provides the ability to understand any issue that arises. Conventionally, the three pillars of observability data are metrics, logs and traces.
Dynatrace extends this with UX and topology information. However, turning data into answers requires more than just visibility, which is why they stress the criticality of observability. Dynatrace advances observability with contextual information, artificial intelligence, and automation—removing blind spots, and fueling rapid remediation that aides in continuous delivery for superior customer experience. Essentially, they are saying that advanced observability is what turns data into answers.
Three key factors necessary for advanced observability
Observability, when combined with AI and automation, holds the promise to deliver the actionable answers needed to ensure cloud native applications work perfectly and deliver the best experience and value possible to their users.

1. Contextual information – Understand the full context of the observed data from user impact through entity interdependencies. Real-time topology mapping provides context across the full stack. Dynatrace captures and unifies the dependencies between all observability data in order to intelligently combine metrics, logs, traces and user experience data. This real-time entity topology map is the basis for advanced observability.

2. Causation-based AI – Provide actionable answers to performance problems through a precise root-cause analysis. Dynatrace's AI system, known as Davis, automates anomaly root-cause analysis, even in dynamic microservice environments. Traditional monitoring tools offer little beyond dashboard visualizations, forcing manual root-cause analysis. Dynatrace is the only platform that takes the burden off human operators, by providing precise answers.

3. Automatic discovery and instrumentation – Ensure scalability and complete coverage in highly dynamic environments without manual configuration. The Dynatrace OneAgent discovers all processes running on the host and automatically activates instrumentation specifically for your stack. High-fidelity data is automatically and continually gathered in context without manual configuration or scripting, and new components get auto-instrumented on the fly.
New opportunities that observability can give to your Business

Regardless of your business, you most likely have a digital pipeline and the health of that pipeline is integral to your company's operations and mission. Your customers depend on the uninterrupted flow of digital workloads and software releases through that virtual conduit. It is your highway of value-adding innovation. When Dynatrace assigned their top talent and engineers to figure out what APM would look like in 2020, they ended up redefining the architecture and expectations of application monitoring itself. A case in point is the remediation process of their own internal software bugs. Rather than identify the full gamut of bugs for their new software releases in production, they now identify and remediate 94 percent of them in development thanks to the power of the Davis AI engine. This makes their software more dependable, which in turn makes their customer environments more reliable.
And then there is the unique ability to see into the user experience itself. With Dynatrace, you can even replay user sessions to see exactly what users see. Like a coach reviewing film, you can now fully evaluate user work sessions in order to better guarantee the performance that users have now come to expect.
Imagine having the power to know how much revenue is generated by each of your applications or having the certainty that SLAs and compliances are being met. These are part of the answers that Dynatrace can provide, making it more than just APM solution. With the opportunities it can provide your organization, Dynatrace is a revenue generating application.

What's Next?
Whatever your traditional concept of application performance monitoring was before, now is the time to discover what Dynatrace is all about. WEI's team is well versed in the Dynatrace Software Intelligence Platform and can help guide your team's implementation with all best practices baked right into the process. Contact us today to learn how Dynatrace can uncover valuable data across your infrastructure… in 5 minutes or less.

Continue learning more about automation and continuous delivery in our tech brief below, "How to Accelerate Your Business Transformation with DevOps and Automation."