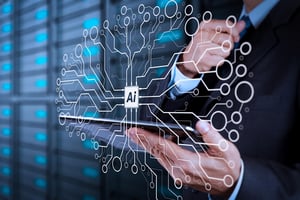 As has become increasingly clear over the last decade, enterprise IT must be able to quickly respond to the ever-changing needs of the business. This need for agility and responsiveness is putting pressure on IT teams, and if not properly addressed, can cause cracks to start to appear in all aspects of the IT environment. This leads to poor performance, increased security risks, and dissatisfied employees, clients, and enterprise leadership.
So how can IT keep up with business innovation, while also ensuring critical processes are managed appropriately? Automation and artificial intelligence (AI).
It's time to embrace the future
Enterprises that are undergoing digital transformations have one main goal: Increase operational efficiency through digital means. However, without implementing automation and AI technology, digital transformation efforts and newly deployed technologies can bog down IT with new processes and management complexity.
Thankfully, automation can be simply applied to IT operations in a variety of ways.
In the traditional sense, automation focuses on managing infrastructure lifecycle operations. More recently, a majority of enterprises will make use of policy-based templates, scripting, and API integration across the IT environment. By making use of a rule-based techniques, IT teams can set ranges of acceptable resource and component behavior.
At the next level lives AI. While automation works well for a variety lower level tasks, more complex functions require the use of AI and machine learning (ML). By combining AI and human elements through IT, enterprises can become more proactive rather than just reactive. Perhaps the most useful aspect of AI is the ability to automate the rectification process. When utilized properly, AI can provide the context of why a problem occurred, recommend actions to take to fix it, or even fix the problem automatically. Going even further, through the use of AI, IT teams can predict when problems may occur through the use of current and historical analytics.
How to integrate automation and AI in your data center
We've discussed the benefits of AI, but how about its use specifically in a data center? As mentioned before, digital transformations often result in increased management complexity, and this is especially true in data centers. Applications are being distributed across both on-premises data centers and public cloud services, greatly reducing visibility. Through AI, distributed IT environments can be more effectively managed.
Additionally, new digital innovations are creating higher data volumes than ever before. According to research from ESG, respondents in a recent survey said that higher data volumes were the main driving force behind IT complexity. Keeping on top of this amount of data is a Herculean task and can easily overwhelm even the most experienced IT teams. By utilizing AI and automation to effectively manage, provision, and secure the incredible amounts of data enterprises now have, IT teams can instead focus on higher level, more complex tasks that are outside the current scope of AI.
HPE can assist in your automation and AI endeavors
HPE remains a leader in both AI and automation technology. For IT teams just getting started, HPE Pointnext Services can help enterprises accelerate AI adoption and modernize data centers with automation. Other HPE solutions include HPE OneView, which offers a solid foundation for infrastructure automation to drive efficiency and optimization, and HPE InfoSight, which delivers AI-powered autonomous operations across the data center through cloud-based predictive analytics. HPE GreenLake, which offers IT-as-a-service to simplify IT with consistent cloud operations, also makes use of automation for its functions.
Are you interested in HPE's automation and AI solutions?
HPE continues to support IT as enterprises undergo digital transformation and prioritize agility and responsiveness. With its portfolio of AI and automation driven solutions, HPE will take IT operations to the next level, promoting efficiency and innovation while reducing the burden of slow, repetitive tasks and the opportunity for human error. Contact us to start a discussion about HPE Intelligent Dat solutions can fit in your environment, and the benefits it can provide your enterprise.
NEXT STEPS: Learn more about how to leverage AI in the data center in our tech brief, "How AI in the Data Center Closes the Loop on Digital Transformation."