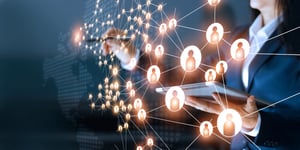 It is hard to say when it happened, but everything has gone digital. We have a digital economy today that involves digital products and services. In order to take advantage of newly found digital opportunities within the digital space, companies are undergoing digital transformations. In order to compete in an environment of perpetual digital change, companies are creating digital strategies that incorporate digital technologies that will allow them to better compete in the digital marketplace.
The nexus of all of this digitization is your network. Have you ever noticed how so many digital disruptors today are able to introduce innovation at accelerating rates? How do they stay ahead of the curve? Some of it is due to strategic innovation and the ability to look at opportunity through a different lens. However, another contributor is a more powerful network, a network that works for the business. These companies understand that it is no longer acceptable for IT to take weeks or months to plan and bring up new sites or applications. Innovation must be continuous.
What is the performance level of your network? Are you grading it strictly on the basis of connectivity or does your organization expect more from it? Today's digital businesses need more from their networks than the mere ability to connect and share resources. The network needs to align with the objectives of the business as a cohesive unit.
The Intent Based Network
Here is the new reality. The days of IT consuming itself over connectivity and throughput are gone. Your network needs intent today. An intent-based networking model is constantly learning, adapting and protecting your digital enterprise in order to ensure sure that applications, users and devices receive the services they need. An IBN model needs to be an extensible open platform that incorporates automation and intelligence into management, monitoring and support processes. It should also be able to integrate with other IT and technology domains and functions within the most complex of hybrid network architectures. It should also be created and supported by an innovative leader in the network industry with decades of experience and know how.
Introducing Cisco Digital Network Architecture
Your human DNA holds the instructions for making all of the proteins throughout your body. Thanks to Cisco, the network has a DNA as well. Cisco's Digital Network Architecture (DNA) incorporates IBN into management and network product platforms. Like human DNA, it holds the instructions of your business network, transforming tedious manual processes into automated intent, making it possible to manage millions of devices in minutes, not hours. Cisco DNA is an open, extensible, strategic platform to ensure that your network is an active participant in IT and business processes. It can simplify and accelerate your network operations at a time when complexity prevails, and the number of devices is exponentially increasing. It's also the result of over 30 years of enterprise network envisioning and innovation.
Intelligence-Driven
Today's high-performance networks demand intelligent efficiencies and automated guidance. Cisco DNA uses machine-based analytics to proactively predict performance in order to ensure that workloads function optimally. It does this by not only drawing data from throughout the enterprise, but contextual insights from your users, devices and application as well. This allows for accurate forecasting of traffic loads and operational functionality.
Total Automation
Automation comes in the form of zero-touch provisioning of your devices according to identity assigned policies. In fact, the deployment of just about anything, including images, firmware updates, services and configurations can be automated and delivered to all areas of your network. This includes your data center, remote branches and multiple clouds environments. Intelligent driven automation means that repetitive network configuration tasks are totally unnecessary, allowing your IT staff to focus on projects that produce innovation and value
DNA Managed by Cisco DNA Center
At the epicenter of this newly, digitized intent-based architecture lies Cisco DNA Center. It provides visibility throughout your entire network through a single view, giving you the ability to manage the entirety as a single fabric. Cisco DNA Center is your converged software defined orchestrator that houses all of your enterprise network tools into a single platform. It serves as the center point to which data and insights are collected and used allowing for faster incident response and guided remediation of anticipated problems. Don't limit the scope of Cisco DNA Center to that of just Cisco devices however. Its multi-vendor SDK provides basic device visibility and monitoring of non-Cisco devices and third-party software management systems.
Security is at the Center Too
Security must be at the epicenter as well when it comes to your network. With Cisco DNA, every device becomes a security sensor that is dedicated to threat detection. Once detected, threats are quickly mitigated in real time, even within encrypted traffic. From the centralized dashboard of Cisco DNA Center, security policies can be created and assigned. Strange behaviors and trends can be analyzed for further review. Because security is intelligently automated, human error and mismanagement are eliminated from the equation, which reduces security gaps.
Your Network Runs Better with Intent
Intent means "to give all your attention to something." Intent is the state of a person's mind that directs his or her actions toward a specific object. Cisco DNA ensures that your network is intent driven, determined to accomplish the business objectives of your organization. With the introduction of guided intent, your network will move and react faster as it learns to adapt to the changing dynamics of the enterprise. Costs are lowered and risks are reduced. All of these benefits are part of the natural DNA, of a Cisco DNA. Intent to learn more about it today.
NEXT STEPS: Learn more about Cisco DNA Center in our White Paper titled "Make Your Network Work For You With Cisco DNA Center"