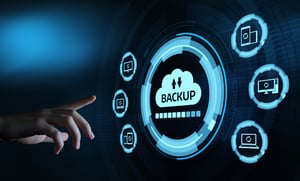 Keeping up with the latest advances in IT technology is a task in and of itself. Once you add implementation and administering each new solution, it can become overwhelming. However, despite the hassle of upgrading, it's a necessary to ensure that each part of your IT infrastructure is performing as optimally as possible.
After all, even if every other part of your architecture is current, just one piece with outdated software or hardware will bring the rest down and restrict performance. To combat this, regular upgrades are necessary, especially when it comes to protecting your corporate data.
Legacy backup solutions can't keep up
When it comes to backup and disaster recovery (BUDR), there is no such thing as "good enough." An outdated solution, which can no longer provide the coverage you need, will inevitably fail when the worst happens, leaving IT with lost data and in hot water with enterprise leaders, employees and clients.
Legacy backup solutions were designed with the past in mind, and with recent advances in cloud computing, there in an undeniable limit to what they can be adapted to. In addition, these BUDR solutions often feature slow recovery processes that are too long and labor intensive for today's enterprise, which need to be back up and ready to go in minutes, not hours or days.
The fact of the matter is that enterprises cannot achieve the increased IT efficiencies that can be gained from utilizing the cloud, while still making use of legacy backup solutions.
For those enterprises already making use of Nutanix for its simplistic and easy to manage infrastructure, the natural pick for BUDR is Veeam Backup for Nutanix AHV.
Find Simplicity With Veeam Backup For Nutanix AHV
When selecting IT solutions, it's important to consider the big picture. Will the solutions work well together? Will their features complement each other, or will they create management difficulty and unnecessary complexity?
The bottom line is just picking the best products in each category isn't enough, they need to work together, or their individual potentials will be wasted. This is why solutions that are specifically tooled to work in tandem and benefit from each other are so valuable. Veeam Backup for Nutanix AHV is the perfect example.
Individually, both are industry leading solutions. Nutanix is the innovator of hyperconverged infrastructure that set about to simplify IT infrastructure by bringing computer, storage, networking and virtualization into a single stack. The Nutanix Acropolis Hypervisor (AHV) is the company's native hypervisor solution that integrates with its enterprise cloud OS stack.
Veeam is the global leader of backup and replication software that provides comprehensive backups solutions for any work load across all environments, whether it be cloud, virtual or physical. Recent features for Veeam Backup include a next-generation instant recovery engine and a new intelligent immutability mode for Cloud Tier, offering increased protection from ransomware attacks. Veeam also offers unmatched cloud portability, giving IT the ability to back up and recover to, from and within the cloud, saving time and resources.
Together, as Veeam Backup for Nutanix AHV, they create a perfect mesh solution that infuses data resiliency, protection and universal access of your data and your Nutanix environment.
Increased mobility and agility
In this digital age, backup solutions need to be able to keep up with the rest of the enterprise, no matter where employees are located. To this end, Veeam Backup for Nutanix AHV offers entire virtual machine (VM) restore, allowing IT to restore any virtual, physical or cloud workload. In addition, the solution offers instant recovery to your entire environment, including VMs, to offer extra speed and mobility.
By implementing Veeam Backup for Nutanix AHV, IT can reduce downtime and interruptions, promoting productivity and efficiency across the entire enterprise.
Are you ready for Veeam Backup for Nutanix AHV?
Veeam Backup for Nutanix AHV offers enterprises the availability, simplicity and scalability they need to be successful. By emulating Nutanix's intuitive management and user interface designs, and integrating Veeam's fast and reliable application-aware, image-based backups, the solution offers the best of both worlds—boosting performance and productivity.
NEXT STEPS: Contact the WEI team if you have questions about how to get the most value from either solution, or ask us how our customers are using both Veeam and Nutanix to drive their business forward.
If you're interested in further reading about backup, we invite you to read our white paper, Backup and DR for the Cloud Generation. Click below!