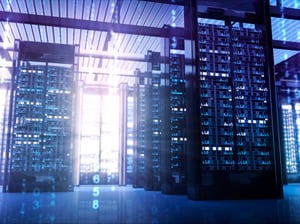 Over the past decade, drastic changes have taken place within the data center. Technological advances and innovative new products have revolutionized the way data centers operate. Virtualization is now a vital part of the modern software-defined data center (SDDC). While virtualization is enormously beneficial, it comes with a new set of challenges. Hyperconverged infrastructure (HCI) resolves many of the efficiency, security, and scalability issues facing today's data centers.
What is HCI?
HCI is a next-generation architecture designed to meet the needs of the modern SDDC. Created to support cloud and software-first methods, HCI unites every aspect of the data center. Servers, hypervisors, storage, and data management are controlled from a central platform. HCI provides high scalability and agility while simplifying data center management. With HCI, enterprises can take a cloud-first approach without sacrificing availability and performance.
Data center convergence is not a new idea. There are many comprehensive solutions that link storage, networking, and computing devices. However, many of these solutions only serve to simplify infrastructure development and upgrades. Modern SDDCs require a solution that also addresses day-to-day management and operational needs.
Virtualization has become a key data center element. HCI simplifies the management of virtual machines and workloads, and solves many virtualization challenges. With HCI, IT can manage the entire data center from a single interface. HCI permits the clustering of systems, even across separate sites, creating shared resource pools. In turn, this helps maximize availability, agility, performance, and scalability.
Challenges and Industry Trends
Virtualization has redefined the data center, but it has its own challenges. New products and solutions are available each week. Enterprises often rush to employ every new device to ensure that their data centers are state-of-the-art. Many of these solutions are highly beneficial and meet specific needs. For example, deduplication appliances can significantly cut down on the storage space required for backups. The downside is that these devices are not all designed to work together. Each product must be managed separately, and each part of the IT department requires a dedicated specialist. This disconnect has made data center management complicated and inefficient.
IT departments often employ several solutions to maximize data efficiency and storage capacity. However, many of these products utilize the same methods, resulting in CPU intensive redundancies. For example, data sent to storage is deduplicated to maximize storage space. To create a backup, the data must be hydrated or returned to its original state. It is then deduplicated again when the system sends the backup to storage. This repeated deduplication and hydration results in extensive CPU and bandwidth costs. The intended benefits of the solutions are neutralized by the increased demands on the infrastructure.
Virtualization has revolutionized the way enterprises use and manage their servers. Unfortunately, few companies are using virtualization as intended. True virtualization should unite all resources into a single pool that users can access as needed. When IT departments use separate incompatible hardware and software components, the benefits of virtualization are reduced. Each component must be managed through its own interface. The result is separate groups of specialists managing different aspects of the data center. This creates a complex management system that limits the data center's potential.
Benefits of HCI
HCI seeks to simplify data center management and optimize resources. With HCI, enterprises can eliminate the need for separate management systems and staff. HCI works by linking each aspect of the data center to create a single physical system with one comprehensive management interface. Data center management is drastically simplified, resulting in increased performance. HCI helps enterprises maximize:
Data efficiency

Scalability

Data protection

Application and workload mobility

Data availability
Resource and management optimization also lowers operating costs and reduces IT expenses, making HCI a cost-effective solution. With HCI, companies can get more out of their data center investments.
HCI allows enterprises to realize the true potential of their modernized data centers. Tech innovations and changing business needs have transformed the data center and brought on new challenges. Incompatible devices and solutions are managed separately and often create intense system demands. IT becomes a multi-department division, with each group managing a different aspect of the system. This separation cancels out the unity that virtualization should bring. With HCI, every part of the data center is connected to and managed by a single interface. HCI turns the modern data center into the comprehensive, streamlined environment it is designed to be.
NEXT STEPS: Explore the major differences between converged and hyperconverged infrastructure in our white paper: Future Ready Data center: Converged vs Hyperconverged infrastructure