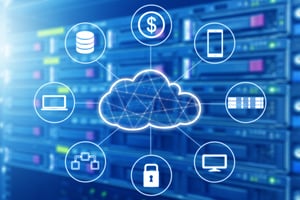 When it comes to pieces of the IT puzzle where skimping or going with the option that's just 'good enough' will inevitably come back to haunt you, backup and disaster recovery tops the list.
Veeam, a global leader in backup and replication software, and Nutanix, an innovator of hyperconverged infrastructure (HCI), have teamed up to offer Veeam Backup for Nutanix Acropolis Hypervisor (AHV) giving enterprises data resiliency, protection and unparalleled data access, regardless of the workload type or location.
Before we jump into the additional benefits of this partner solution, let's talk a bit about each of them individually.
Veeam Backup & Replication V10
Veeam's Backup & Replication is an industry-leading BUDR solution that offers availability for cloud, virtual, and physical workloads though a simple management console. Backups are easy to recover, reducing operational costs and getting enterprises back on their feet faster.
In their latest update, Veeam added a host of new major features, including network attached storage (NAS) capabilities for data protection and recovery, storage snapshots support, and a forever-incremental backup engine.
To help enterprises defend again ransomware attacks, Veeam also added an immutable backups feature, which protects recent backup copies from unauthorized changes or deletions though S3 Object Lock.
Nutanix AHV
Nutanix AHV is a native hypervisor solution which integrates with Nutanix's enterprise Cloud OS stack. It offers secure, enterprise-grade virtualization to give enterprises an easy way to manage storage, with the added the benefits of built-in security practices, low operational costs and optimal performance for even the most demanding applications.
To reduce the IT burden, Nutanix prioritized ease-of-use, allowing administrators to effortlessly manage storage and virtualization all from one place.
Use cases include server visualization for Linux distributions and Microsoft server and desktop operating systems, VDI and DaaS, infrastructure and databases, and remote or branch offices.
The perfect backup and data protection pair: Veeam backup for Nutanix AHV
While both solutions are effective options on their own, combining them offers enterprises a new, agentless approach for virtualized environments.
Management functionality, including job management scheduling, data compression and duplication, retention policies, and other backup and restore activities, is conducted within the AHV Proxy, leaving the Veeam backup server to operate as a repository, reducing overall complexity.
In the event of a BUDR emergency, the restoration begins with the backup data, provided by the AHV Proxy though the use of snapshots. This allows for complete file and disk level restoration and the simplicity of the solution's design guarantees fast recovery.
The flexibility of Veeam Backup for Nutanix AHV offers a host of different options for backups, including converting them into VMDK, VHD or VHDX formats for use in various virtual or testing environments. Likewise, the unmatched performance of the solution and instant recovery options reduces disruptions and downtime, ensuring a smooth and uninterrupted end-user experience.
With the recent updates to Veeam Backup & Replication, Backup for Nutanix AHV also has several new management changes, including:
Console integration which displays job status, start/stop/disable jobs, and the option to launch the proxy web user interface.

No additional licenses are required for the proxy appliance as the license management is solely performed by the Veeam Backup & Replication server.

New VeeamZIP support for AHV workloads, easily accessed through the Veeam Backup & Replication console.
Additionally, the restore features of the solution also underwent improvements, including the addition of live file-level recovery through AHC FLR Appliance, entire VM restoration though Veeam's universal VMK backup file format, AHV snapshot restores and the addition of instant VM recovery.
Veeam Backup Enterprise Manager has also been integrated within the solution, as well as Veeam ONE support, which provides protected VM reports on AHV backups.
Ready to discover the benefits of Veeam Backup for Nutanix AHV?
Veeam Backup for Nutanix AHV offers enterprises a way to modernize data centers through increase agility and simplicity with the confidence is data is highly available for your enterprise users. The solution is designed for ease-of-use and centralized management, reducing IT costs and time spent administering backups.
NEXT STEPS: Have you integrated cloud in your backup and DR strategy? You might be interested in exploring our white paper, Backup and DR for the Cloud Generation, which covers:
Best practices for protecting and restoring your data
Where HA and replication technologies fit in your organization
Questions to consider when switching to a cloud solution
Read the white paper today and please contact us to talk to our backup experts with any questions about modernizing your backup or improving your data protection strategy.