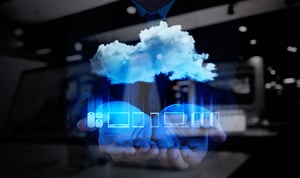 In years past, IT teams were generally squirrelled away and largely forgotten by other departments. Today, the digital economy and increased use of technology in the workplace have made IT a center point of daily operations and forced enterprises to focus on modernizing their infrastructure.
To keep up with evolving business objectives and increasingly complex and growing workloads, today's IT teams need to be flexible, agile, and efficient, but that hinges on whether the infrastructure is flexible enough to respond to the speed of business.
So how can enterprises give IT teams the tools they need to be successful? By choosing solutions that also prioritize these attributes.
Nutanix enterprise cloud and HPE GreenLake
Separately, Nutanix and HPE are supporting enterprises through a variety of digital transformation and modernization solutions.
HPE GreenLake, a fully managed, scalable IT infrastructure service, offers enterprises a cloud-like consumption model for on-premises infrastructure. HPE also offers flexible pay-as-go models and makes it easy for enterprises to scale to their exact needs.
HPE GreenLake has cast aside the one-size-fits-all approach to supported technology by allowing enterprises to choose the most appropriate HPE or third-party technology, which now includes Nutanix Enterprise Cloud.
As a complete IT infrastructure, the Nutanix Enterprise Cloud Platform provides the agility, scalability, and simplicity of the cloud, and the security, performance, and cost predictability of traditional on-premises infrastructure.
An additional benefit can be found in the way Nutanix Enterprise Cloud spreads all data and processes across the entire cluster, which improves resource utilization, scalability, and performance predictability.
So why is Nutanix and HPE together critical to modernization success?
Through this partnership, Nutanix and HPE are offering customers additional strategies for modernizing IT and transforming operations through two key methods. The first is a portfolio of HPE servers running the Nutanix software stack, and the second expands HPE GreenLake to run the Nutanix Enterprise Cloud as-a-service to support key areas.
Throughout their partnership, Nutanix and HPE have focused on end-user computing and virtual desktop infrastructure (VDI), databases, and private cloud infrastructures.
In terms of end-user computing, HPE GreenLake with Nutanix offers enterprises faster and easier deployment and management of VDI, as well as desktop-as-a-service (DaaS) infrastructure. HPE GreenLake with Nutanix also simplifies bring-your-own-device and choose-your-own-device programs through the distribution of applications through SaaS models.
For databases, HPE GreenLake with Nutanix mitigates common management challenges that come about due to the use of traditional infrastructure to support high-performance database operations. By streamlining database deployment, management, and operations, HPE GreenLake frees up IT for more complex and strategic projects.
Finally, the focus on private cloud infrastructure, supported by hyperconverged infrastructure (HCI), allows enterprises to consolidate siloed workloads into just one management platform. Additionally, IT teams love the one-click database deployment, management, and operations, as well as a pay-per-use billing structure.
Are you interested in modernizing your IT strategy?
To keep up with the demands of this new digital world, enterprises must prioritize efficiency as the key focal point of their IT modernization strategy. HPE GreenLake with Nutanix enables enterprise IT teams to use the tools they need to be successful on their own terms. Take a closer look at how these two solutions work together and it will be easy to spot opportunities for efficiency gains and reduce complexity. Contact the WEI team today to learn more about how these solutions can work in your environment. WEI is an HPE Platinum Partner and we have several resident Nutanix experts on our engineering team that can help you navigate toward the right infrastructure solution for your company.
NEXT STEPS: Modernizing the data center essentially starts with virtualization. And yes, you can virtualize it all! We are now living in a software-defined world, and the companies that had adopted software defined infrastructure early are also the industry innovators of today. Read our eBook below to better understand what's required for a successful journey to software defined infrastructure.