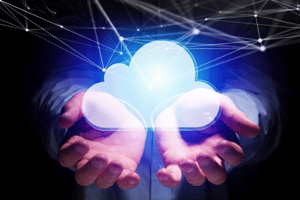 Nearly every enterprise is in the process of expanding their use of cloud. This makes a lot of sense; the cloud enables IT teams to speed up the delivery of services while reducing operational costs. The process is far from easy, however. Cloud implementation has become complex and difficult for businesses to handle without seeking qualified advice outside their internal IT resources—and without the right expertise of cloud-native automation, companies risk losing the benefits that prompted their cloud investment in the first place.
The solution is consumption-based IT
Enterprise owners are now working on a solution that will provide them with the skills and talents needed to make the business' transition successful, while also supporting and managing the work needed to make it happen efficiently and cost-effectively. Especially for enterprises just beginning their cloud journey, consumption-based IT is an attractive, low-risk option. It helps bridge the gap between traditional private and public cloud deployment in order to accelerate cloud adoption and IT service delivery.
Consumption-based IT serves up applications, infrastructure, and business processes a la carte, meaning business leaders can consume what they want, when they want it, and only pay for what they use. These cloud-like abilities encompass not just IT systems, but also their support, deployment, management, software, and retirement.
Top 6 Benefits of Consumption-based IT
Here are the top six benefits of consumption-based IT as identified by a Hewlett Packard Enterprise-sponsored IDC InfoBrief from earlier this year:
1. An OPEX utility model that is risk-free and optimized for flexible capacity building and consumption, aligning cost to revenue.
2. Cloud-like abilities like IT automation, fast-provisioning, and scaling of resources on your IT infrastructure environment.
3. Single point-of-contact for IT solutions implemented: Easier and more efficient methods of resolving issues with a vendor who has intimate knowledge of the solutions it put in place.
4. Eliminate complexity of managing and optimizing both on-and-off premises clouds via a managed cloud services deployment model.
5. Deliver on business outcomes: Ties IT solutions and services directly to a set of business outcomes you want to achieve; a service provider can tailor a solution that delivers on those outcomes.
6. Reduced time-to-value of IT solutions: Traditional IT investment required upfront payment for the IT solution to be used over a certain period of time. Return-on-investment only happened after that period. Consumption-based IT delivers returns at the point of use.
Take advantage of HPE's GreenLake Hybrid Cloud
HPE's GreenLake Hybrid Cloud solution delivers a managed cloud environment for your public and private clouds that automates cloud operations, which help to manage performance, cost, security, and compliance.
Based on HPE best practices and intellectual property from Cloud Technology Partners, HPE GreenLake Hybrid Cloud helps speed time-to-value, lower costs, streamline operations, and help enable IT and regulatory compliance with purpose-build configurations that are designed, implemented, and operated for your enterprise.
This digital transformation is one of the most significant technological shifts your enterprise will face over the next decade, and the sheer complexity of it demands a new set of skills for both building and operating a secure, scalable, and compliant hybrid cloud. To meet those demands, HPE GreenLake Hybrid Cloud has incorporated the following solutions:
HPE Design Methodology – Unique to HPE, the methodology is designed to help customers address security, operations, automation, resource management, cost control, compliance, and tooling.
Simplified CloudOps – With processes and tools that are cloud-native, agile, and automated, the experts from HPE Pointnext Services help you address your security requirements while achieving continuous delivery and operations of cloud computing infrastructure, competitive performance and usability, and the scalability required to support your business.
Continuous Monitoring – The Continuous Compliance service provides a single source of verifiable information across governance, risk, and compliance (GRC)— enabling real-time monitoring and remediation. With automated monitoring of more than 1,500 controls, customers can reduce the time, cost, and complexity of audit preparation.
Continuous Visibility and Control — The Continuous Cost Control service provides a holistic view of financial impact as you migrate to, and operate in, the cloud. Gain visibility across all your accounts and costs and map actual spend and reconcile costs back to business cases. Use monitoring and alerting features to analyze cost optimization and uncover potential savings.
Let WEI help guide your digital transformation
Want to know more about consumption-based IT and whether it's the right step to take on your enterprise's journey to the cloud? Contact WEI today to begin a conversation.
NEXT STEPS: The speed and agility benefits of hybrid cloud provide a way to accelerate digital transformation, while maintaining control and security. Learn more about the flexibility and freedom of choice hybrid cloud provides in our white paper below.