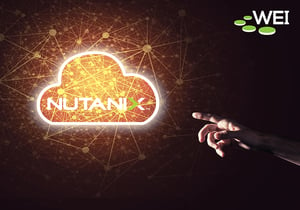 In years past, database management was a slow, manual, and costly business, often requiring multiple solutions and significant storage and compute requirements. As a result, enterprises often suffered from inconsistent performance and increased costs.
For today's enterprises, the story is a bit different. Modern solutions are built with efficiency and simplification in mind, often combining elements of automation and artificial intelligence (AI) to reduce the burden on IT.
Enterprises making use of public, private, or hybrid cloud environments can benefit from one particular solution: Nutanix Era. Keep reading to learn our top 4 reasons why Nutanix Era is worth considering for your organization.
1. Nutanix Era offers simplified provisioning
As a cloud agnostic multi-database management solution, Nutanix Era simplifies operations by extending the management solution across clouds and clusters. With one simple database management control plane for public, private, and hybrid cloud deployments, management is centrally located and provides additional visibility across the databases. This allows database administrators to apply best practices across all database types, reducing nonstandard provisioning. Through automation, Nutanix Era also reduces the need for manual, error-prone and tedious tasks, freeing up IT for more complex and innovative projects.
As shared in a recent Forrester Total Economic Impact report, Nutanix Era increased the speed of database provisioning by 97 percent for the example organization used for the purposes of the report. This reduction, from an average of two weeks to just hours, improved database administrator and developer productivity.
Thanks to this increased productivity, database managers can also see a reduction in monthly overtime hours by up to 50 percent, offering compounded cost savings for the enterprise.
2. Nutanix Era offers seamless migration
As shared in the Forrester report, Nutanix Era, which is built on the Nutanix hyperconverged infrastructure platform (HCI) that uses a scalable node structure, makes migration seamless. Database administrators can easily swap nodes in and out as needed, eliminating the need for refreshes to be undertaken all at once as a larger, more labor-intensive project.
3. Lifecycle management made easy
In terms of backup and recovery, Nutanix Era offers enterprises the ability to backup and/or restore databases across clouds in just minutes and with point-in-time granularity. Enterprises can also backup once every 30 minutes with Nutanix Era, a frequency unheard of with legacy systems that have larger storage requirements.
When compared to previous solutions, Nutanix Era reduces the amount of storage required for database clones by as much as 60 percent, as reported by Forrester.
4. Nutanix Era offers increased cost savings over the competition
We've talked about the various operational benefits that enterprises will see when they make the switch to Nutanix Era, but now let's talk about the financial advantages.
When it comes to database provisioning, the increased speed and productivity for database administrators is worth more than $371,000 over three years for the example organization used for the purposes of the report. Simplified database management further increases those savings and the reduced overtime hours are worth more than $119,000 during the same period in the study conducted by Forrester.
The reduced storage requirements and increased simplicity for lifecycle management also offers cost savings. According to Forrester, the study found the reduction in storage requirements can save enterprises up to $800 per terabyte of avoided storage. Over three years, this translated to more than $4.5 million in savings for the example organization.
Other cost savings can be found in reduced costs related to administration tool sets and licenses once all databases have been migrated onto Nutanix. In the study, Forrester found this to be worth more than $2.6 million to the example organization. Additionally, the automated database patching offered by Nutanix Era, which reduces downtime hours and the financial consequences associated with them, was worth more than $1.6 million to the example organization.
There are numerous other benefits of Nutanix Era which cannot be quantified, including improved employee user experience, and we encourage you to discover those for yourself.
Take a closer look at Nutanix Era
As a global leader in cloud software and a pioneer in HCI solutions, the Nutanix Era solution combines the best of the Nutanix portfolio to automate and simplify database management. As a boon to database administrators and IT leaders alike, Nutanix Era takes complexity out of database provisioning and lifecycle management. Our team of certified Nutanix experts can help you take a closer look at Nutanix Era. Ask us how your organization can begin to reap the same benefits found in the Forrester report. Contact us today to start a discussion.
NEXT STEPS: Say goodbye to IT management complexity and hello to IT simplicity! Are you ready for Nutanix Enterprise Cloud? The journey to software defined infrastructure often starts with the adoption of hyperconverged infrastructure, combining compute, storage, and networking functions in a single software-driven appliance. Learn more about our recommendations for the journey to SDI in our eBook below!