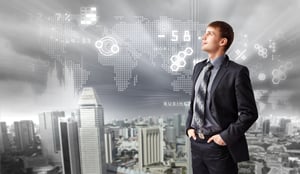 We've blogged about Nutanix in the past. In fact, we've written a lot about them. But some companies and products are worth talking about and deserve more than just 15 minutes of fame. That's because sometimes, a company brings forth an idea that changes everything. Nutanix is one of those companies. Nutanix helped revolutionize the data center by integrating compute, networking, storage, and hypervisor software into one package. Suddenly, multiple components that had been dispersed throughout multiple racks are now compressed into a single appliance. This condensed footprint simplified the processes of purchasing, deployment, and management. Hyperconverged Infrastructure has proven itself to be the next step in the evolution of the data center. Dheeraj Pandey, Chairman, Founder and CEO of Nutanix, says it best:
"Our mission is to free our customers to build their infrastructure, run their applications, modernize their data centers, and choose their cloud platform – all on their terms, not a vendor's lock-in agenda."
For the second year in a row, Gartner has recognized Nutanix as a leader in the HCI market. In fact, Gartner doesn't just proclaim them to be a leader, but an absolute leader and a vendor that should be a consideration in almost any HCI scenario. Leadership in a market that is growing exponentially. IDC said that industrywide, overall HCI revenues surged 15 percent from the prior quarter, up 67 percent year over year to a record $1.7 billion. According to Gartner, 20 percent of business critical applications currently deployed on three-tier IT infrastructures will transition to hyperconverged infrastructure. According to new data from research firm, IDC, the HCI market propelled to nearly $1.5 billion in sales during the second quarter of 2018, up 78 percent year over year. In the above mentioned survey concerning the state of the enterprise data center, 67 percent of respondents are either using or are planning to adopt HCI, and Nutanix is one of the primary benefactors.
The company itself just added 880 new customers in the first quarter of fiscal 2019, putting them over 11,000 customers. One of the biggest draws of HCI is the concept that few moving parts makes them simpler and more cost efficient. In the mentioned study concerning the enterprise data center, respondents reported the following primary benefits that they have either already realized or expect to realize concerning an HCI deployment:
Improve operational efficiency: 27%
Reduce costs: 26%
Improve scalability: 24%
Data efficiency improvements: 22%
Improve service and support: 21%
Application performance improvements: 20%
Reduce Infrastructure tasks and integration time: 19%


Nutanix Takes HCI to the Next Level
Nutanix certainly did its part to simplify the traditional data center, but they aren't stopping there. Today's enterprises are large multifaceted enterprise conglomerates that stretch outwards from the traditional data center to an assortment of public and private clouds. To help simplify these complex hybrid architectures, Nutanix has once again thought out of the box, literally. The company is no longer affiliating itself as an HCI appliance company. Because the future of networking is software, they are now completely software centered, resulting in a whole new level of agility and flexibility.
Nutanix HCI software runs on a multitude of hardware platforms. This means that customers can choose their preferred server platform. For Nutanix, hardware is indeed now reduced to just a commodity, leaving the freedom of hardware choice to the customer.
Nutanix supports all popular hypervisors so that IT admins can use the tools that they are comfortable with such as VMware and Hyper-V.
Nutanix helps unify your public and private clouds together in order to deliver a harmonizing experience for all of your cloud-based applications.
Nutanix is setting out to not only future-proof the data center, but your entire hybrid IT enterprise. That's because their technology is about injecting agility and scalability into all facets of the enterprise. This translates not only into lower capitalization costs and mitigated risk levels, but less personnel costs as well. An IDC study showed that Nutanix implementations allotted 73 percent less IT staff time per compute deployment and 68 percent less IT staff time per storage deployments. This translated into a savings of $12,884 per 100 users.
Let Nutanix Impact Your Future as Well
Yes, there is a lot to say about Nutanix. Despite its short history, it has made a big footprint on the data center industry, by creating solutions that work. If you haven't considered an HCI solution, then come and discover what your competitors already know, that simplicity of design pays by dividends.
Next Steps: Read our tech brief, "The Hype is Real: Understanding the Benefits of Hyperconverged Infrastructure," to understand the key benefits HCI solutions bring to enterprises worldwide.