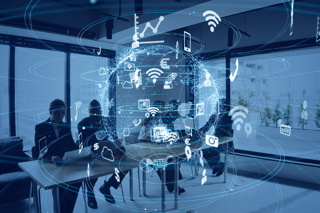 With the rise of hybrid workplaces, software-defined wide-area networks (SD-WANs) are becoming increasingly popular due to their scalability, cost-efficiency, and improved user experiences. Organizations must be prepared by taking advantage of centralized SD-WAN platforms to remain resilient during times of crisis. In an earlier article, we covered the reasons why your enterprise needs a centralized SD-WAN platform. This article examines five key SD-WAN trends that organizations need to incorporate into their SD-WAN strategy to rebound from current challenges and thrive in the future.
Cloud Adoption And Modernization
In the face of digital transformation and a worldwide pandemic, businesses are increasingly reliant on cloud computing. This shift away from data centers has led organizations to require reliable wide area network connections for secure traffic routing directly to the cloud. This is where SD-WAN solutions come in.
SD-WAN technology is revolutionizing the way IT departments operate, enabling them to modernize their networks and keep pace with digital transformation. With SD-WAN connections, businesses can leverage more cost-effective internet or 5G/LTE options while still delivering a superior user experience compared to traditional WAN models that rely on backhauling.
SD-WAN is also altering the way businesses route their traffic, allowing for improved flexibility and optimization. Through intelligent steering of resources and SaaS techniques enabled by machine learning algorithms, organizations can take advantage of a network-as-a-service model to gain maximum benefit from SD-WAN solutions.
VPN Alternative
As more and more employees work remotely, traditional VPNs are falling out of favor in the corporate world. SD-WAN solutions have emerged as a viable alternative that provides an enhanced level of security for remote users trying to access enterprise networks. With these advancements, businesses can provide their staff with secure connections to vital resources no matter where they choose to work from.
However, VPNs aren't completely a thing of the past. These days, enterprises are adopting a multifaceted approach to their networks, combining SDN, zero-trust security models, cutting-edge SD-WAN technology, and even classic VPNs. By harnessing these tools together, companies ensure secure connections for both employees working remotely and workers onsite.
Significant Cybersecurity Increase
In the past few years, cyberattacks have become a rapidly growing epidemic with devastating consequences. Last year alone saw an alarming 38% spike in malicious online activity compared to the previous one – leaving businesses and individuals vulnerable to hackers exploiting insecure networks and inadequate security compliance measures.
In today's digital landscape, the combination of SD-WAN and SASE (Secure Access Service Edge) capabilities has become increasingly important for organizations looking to protect their data from cyberattacks. Advanced SD-WAN solutions can natively integrate with cloud security services such as SWG (Secure Web Gateway), CASB (Cloud Access Security Broker), and ZTNA (Zero Trust Network Access). This enables businesses to create a secure fortress against malicious threats while simultaneously leveraging the advantages of cloud applications.
Hybrid Work Is Here To Stay
As the workplace continues to shift toward a hybrid environment, companies must adapt their security strategies accordingly. Centralized IT networks are becoming increasingly unsustainable, and organizations have come to recognize that they need distributed solutions for safeguarding remote connections in this new reality of hyper-distributed edges.
SD-WAN solutions, like Aruba Network's EdgeConnect SD-WAN platform, are enabling organizations to create a cybersecurity mesh strategy and secure every access point or device, regardless of its location. This distributed approach gives enterprises more control over cyber risks by protecting individual points instead of relying on an expansive perimeter with undefined boundaries. With SD-WAN capabilities in place, businesses can be sure that their data is safe no matter where it travels.
A Rise In IoT Devices
SD-WANs are essential for modern enterprise networking, connecting a growing number of devices ranging from surveillance cameras to POS terminals. These IoT solutions present unique security threats due to their simple architecture and lack of security agents. The manufacturing industry faces even greater challenges as IT and OT networks converge – something that had been avoided in the past. SD-WAN solutions offer an effective way to manage these risks while still providing reliable access across multiple locations with zero-trust architecture and dynamic segmentation. This ensures that all users, devices, and connections are secure from cyberattacks by preventing malicious code from infiltrating the enterprise network.
Conclusion
Enterprises wanting to stay ahead of the curve will have to look no further than Aruba's SD-WAN solutions. With modern, secure edge-to-cloud architecture and flexible platforms tailored specifically for your use case, these innovative SD-WAN trends will help you create a foundation that's ready to take on any challenge. Get in touch with WEI today to learn more about Aruba's SD-WAN solutions and how they will empower your enterprise.
Next Steps: SD-WAN with Aruba EdgeConnect Enterprise creates more effective networking solutions that help accelerate the growth of any organization. This free tech brief identifies the three main components of Aruba Network's powerful EdgeConnect Enterprise platform:
Physical or Virtual SD-WAN Appliance
Aruba Orchestrator
Aruba Boost