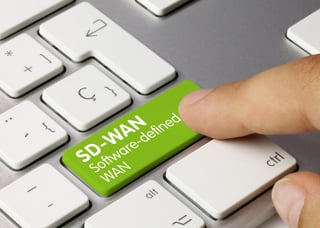 While 2021 hasn't brought a definite end to pandemic-era IT challenges like many hoped, other technology predictions have held steady, largely propelled by the new remote working and hybrid workforce standard. Examples include the continued proliferation of internet of things (IoT) devices, the accelerated adoption of artificial intelligence (AI) and automation technologies, and an increased interest in software-defined wide area network (SD-WAN) technologies.
With that in mind, in the article below, we discuss five SD-WAN edge trends that will help IT leaders plan for what's coming next and make informed decisions about their SD-WAN strategies, as shared by Aruba, a Hewlett Packard Enterprise company.
1. SASE Will Continue To Gain Steam
To fully take advantage of the benefits of digital transformation and a remote or hybrid workforce, enterprises need to make improvements to their WAN and security architectures instead of just focusing on one or the other. This is especially important as cybersecurity threats continue to multiply and remote workforces serve as tempting targets for bad actors.
Secure access service edge (SASE) offers the security needed to handle these evolving workforces while ensuring a consistent and enjoyable user experience for employees.
2. IoT Security Challenges Will Require New Solutions
In addition to remote workforces, the continued proliferation of IoT devices has created its own security challenges. Zero trust access and granular segmentation at the new WAN edge, which can enforce distinct security policies for each class of IoT endpoints, will be key in securing these devices and preventing them from being utilized by cybercriminals.
3. SD-WAN, SD-Branch, and SASE Will Be Essential To Edge Success
When it comes to security, a multi-pronged approach ensures that data will stay secure, regardless of the threat. By combining SD-WAN with cloud-first connectivity and steering, SASE, which provides a more direct way to connect users to business resources, and SD-Branch, which offers an easy way to simplify the branch even as IoT adoptions create new complications, enterprises can enhance their security posture while also improving operational efficiencies.
4. Edge Strategies Will Continue To Evolve As Circumstances Require
While many hoped that at this stage we would be in the post-pandemic era, the virus continues to impact enterprises and IT on a daily basis, delaying plans to return to the office and necessitating technologic creativity when designing and implementing infrastructure. Looking ahead, as we do eventually reach the end of the pandemic, enterprises will continue to utilize edge strategies to improve security and user experience for remote and hybrid workforces.
5. Enterprises Will Utilize Software-Defined Principles To Support Growth
As we've seen with SD-WAN, software-defined strategies are proving to be the most efficient and logical step forward for the modern enterprise. Beyond SD-WAN and SD-Branch, these software-defined principles are being applied to other areas of the enterprise, including the data center and campus LAN. To stay competitive in the market and ready for unexpected change, enterprises will need to adopt these strategies throughout their digital environments.
SD-WAN By Aruba And Silver Peak
In 2020, HPE, the parent company of Aruba, acquired Silver Peak, a global leader in SD-WAN solutions. Through this acquisition, Aruba and Silver Peak are working together to provide customers with the very best in SD-WAN solutions, while also significantly reducing costs.
Silver Peak's SD-WAN offerings will strengthen the Aruba ESP (Edge Service Platform) by expanding Aruba's cloud capabilities. Additionally, through a combination of Silver Peak's SD-WAN and Aruba's SD-Branch offerings, customers can simplify branch office and WAN deployments, benefiting remote workers and supporting cloud-connected distributed enterprises.
Are You Interested In SD-WAN From Aruba?
Regardless of your specific use case, Aruba offers the SD-WAN and edge computing solutions your enterprises need to be successful. By transforming WAN and security together, enterprises can discover increased benefit from their current and future investments in cloud-computing. Beyond the initial advantages of SD-WAN solutions, IT will experience additional benefits through reduced management complexity and overall lowered costs.
NEXT STEPS: SD-WAN is ideal for campus-based networks or distributed enterprises, or any enterprise with remote/branch offices. Explore the top three benefits of SD-WAN in our short video below.