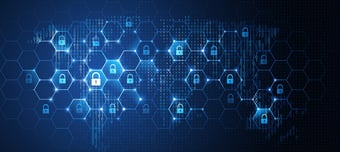 In the past year and a half, securely facilitating remote working has become a priority for a majority of enterprises. It's also become clear that remote working is going to be a longer-term or permanent working model enterprises will need to support.
In the early days of the pandemic, ensuring uninterrupted access took priority over security, but as time has gone on, enterprises have started the process to replace emergency patchwork measures with secure, long-term solutions.
Thankfully, there are a variety of strategies available to secure both off- and on-premises infrastructure. In this blog, we'll be discussing the current state of secure access service edge (SASE), zero trust architectures, and software-defined wide-area networks (SD-WAN), as shared in a recent report by Ponemon Institute and sponsored by Aruba, a Hewlett Packard Enterprise company.
Simplifying Through SD-WAN
At its core, SD-WAN is a simplified approach to managing the wide-area network (WAN) architecture. This is achieved by decoupling the network hardware from the control mechanism, allowing enterprises to build WAN infrastructure at lower cost and with better performance.
In terms of security, SD-WAN architecture utilizes encryption and VPNs to secure traffic, offering significant benefit for enterprises with a remote or hybrid workforce.
In the course of their research, Ponemon found that 44% of the 598 North American IT professionals surveyed as part of the study considered themselves "familiar" with SD-WAN technology, compared to 64% who expressed familiarity with zero trust and 45% that were familiar with SASE.
In terms of implementation, 35% of respondents indicated that they had already deployed or will deploy SD-WAN within the next 12 months.
Ponemon also found that when it comes to implementation, a majority of respondents found that, "the network team has the most influence in the deployment of SD-WAN solutions with advice from the security team."
Take Control With Zero Trust
Zero trust describes both an IT solution and a security philosophy. When utilizing zero trust as part of a networking strategy, enterprises take the approach that no device can be trusted by default and that mutual authentication provides enhanced protection compared to other methods.
As previously identified, Ponemon found that respondents were overall more familiar with zero trust strategies than SASE and SD-WAN. That also translates to implementation, with 43% of North American respondents indicating they had deployed or will deploy zero trust within the next 12 months.
It was also found that enterprises that self-reported as "highly confident" in their security architecture were more likely to have implemented at least one of these security strategies, with a majority of organizations within that group having implemented zero trust (48%) compared to SASE (43% ) and SD-WAN (33%).
[Featured Video]
Get to Know Aruba's Approach to Zero Trust
Utilize The Cloud For Security With SASE
For many enterprises, SASE architecture is an attractive networking solution because it simplifies both WAN and security by delivering both as a cloud service directly to the source of the connection. This is particularly helpful for organizations with remote or highly mobile workforces that frequently utilize cloud applications.
Of the three strategies covered by Ponemon in their study, SASE was the least utilized, with only 30% of North American respondents having already deployed or planning to deploy SASE in the next 12 months.
In terms of implementation, a majority of respondents indicated that when it comes to SASE, they would select a "best-in-breed" vendor when, "deploying both SD-WAN and cloud delivered security for a SASE architecture."
It was also found in the course of the study that a majority of respondents said they would "use leading vendors who focus on cloud-delivered security services" when implementing cloud-delivered security services.
Take Your Network Security To The Next Level With Aruba
If your enterprise is interested in any of the security strategies discussed above, WEI and Aruba can help. Aruba's Edge-to-Cloud Security offers the holistic security and architectural simplicity needed to stay competitive in today's rapidly evolving digital landscape. By taking advantage of Aruba's full portfolio of security solutions and out-of-the-box integrations, enterprises can fully secure their remote, hybrid, or on-premises workforces. What's more, you dont have to go it alone. Our team of Aruba experts are ready to answer your toughest questions. We have extensive knowledge across Aruba's entire network security portfolio and can architect and deploy custom solutions unique to your business needs. Start a conversation with us today.
NEXT STEPS: See how Aruba is helping enterprise companies secure their remote workforce with Aruba Remote Access Points in our tech brief below. And ask us about our experience with Aruba RAPs!