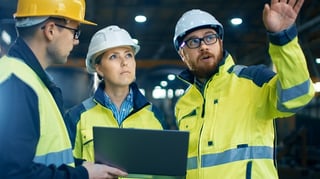 According to Forbes, remote workforces offer an abundance of positives, including increased productivity, stronger performances from team members, greater employee retention rates, and lower costs. Unfortunately, this revolutionary transition hasn't been so cut-and-dry for all industries. To name just a few, enterprises within the retail, manufacturing, and professional services industries have faced significant obstacles in their digital transformation journey.
In this blog, we expand on the common pain points for these mentioned industries and identify how Aruba Networks' EdgeConnect Microbranch serves as a viable solution.
Retail
With the immeasurable convenience offered by online shopping, many retailers are taking a look at how they can bring in new customers and retain their existing customer base.
For many retailers, this has meant incorporating top-of-the-line technology designed to improve their customers' experiences in their store. Some of those devices include electronic shelf labels, interactive mirrors, facial recognition systems, and mobile apps. Unfortunately, iplementing these new technologies creates a new complication: bandwidth and connectivity. If these struggles weren't enough, retailers also don't have onsite IT professionals to address any issues as they come up.
Here are a few of the features Aruba provides that address those common issues:
Improved Network Performance: SD-WAN optimizes network traffic by directing it along the most efficient path. For retailers, this means that their new devices will not overload their dispersed systems.
Simplified Management: With centralized management, IT teams can easily monitor and manage network traffic from a single interface, making it easier to troubleshoot issues and ensure business continuity. Having a dedicated IT team onsite doesn't have to be a consideration if centralized management can address the problem.
Manufacturing
One of the common struggles for larger companies is providing network connectivity to remote manufacturing sites. Because manufacturing companies operate at a global scale, stable network connections are limited and expensive.
Here are a few key capabilities Aruba provides manufacturers:
High-performance branch gateways with Zero Touch Provisioning (ZTP) for seamless deployment.
Licenses with unrestricted bandwidth for every SD-WAN gateway, leading to smooth network operations.
Policy-based routing for over 3,200 applications, enabling efficient traffic management.
Virtual gateways and hub routing options available for AWS and Azure, guaranteeing a flexible and scalable infrastructure.
Professional Services
This industry includes architects, accountants, engineers, and lawyers. Geographical distribution is a common characteristic of professional services organizations. Despite this, many still use legacy MPLS lines to connect their local offices to the main data center. These connections are not only costly but also have limited bandwidth. Consequently, file transfers such as engineering CAD files or legal documents take an unnecessarily long time and aren't always efficient. Additionally, professional service organizations are often dealing with sensitive, confidential information, making security a primary concern.
Here are a few of the solutions Aruba EdgeConnect Microbranch offers:
Enhanced Security: SD-WAN provides end-to-end encryption of data, which protects against cyber threats and ensures secure communication between remote workers and company resources. This also includes policy enforcement firewalls, DPI (Deep Packet Inspection), web filtering, and IDS/IPS (Intrusion Detection System/Intrusion Prevention System).
Reduced Costs: SD-WAN eliminates the need for expensive hardware appliances and reduces ongoing maintenance costs associated with traditional WANs and MPLS lines.
Is EdgeConnect Microbranch Right For Your Enterprise?
EdgeConnect Microbranch is a versatile solution that enables organizations to support a variety of use cases. These include distributed contact center operations, telehealth programs, IT and developer support, as well as mobile locations such as retail pop-up shops, mobile clinics, kiosks, conferences, and more.
Despite their differences in nature, the use cases share common requirements for connectivity, reliability, performance, and security. Thankfully, EdgeConnect Microbranch provides these essential features in a streamlined single-AP form factor. With this innovative solution at their disposal, organizations can easily meet the demands of diverse use cases without compromising network quality.
Final Thoughts
If you're searching for a secure, stable tool to help your enterprise transition to a remote/hybrid workforce or opening doors to addtional locations, Aruba EdgeConnect provides the most flexibility for growing businesses. Contact WEI today to learn how you can secure your dispersed workplace without compromising on network speed.
Next Steps: If your enterprise would like to learn more about SD-WAN and how to meet the developing demands of digital transformation, download our latest tech brief. SD-WAN: 3 Components To Efficiently Connect Users To Applications identifies the three main components of Aruba Network's powerful EdgeConnect Enterprise platform:
Physical or Virtual SD-WAN Appliance
Aruba Orchestrator
Aruba Boost
The tech brief also expands on:
The advanced SD-WAN solutions of today
Why basic SD-WAN is no longer enough
Why MPLS hub-and-spoke topology is obsolete