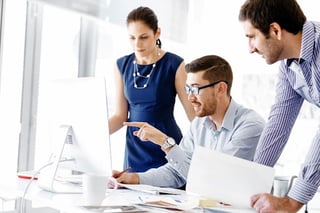 Enterprises working toward digital transformation initiatives have realized traditional Wide Area Networks (WAN) cannot keep pace with business needs and have since moved to an SD-WAN. When SD-WAN is deployed correctly, it allows the network to adapt to shifting IT requirements. This is a low-cost way to enhance the capacity and flexibility of enterprise networks.
With this switch, enterprises have experienced the agility and flexibility the solution provides to support their digital transformation efforts through on-premises data centers, the cloud, and SaaS services. As you will see – and may already know – is that Aruba's SD-WAN is the preferred platform for digitally driven enterprises and using their orchestrator provides complete observability and control.
Why Aruba's SD-WAN Is The Preferred Platform
The Aruba EdgeConnect Enterprise SD-WAN platform helps organizations fully understand the benefits of digital transformation within the cloud. Here are some advantages that make the platform a preferred option.
1. Highest Quality Of Experience
Both end-users and IT teams will enjoy the highest quality of experience with Aruba's SD-WAN platform. With consistency in application performance and the optional WAN optimization performance pack, Aruba EdgeConnect Enterprise enables IT teams to keep users satisfied and productive. Some examples include high-quality voice and video across services and cost-effective consumer broadband services. Even more, human errors are minimized with centralized orchestration, so IT teams can finally focus on business matters and eventually troubleshoot faster.
2. Continuous Adaptation
Aruba's SD-WAN edge platform also utilizes automated real-time responses to eliminate the impact of blackouts and brownouts. Through continuous monitoring and analytics, Aruba EdgeConnect Enterprise detects any changes to the network and initiates immediate adjustments that may be necessary. A huge benefit of Aruba's adaptive internet breakout is how users can stay connected to any application without manual intervention from IT.
3. Unified Platform
Aruba's platform unifies SD-WAN, firewall, segmentation, routing, WAN optimization, and application visibility and control into one centrally managed platform. This is what makes Aruba EdgeConnect Enterprise stand out from the competition. Through service-chaining ecosystem partners, Aruba allows organizations to leverage existing investments including industry-leading security.
However, even with these powerful benefits, without a centralized application, enterprises can struggle to view and control their SD-WAN.
4. Performance
End users will see an increase in satisfaction and productivity rates. This means better consistency and predictable performance along with the availability of data center and cloud applications.
5. Visibility and Control
It's your eye in the sky -- complete observability into all data center and cloud applications.
6. Security
Centralized segmentation of users, applications, and WAN services into secure zones with automated application traffic steering across the LAN and WAN in compliance with predefined security policies, regulatory mandates, and business intent.
7. Secure Access Service Edge (SASE)
Automated orchestration with leading cloud-delivered security services to deliver consistent security policy enforcement across the WAN to support a secure access service edge architecture.
8. Extensibility
Aruba Orchestrator is fully compatible with existing WAN infrastructure hardware and transport services. This allows customers to rapidly and non-disruptively augment or replace their MPLS networks with any form of broadband connectivity.
9. Savings
Last, but certainly not least, is cost savings. In this day and age, IT budgets are limited, so enterprises must adjust. Dramatically lower connectivity, equipment, and network administration costs with SD-WAN.
The Benefits Of Using Aruba Orchestrator
As enterprises move to a business-first, digitally-driven environment, the need for a centralized solution that provides complete observability and control of their SD-WAN is growing. Aruba recognized this need and developed Aruba Orchestrator as a solution. Here are primary benefits:
1. Real-time visibility and monitoring
Orchestrator dashboards provide real-time visibility into SD-WAN health and performance in a single screen, monitoring traffic throughput along with loss, latency, and jitter across overlays and underlays.
2. Automation and continuous control
Maintain the highest levels of application performance by automatically assigning application and security policies across hundreds and thousands of sites, including automated orchestration with cloud security services.
3. Centralized orchestration
Central orchestration of network functions including SD-WAN routing, firewall, segmentation, WAN optimization, application visibility and control, and automated orchestration with cloud security services.
SD-WAN not only helps enterprises keep up with digital transformation changes, but also improves overall network performance. This platform can ensure excellent performance across all cloud-connected networks, ultimately paving the way for companies to make the most of their available bandwidth.
Conclusion
SD-WAN has the potential to deliver the necessary modifications that enterprise networks need to keep up with digital-first initiatives. The Aruba Orchestrator solution takes SD-WAN to the next level with monitoring and continuous control from a centralized location. If your enterprise would like to learn more about Aruba's SD-WAN platforms and Orchestrator to meet the developing demands of your enterprise, contact WEI today to get started.
Next Steps: SD-WAN is ideal for campus-based networks or distributed enterprises, or any enterprise with remote/branch offices. Explore the top three benefits of SD-WAN in our short video below.