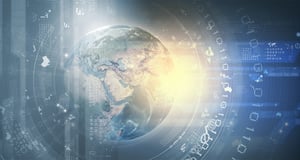 Goldman Sachs describes the Nutanix software-driven enterprise cloud as a "once-in-a-decade infrastructure story." Goldman Sachs does not toss out lofty acknowledgements like that haphazardly. Their research shows that companies are moving to hyperconverged systems to escape the legacy silo dominated IT infrastructure of yesteryear that is holding them back in a dynamic digital world. They see Nutanix as being a large benefactor of this movement due to its leadership and innovation. Nutanix and its Enterprise Cloud solution are positioned for success. This is further substantiated by Gartner, who recently recognized Nutanix as a leader in its magic quadrant for Hyperconverged Infrastructure.
Your enterprise technology today is no longer just a hosting environment for your hardware. Today it is the key enabler to new business opportunities, greater efficiency, and a competitive edge. In order to take advantage of these new opportunities, your IT infrastructure must keep pace with your business. Nutanix bases their enterprise cloud solution around this philosophy. Nutanix delivers more than just HCI infrastructure. It provides a revolutionary technology stack to help transform your business.
So, what is an Enterprise Cloud?
Most enterprise organizations want the best of both worlds, to have their cake and eat it too. They want the benefits of the public and private cloud. They want the flexibility and agility offered by the public cloud, but with the security and control of private enterprise data centers. They want the scalability and agility of the public cloud, but want platform choice as well. All of that combined is a lofty proposition to package together in a single platform. That concisely is what Nutanix has done—created a platform that allows enterprises to build private data center environments that give them the same kinds of tools, automation, agility, scalability, and consumption options that they can find in public clouds like Amazon Web Services and Microsoft Azure. Nutanix Chairman and CEO Dheeraj Pandey said in an interview last year:
"Our customers are moving past the initial hype of a public cloud-only world to a definition of cloud that is more nuanced around automation, commodity hardware, web-scale engineering, consumer grade design, and hybrid consumption."
Nutanix recognized that the inability for customers to utilize the same technology stack across all of their clouds was a confining obstacle, negating the ability of companies to achieve the manageability, flexibility, and simplicity they needed in their Hybrid IT enterprises. According to Greg Smith, Senior Director of Product Marketing at Nutanix,
"The hybrid stack needs a reboot that can enable a multi-cloud environment with a single OS and management platform that spans clouds, hardware platforms, and deployment environments, whether in the data center, remote office, edge devices, or remote service provider.
A Hyperconverged Infrastructure Solution… and More
The Nutanix Enterprise Cloud gives you all the benefits of any hyperconverged solution, combining the compute, storage, networking, and virtualization in a single turnkey platform. It leverages commodity x86 server nodes from leading hardware providers such as Dell, HPE, Lenovo, Cisco, and more. It also software defines storage and networking as well. All of this provides standard benefits of an elite HCI solution:
Full-stack IT infrastructure and platform services
Simplified management and implementation
Decreased deployment time (less than 60 minutes)
Run any application at any scale
Pay-as-you-grow economics
One-click operations
Lower TCO
The Nutanix Enterprise Cloud (NEC) goes beyond the ability to simply bundle components, software defined storage, and networking. In fact, you do not even have to run the Enterprise Cloud OS on Nutanix appliances. This software-only solution offering can run on third party systems including HPE, DELL EMC, and others. The inherent freedom of NEC is also evident in that its virtualization platform integrates with VMware vSphere and Microsoft Hyper-V virtualization solutions, giving you freedom of choice that many HCI vendors currently do not support. It also integrates with its own enterprise-grade hypervisor, Nutanix AHV, so virtualization no longer has to be separately purchased and managed. NEC integrates with multiple public clouds such as AWS and Azure. This allows for one-click migration so that workloads can seamlessly move across different infrastructure platforms. The combination of an HCI structure built with technology agnostic architecture that naturally incorporates with public clouds delivers a software-defined, fully distributed enterprise infrastructure that is self-healing with no single point of failure. What all of this means is that your IT team no longer has to focus on maintaining the infrastructure. Instead, it can focus on the applications and workloads powering your business. That is what enterprise IT today is all about and it is what Nutanix Enterprise Cloud delivers consistently.
NEXT STEPS: Learn more about how hyperconverged infrastructure can benefit your business, along with questions to ask before making an investment. Download our white paper below.