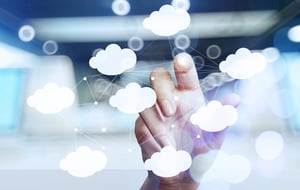 Nutanix was one of the first hyperconverged infrastructure solutions. People like asking about sizing, scaling, and adding nodes during initial HCI discussions, but hyperconvergence with Nutanix is much more than that. HCI is good for everything from VDI to desktop delivery and mission critical business apps.
Nutanix is making its mark across enterprises on the path towards data center modernization. With an overwhelming amount of technology buzzwords and IT solutions, our clients confide in our team of experts to best understand what the Nutanix Enterprise Cloud is all about. I've compiled a list of frequently asked questions regarding Nutanix; keep reading to see if I have answered some of your questions.
"You don't own your data center by sitting still."
Why Nutanix?
One reason people and organizations gravitate towards Nutanix is its overall vision and goal. Nutanix wants to make it easy to go in and out of private and public clouds. Making that transition easy for customers is a major buy-in factor.
No limitations
There is no vendor lock-in—that goes for hardware vendors, hypervisors, and/or public cloud providers. For instance, vSAN is essentially limited to just VMware, whereas Nutanix is more versatile. Nutanix is known for adding value on top of hypervisors on x86 server brands. AHV is the hypervisor provided with Nutanix, but it also runs ESXi and Hyper-V easily. There are tools which Nutanix has that allow you switch out the hypervisor at any time.
Simplicity of management
Nutanix has focused on simplification of management tasks. 'One click everything' and the simplification of day-to-day activities managed from a single pane of glass is what makes customers loyal to Nutanix.
Freedom, flexibility, simplicity of management, and one click upgrades are the main benefits customers seek, but there are many others. The other benefits include:
Pay as you grow
Rapid time to market
Continuous innovation
Balance owning & renting
Data integrity & compliance
Tailored SLAs for every application
How does Nutanix change the data center?
Digital transformation and data center modernization is about separating from the traditional silos of compute and storage to improve IT efficiencies and to deliver a cloud-like experience to your users. Combining networking, compute, and storage, and being able to manage it all in one location is the essence of modernization and Nutanix Enterprise Cloud fosters that mindset.
The Nutanix Cluster Check (NCC) runs on Nutanix's software management platform, Acropolis, and tracks current information on every cluster, including when clusters need to be updated. When a driver needs to be updated, for example, it is as simple as a one-click process to get that updated. This means less time is needed to manage and maintain the data center, which frees up time to focus on other areas within the organization.A major concern for many IT administrators that typically spend the majority of their time every day managing the data center manually is that they will lose their jobs. With Nutanix, IT teams can better assist users, focus on innovation, or work on other necessary tasks that IT teams previously struggled to find time to work on.
Who will manage Nutanix?
Traditional server and storage teams will be managing Nutanix, and they'll be working together to break down the traditional IT silos. As automation and cloud management platforms entered the data center, the need to break down those silos became more apparent and Nutanix keeps those teams together. Storage teams still have to be aware of replication, backups, and capacity. There are still separate IT functions, but they're going to now share the same tools that typically only go to a VMware administrator.
Are there any limitations or challenges with Nutanix?
It would be a challenge to find a limitation with Nutanix. There isn't anything else missing once it is up and running, seriously. By working with an IT partner, any potential missteps get avoided. Deployment is fast and can be fully set up within an hour.
Sometimes larger corporations with huge storage requirements are more resistant about making a major shift due to the time, cost, and worries deriving from not fully understanding every aspect of the solution. Those that make the switch do not regret the move, since the benefits start to show day one.
Do other solutions integrate well with Nutanix?
Nutanix integrates well with other backup solutions, including:
The versatility of the hypervisor enables this freedom of choice and the flexibility that comes along with it. For instance, Nutanix can run with VMware vSphere and NSX without any issues.
Are there any security concerns with Nutanix?
Nutanix takes a hardening approach with its Enterprise Cloud Platform. This means that it is secure the moment it is taken out of the box and doesn't require any other configurations. This is relief for top security executives involved in this process, as it provides the comfort of knowing it comes with heightened security features before it ever has access to any networks.
Can you grow by adding only compute nodes or storage nodes?
Hyperconverged infrastructure solutions are designed to combine compute and storage capabilities to simplify IT operations. It is still possible, however, to add storage-only or compute-only nodes. These capabilities exist to ensure that organizations have a solution for any given need. Due to that demand, it is possible for a company that is running low on available storage to upgrade with Nutanix quickly. Down the road if that organization wants to add some compute capabilities, it is also possible.
What's included in a standard license
?
Nutanix Enterprise Cloud truly is an out of the box solution. It comes with the necessary security components mentioned above and enough automation to get a good feel for the capabilities and invisible infrastructure of Nutanix Enterprise Cloud. There are additional packages and features available if an organization feels that more is needed down the road, but the initial package is more than plenty for many organizations. Here's an example of what you get out of the box:
Prism: Prism is the software used with Nutanix. Acropolis is the platform. When an admin interacts with Acropolis, they're working inside of the software called Prism, which is down under the control fabric.
Provisioning, planning, and upgrades: These are all things that are part of Nutanix as you acquire it. You don't need to buy additional components to get a lot of these capabilities. Just plug in and enjoy.
Choice & freedom from lock-in: Remember, one of the advantages of using Nutanix in your enterprise is that AHV hypervisor plays well with any other solution. This gives companies the freedom and confidence that the final solution is custom-tailored for their organization and goals, and they will not face complexities and limitations as they scale.
Where do I start?
When planning to implement comprehensive solutions like Nutanix, it is essential to plan ahead. Talking to an IT solutions provider like WEI can help organizations stay ahead. We can complete assessments and implement planning tools to provide a seamless transition to Nutanix. Talk to us today because we have the tools you need and can determine what will be needed if hyperconverged is the direction you want to move in with your organization.
Next Steps: Further your knowledge on hyperconverged infrastructure and get some tips on questions to ask before investing by reading our white paper, "The Future-ready Data Center: Converged vs. Hyperconverged Infrastructure."