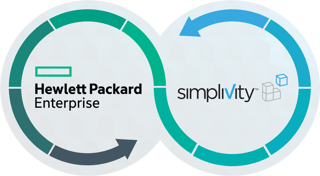 The need to scale infrastructure while reducing capital expenditures is a driving force in the shift from data center sprawl tied to hardware-focused architectures, toward an agile software-defined model. However, remaining competitive, customer-focused, and streamlined within a quickly evolving data center modernization landscape can be tricky.
The promise of convergence is simple
Once deployed, converged infrastructure components (compute, storage, and network) support mission critical initiatives such as cloud, big data and DevOps. But more importantly, software defined data centers are a game changer across all industries and can level the playing field for smaller companies (with smaller budgets) who are competing for market share against larger rivals. [click to tweet]
With reward comes risk
Converged infrastructure is the current go-to strategy because it's more agile, less costly and expedites delivery of IT resources when compared to hardware-centric data centers. However, selecting the right solution for desired results is key. Industry experts still favor converged infrastructure as the best solution, but is it? Sometimes yes due to some hyperconverged infrastructure challenges, but other times hyperconverged is better.
Converged vs. hyperconverged
There are similarities and differences between these infrastructures that you should be aware of. Converged infrastructure relies on appliances that arrive pre-integrated and pre-defined for specific purposes and ready to deploy. It's also a unified solution that simplifies the data center by offering compute, storage, networking and server virtualization resources in a single platform, which guarantees the components will work in unison. In addition to arriving preconfigured, the hardware is capable of scaling to power larger (or smaller) workloads without sacrificing reliability.
Hyperconverged infrastructure is comprised of modular solutions enabled by software-defined components. Unlike converged infrastructures where the compute, storage, and network capabilities are housed in one appliance, hyperconverged adds a layer of software that provides centralized automation, management, and control. This solution removes some of the barriers inherent in converged infrastructure by allowing IT organizations to rapidly configure and deploy resources to any workload that calls for them. The result is saving your IT staff's time and adding much needed scalability.
Who Benefits from Hyperconverged Infrastructure?
Gartner predicts hyperconverged will be mainstreamed in five years, which represents a 79% growth rate. [click to tweet] But if the benefits are clear, why haven't more businesses already made the move? Partly because scalability questions haven't been fully answered and partly because it hasn't hit the tipping point in terms of wide scale adoption. HPE appears to be leading the way in this IT trend with its newest product, HPE SimpliVity 380.
It's a matter of time
Hyperconverged infrastructure benefits are poising related solutions to crossover from new to mainstream such as; how it enables private cloud users to access on-demand applications, the ability to unify office locations across geographies, and significant reductions in costs (compared to converged). It aligns with trends found in an IDG study that show 66% of organizations either already moved to or plan to move to a hyperconverged infrastructure solution.1 This may be new territory for many IT administrators and it has its challenges adopting it, but the learning curve far outweighs the cost-savings, scalability, and efficiency.
Early adopters of hyperconverged infrastructures include:
Business consumers who benefit from on-demand IT service delivery

Developers who appreciate scalable and dependable platforms for development and testing
Enterprises looking for cost savings alongside increased operational output
NEXT STEPS: For more information on modernizing your data center and how hyperconverged infrastructure can help, view our white paper. The paper goes more in-depth about two data center solutions and suggests questions to ask before investing in a solution.
Sources:
1. IDG Research commissioned by WEI. November 28, 2017.