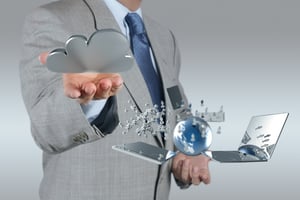 According to a report by Gartner in 2016, 50% of CEO's expect their industries to be substantially or unrecognizably transformed by digital transformation1. The underlying scope of this proclamation is that the companies that successfully compete in this new economy will have substantially or unrecognizably transformed themselves as well. These IT leaders expect change, dramatic change. They are faced with the immense task of augmenting their organizational processes and shifting the cultural mindset towards innovation. The key to success here is leveraging the power of digital technologies to create that change. There are two choices today—adapt to change or create it.
Those companies who lag behind or fail to lace up their track shoes altogether will fall victims to the unforgiving forces of Digital Darwinism. No industry or company is exonerated from its repercussions. This is unfortunate because according to Gartner, only 41% of IT professionals believe that their organizations will be ready for digital business within the next two years. A disturbing 59% are concerned they are already too late when it comes to digital transformation.
In an MIT study conducted in 2012, one business leader said it best. "We've realized that if we don't transform the way we do business, we're going to die. It's not about changing the way we do technology but changing the way we do business."
The Benefits of Digital Transformation
What are the benefits of digital transformation that seems to be so imperative today? Can it be proactive instead of reactive to gain unprecedented efficiencies and value for customers?
A classic example of this modulation to a proactive organization is how businesses support the physical products they sell, such as automobiles and appliances. Fifty years ago, automotive and appliance repair required a sense of instinct and an element of trial and error. It might even take more than one attempt to actually fix the problem. Thanks to the computer revolution, automobiles and appliances soon had built-in computer sensors, which gave the mechanic or technician the all-important error code to help eliminate guesswork. This eliminated the time required to fix the product and decreased the displacement and inconvenience of being without it. In the proactive digital world, the onboard computer within your devices will connect to the Internet and alert the technician of an impending component failure. The technician will then call you and schedule a visit before it even breaks. That is what proactive value is.
The process of digitizing your organization provides major benefits internally for organizations as well, such as:
Increased internal collaboration as employees can now openly communicate across departments and between business functions. Front-end point-of-sale employees can now interconnect with engineers and programmers on the back-end.
Shorter development times for products and services allowing them to get into the hands of customers faster; thus shortening the time to value.
Streamlining operations in order to attain efficiencies and savings in your two most limited commodities, time and money.
Allowing researchers to focus on innovation and creativity rather than repetitive efforts by utilizing the tools of digital automation.
Cultivating a culture of innovation due to increased levels of work empowerment as employees can now witness the results of their substantive efforts.
Taking advantage of unprecedented levels of data mining that can provide key performance indicators through digital dashboards, allowing management to change existing processes, products, services and even business models in record time in order to take advantage of newly recognized opportunities.
Faster levels of geographical expansion can now take place, exposing the organization to new customers and opportunities.
Overcoming the Challenges of Digital Transformation
The truth is that all organizations are at different levels of digital maturity, and companies will never really be finished with the digital transformation process—it's an on-going, evolutionary process. The Idea Economy is proving that be true. But here are some universal truths we are findings among our client-base. We will refer to them as challenges that are impairing the maturity process:
The skills gap required to implement the required processes
The dependence on large legacy infrastructures that are costly to transform
A lack of vision to know just where and how to go about the transformation process
The inability to let go of legacy technology and infrastructure
Lack of budget and resources to fund necessary projects
Although 90% IT and decision makers report to be on course to achieving digital transformation, the truth is that most companies are at a crossroads with one foot in the digital world and one still comfortably resting in the past world of legacy technologies. We most often find that the pathway to true digital transformation starts with the cloud. Not just a private cloud model, and not an all-in public cloud model either, we're talking about hybrid cloud.
Hybrid Cloud can Pave the Way to Digital Transformation Success
The cloud is the change agent that is digitizing the world. Whether we are discussing IoT or mobile devices and applications, the cloud is the common thread that binds them together. The cloud is the universal ecosphere that provides the services that all of these devices and apps rely on to be "smart." It is also the collector and storage mechanism for the petabytes of data that these devices collect as well.
Only the cloud can provide the necessary coverage to:
Service customers regardless of geographic location
Enable storage and processing resources to share and collect data
Support IoT and mobile environments
Provide backup and DR solutions that are flexible, yet inexpensive
The end goal of transitioning to a hybrid cloud is to achieve total flexibility in the hosting and transfer of services and resources. In the beginning, the hybrid cloud provides a way to accelerate the transition to realize the speed and agility the cloud offers while still maintaining control of resources which are dictated by compliancy and security factors.
In fact, in an IBM global study of 500 hybrid cloud decision makers, 70% reported that their organizations would always have a blend of traditional IT and cloud. They also stated that top incentives to move to a hybrid cloud environment were:
Production improvements
Improved security and risk reduction
Cost reduction
Scalability
In a study conducted by IDG Research, IT managers and CIOs professed to the fact that the hybrid cloud makes implementing digital business initiatives a faster, easier and less expensive process.
83% said they either currently use a hybrid cloud or plan to do so in the future
96% said their hybrid cloud initiatives are delivering measurable results
88% called hybrid cloud an important enabler of digital business
73% agreed that hybrid cloud models create a path for digital business for their organization
In the end, the cohesion of the cloud and the digitized business serves as both a disruptor and a liberator, delivering organizations from the stifled restrictions of their former legacy environments. The hybrid cloud is not an endpoint, but a strategy. A strategy based on total flexibility in order to constantly create innovations and take advantage of newly discovered opportunities before your competitors have time to react. For those who partake in the race to digital transformation, it is an exciting time indeed. To feel confident on your road to digital transformation, talk with a trusted technology solutions provider that specializes in custom IT solutions.
Next Steps: Learn mow about hybrid cloud can help facilitate a digital transformation by downloading our white paper, "Augment and Enhance Your Existing Network with Hybrid Cloud."
SOURCE:
1. Gartner, "2016 CEO Survey: The Year of Digital Tenacity," Analyst: Mark Raskino, 20 April, 2016.