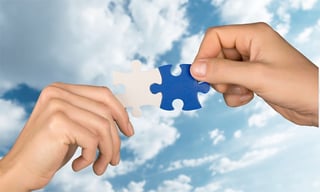 Want to improve your cloud operations and take advantage of robust new technology options? Now you can, as you may have heard the news recently about the new partnership between VMware and Amazon Web Services (AWS), called VMware Cloud on AWS. Enterprise Strategy Group (ESG), an IT analysis, research, validation, and strategy firm that provides market intelligence and actionable insight to the global IT community, recently published a technology brief announcing the new joint offering; read on for an overview of its structure and benefits.
Getting to Know VMware Cloud on AWS
According to Edwin Yuen, Analyst at ESG, "This service is designed to make it easier for VMware customers to run their current virtualized applications in the AWS public cloud, using a set of familiar software and tools in an operationally consistent hybrid cloud environment." Here are some items customers can expect:
Simple Integration with AWS Services: All VMs running VMware Cloud on AWS will enjoy AWS' cloud-based capabilities, which include databases, storage, analytics, and other management options. This allows VMware customers to experience AWS options they previously didn't have access to.
Automatic Upgrades and Patches: Instead of having to manually patch software or run system updates, VMware Cloud on AWS takes the burden out of IT's hands. It is operated by VMware, which ensures your organization's cloud environment is always up to date and running smoothly.
Portable Workload Capacity: Organizations who need flexibility will enjoy VMware and AWS' new partnership because of its simple portability. It allows users to move their workloads with ease, without having to convert, rebuild or alter their VMs.
Existing vSphere Consistency: VMware Cloud on AWS uses the power of VMware software while running on AWS' public cloud infrastructure, which allows customers to use the same tools they are already familiar with from their existing on-premise VMware environments. This eliminates a steep learning curve for your employees and the need to replace machines.
Need-Based Scalability: A hallmark of the public cloud, the VMware Cloud on AWS allows users to adjust capacity based on their needs. As your organization's needs grow over time, you'll be able to scale the system accordingly.
Full Service Support from VMware: The new partnership is sold, packaged, and managed by VMware, so it is fully certified and supported by the vendor.
Affordable Subscriptions: Customers can use VMware Cloud on AWS in dedicated clusters, either on demand or as a subscription service. This allows your organization to only pay for the services you need.
Why the VMware/AWS Deal is a Hybrid Cloud Game Changer
ESG's analysts believe the VMware Cloud on AWS is a major hybrid cloud game changer, and WEI's engineers agree! As Yuen notes, "An excellent example of what ESG defines as common platform hybrid cloud (CPHC), which is a system in which the base infrastructure platform is shared between the disparate clouds, whether public/off-premise or private/on-premise. While these clouds can be in different locations or come from different providers (such as AWS), by having a common platform, IT can leverage a common tool set (most often an existing one), the knowledge base of their staff, and the existing ecosystem to help support it."
Another huge reason VMware Cloud on AWS is a win is because it allows organizations to seamlessly integrate the existing management framework that most companies have built over the last ten years, without having to rebuild and replace infrastructure.
As Yuen writes, "Customers who use this service will essentially get public cloud service, running on and able to leverage unique AWS capabilities, while maintaining compatibility with their existing VMware investment…This means that the existing systems management framework, from personnel to software, instantly becomes hybrid-cloud-enabled."
ESG sees the partnership between VMware and AWS as a disruptive shift in the hybrid cloud market. This is because it brings the two largest industry leaders together utilizing AWS' expertise with public cloud and VMware's success with on-premise virtualization and private cloud.
What do you think of the new partnership between Amazon Web Services and VMware? Do you see it transforming your organization's cloud operations? Is hybrid cloud part of your cloud strategy? Learn more about the benefits of hybrid cloud and how to get started in our white paper.