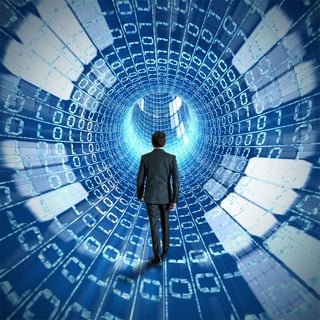 Has your organization clearly defined your hybrid IT strategy? According to Gartner's Managing Vice President, Chris Howard, "Many organizations have now passed the definitional stage of cloud computing and are testing cloud architectures inside and outside the enterprise, and over time, the cloud will simply become one of the ways that we 'do' computing, and workloads will move around in hybrid internal/external IT environments. As a result, the traditional role of the enterprise IT professional is changing and becoming multifaceted. A hybrid IT model requires internal and external IT professionals to support the business capabilities of the enterprise."
Whether you're developing your hybrid IT strategy, or already implementing it, we've outlined how to overcome some of the common challenges of hybrid IT.
Transitioning from CAPEX to OPEX with Hybrid IT
One of the primary allures of the public cloud is the adoption of an OPEX model rather than a CAPEX driven one. To succeed with hybrid IT, management that is accustomed to a fixed cost model consisting of large capital expenditures needs to be ready for the management requirements that a variable cost model requires. IT leaders can quickly lose control of cost flows when juggling multiple cloud instances spread across multiple cloud platforms, serving multiple business lines within the company.
How can you avoid sticker shock? IT must control costs just like any other business unit within the company. A careful evaluation of SLAs before signing any contracts with CSPs is critical in order to avoid unforeseen cost surprises. Monthly bills from cloud vendors need to be carefully scrutinized and analyzed for cost cutting measures such as the decommissioning of resources during off-peak demand periods. The right technology partner can help you interpret those bills and provide recommendations for 'what should be' in the cloud, and what should not.
The pricing model is an even greater challenge for government institutions and non-profit organizations that are saddled with an inflexible budgeting process. IT leaders within these types of organizations need to convince the senior leadership of the advantages of an OPEX cost structure.
Meeting Security and Compliance Requirements
According to a recent report, 95 percent of IT professionals reported migrating some part of their infrastructure to the cloud in the past 12 months. However, 35 percent said they had also ultimately moved workloads out of the cloud and back on-premises. This reversal was due to either security, compliance, or performance concerns. Some of these enterprises may have been over exuberant in their rush to the cloud, neglecting to consider the complexity of compliance and security requirements.
The Challenge of Remaining Compliant
Managing and securing multiple infrastructures that provide greater access and mobility for users is far more challenging than securing isolated IT silos. The rapid pace of cloud innovation also complicates security measures as new tools and innovations equate to an increase in zero day attacks. Organizations that must meet HIPAA, PCI or other types of compliance measures must ensure that their cloud providers can satisfy stringent standards. Encrypting both data in transit and data at rest should be a priority for these types of organizations.
This is where hybrid IT begins to enter the picture. What makes the cloud so alluringly powerful is its ability to service customers so effectively. It would be nice if established organizations could transition everything to the cloud, but that dream is not possible as of yet due to a number of reasons such as legacy implications, industry and government compliances, security, and the lack of required skills.

Although remaining compliant with industry and governmental regulations is an extra challenge, the benefits of hybrid IT are undeniable. The newly found freedom that comes with it delivers a degree of agility, responsiveness, and flexibility that sparked the digital transformation and is amending the way in which we do business today. The transition isn't an easy one, which is why it's important to work with an IT solutions provider that can help streamline the process of implementing the appropriate IT services. For more information on overcoming the challenges of hybrid IT, check out our white paper on hybrid IT below.