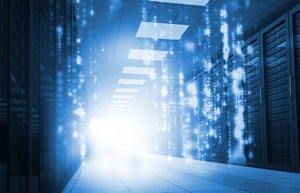 Flash or solid-state drive technology is seen commonly in devices such as smartphones, laptops, and servers, but it has also revolutionized the storage array landscape. Flash storage has increased in adoption due to its operational and economic benefits. Nimble Storage is a market leader in the storage space. Nimble Storage is built around reducing risk, improving reliability, and maximizing the productivity of your infrastructure and IT teams, while also giving your enterprise a competitive edge and making employees' jobs easier.
Enterprise Storage
When was the last time you gave your storage solutions an in-depth and thorough review? Whichever enterprise storage solution you use for your organization, it's important to make sure that the brain of your operations is working smoothly and data is flowing where it's needed, when it's needed. An enterprise storage checkup can determine the performance of an storage system and reveals how strong of a fit the system is for your enterprise.
For organizations looking into modernizing their storage infrastructure, here are 9 things about Nimble storage that are worth noting.
Nimble Storage is simple to manage. (You don't need to be a storage admin.)
Nimble Storage was designed for ease of use. The arrays are automated and simplified. There's no need to know raid levels, drive types, and what to put where. The array is designed to know these requirements already.


Nimble Infosight pays attention.
It details not only your array, but it also monitors the health of your virtual environment. Infosight will warn you if a VM is performing poorly and IT administrators are notified before they would otherwise realize something is wrong. It can suggest when to add more storage, more cache, or more performance proactively. Reports can be generated as needed for presentations or for backing up requests.


Dedupe support.
Nimble's latest OS (5.0.3) now supports dedupe and compression on spinning disks. Get the most out of your investment. This software is even backwards compatible for older models, so you can benefit more from your storage investment. It enables IT teams to pack more data into a smaller space to save power, cooling, and space charges.


Nimble is both a scale up and a scale out array.
It is easy to add shelves and drives or combine up to 4 arrays to increase your storage. This gives you the most flexibility in storage expansion and design.


Less than 1 minute hold time before you reach a level 3 engineer
Nobody likes to waste time on the phone with level 1 support. Get to the issue fast and a resolution faster.


86% of opened cases are auto closed with a solution.
Nimble Storage provides simple and fast support. A lot of issues have already been seen in other user's environments. Nimble support correlates these issues and can resolve them quickly with known/proven solutions. Nimble will also proactively notify you of issues you may encounter so that you can avoid downtime or impacts to your environment.


Tightly integrates with Veeam.
This provides the most functionality with your backups. Veeam integrated snapshots, replication awareness, and proven performance allow your backups to complete quickly and allows you to use your backups for more than just restores. You can spin up bubble environments to test upgrades/updates or new applications without impacting your production environment.


All flash arrays support triple parity+.
You can lose up to 4 drives without a loss of data! One of the most resilient arrays on the market with a 6x9s uptime.


Quick setup and one of the fastest times to provisioning. Our engineers can install and configure your array in no time. This allows you to provision the storage in your environment quicker and expand your environment faster so that your business can be more agile. No more waiting weeks for implementation.
For many organizations, Nimble Storage is an essential tool contributing to digital transformation and a solution to consider in data center modernization initiatives. It brings benefits to a wide range of environments and is flexible enough to play well with many other technologies. Talk to WEI, an IT solutions provider and HPE Platinum Partner, to see if Nimble aligns with your enterprise storage needs and how it fits in your IT environment.
Next Steps: Do you want to get the most value from your storage investment? If so, download our white paper, "Enterprise Storage Checkup," to learn whether your company could benefit from an enterprise storage checkup.