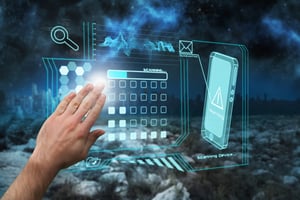 As the trend toward the digital enterprise surges forward companies of all sizes are facing their respective challenges adapting to the pace of change. The expansion of mobile, social and the Internet of Things means a hike in the demand of IT as a trusted partner more than ever before.
For many organizations, accommodating the demands of a mobile workforce has become a key factor for growth, not forgetting that the IT team is still being tasked with managing dense workloads, ramping up data storage and security and upgrading legacy systems, among other activities. Add to this a limited budget and IT's ability to supply the continuously growing demand for IT services is severely stretched.
Usually, the answer relies in modernizing IT infrastructure to make it easy to manage and completely secure whether on-premises or in the cloud. A key feature to look up when deciding what platform to choose is the capability to handle future workloads while lowering costs. It might seem to be an oxymoron, but new innovations in server technology allow for performance and efficiency that up until now, only the largest of enterprises could afford.
For companies looking to innovate in the era of digital transformation, HPE Gen10 servers deliver greater agility, security, and economic control with the world's most secure industry-standard servers. Jay Cardin, Solutions Architect at WEI, discusses features and benefits of Gen10 servers in this episode of Real Tech with WEI below.
From an infrastructure perspective there are 3 key challenges to digital transformation.
1) Data Explosion: Are legacy systems ready?
The problem
According to a white paper sponsored by Seagate, by 2025 the global datasphere will grow to 163 ZB (a trillion gigabytes). Driven by the Internet of Things, the total amount of data created by any device will reach 600 ZB per year by 2020. This reality brings up the need to modernize IT infrastructure at a time when many companies find it difficult to embrace digital transformation because of their rigid and inflexible legacy IT systems.
Productivity suffers significantly when servers are approaching end of life: reporting become slow and troublesome, scalability becomes limited, and more maintenance is required by the staff that manages them. Modern organizations need simple, automated, high-performing IT—starting with modern servers—to run critical workloads more efficiently, minimize system administration, and free up resources for more strategic activities.
The solution
HPE Gen10 servers make it easy for IT to adapt to changing requirements with Intelligent System Tuning and advances in server networking and storage. Complementing existing storage technologies, HPE NVDIMMs improve application performance by reducing traditional storage hardware bottlenecks like write latency, and are ideal for accelerating databases and analytics workloads.
2) The Rise of Attacks: Spotlight on cyber security
The problem
Cyber attackers are making it more difficult to address security issues as their skills are evolving to uncover new vulnerabilities daily. According to a 2017 Accenture study on the cost of cyber crime, the US saw a surge of 22.2% in the growth of costs related to cyber crime, leading the countries evaluated both in growth and gross total cost.
Organizations of all sizes are potential targets of security breaches. Studies reveal that larger organizations experience a higher proportion of cyber security costs relating to denial of services, malicious insiders and malicious code—which also make up the most expensive cyber security attacks when analyzed by the frequency of incidents (as seen in Figure 12 in the above mentioned Accenture study). The bottomline is that companies need to deploy secure servers—capable of protecting sensitive data and ensuring the highest levels of security.
The solution
Unique security features protect your digital assets, down to the silicon. HPE's Secure Compute Lifecycle offers best-in-class innovations in firmware protection, malware detection, and firmware recovery. HPE's new Silicon Root of Trust technology designs security directly into the iLO 5 chip, creating an immutable fingerprint in the silicon and preventing servers from booting up unless the firmware matches the fingerprint.
3) The Budget Constraint
The problem
Companies have to navigate shifting compliance regulations, increase network security, and ensure 24x7 availability—all with a limited budget and lean IT staff. As a result, the prospect of modernizing their current IT environment is attractive because it can also lower operating costs. Companies of all sizes are seeking an affordable on-premises or Hybrid IT consumption model with innovative financing options because no two enterprise IT environments are the same.
The solution
HPE Gen10 servers provide a unique blend of enterprise-class capabilities at a great value—offering outstanding configuration flexibility to meet complex business requirements at an affordable price point. HPE also offers ClearOS—a simple, secure, and affordable operating system that can be tailored to the ever-changing needs of any company—with no upfront cost. With over 100 applications to choose from, organizations can build the right IT infrastructure for their needs.
Summary
The right IT infrastructure is a must-have for any business that is looking to outperform the competition today. Companies need to embrace digital transformation and sync IT priorities with key business objectives—while keeping an eye on productivity, cost, and security. To close the gap between business expectations and IT capabilities, they need servers that address current needs and handle future workloads, while lowering costs.
HPE ProLiant Gen10 servers offer a secure, high-performing, and highly affordable platform to run Big Data workloads and the most demanding applications. They provide a complete infrastructure that supports both your business objectives and your business growth. With HPE ProLiant Gen10 servers, IT can operate at the speed of today's business, handle the most demanding applications, and constantly accelerate innovation.
Next steps: Would you like to learn more about HPE Gen 10 servers?
Sign up for a demo below.