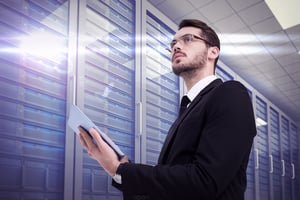 Aging server infrastructures are fraught with challenges. Poor performance, lack of automation, security vulnerabilities, and skyrocketing operational costs are only a few of the critical problems aging server infrastructures represent. Clinging to legacy servers can put your business at risk.
IT Transformation can transform a company from disrupted to disruptor. As competition increases exponentially, implementing a modern server environment is a critical part of a successful IT strategy. A modern server environment enables businesses to stay relevant in a dynamic market. Only an advanced IT infrastructure can deliver a superior user experience. Both internal and external customers demand a robust and consistent service performance, which requires a modern server infrastructure.
A modern server infrastructure allows companies to continue evolving with the rapidly changing needs of their customers and competitive environment. By optimizing their IT architecture, companies can generate higher revenues and improve ROI. The enhanced automation, agility, and security these solutions offer allow for acceleration of IT through a modern server infrastructure. Legacy server infrastructures not only prevent modern companies from providing their users with the protection they need, but they are also more expensive and time-consuming to manage and maintain.
With outdated server environments, any of the above problems can strike you at any moment. The resulting loss of data, declined productivity, and out-of-control expenses can be devastating for your business. Let's examine some of the top reasons IT organizations should upgrade to modern server infrastructure.
High Degree of Automation
Automation delivers many benefits to the organization. Upgrading and modernizing a legacy server environment allows for the implementation and utilization of greater automation. Through task-automation, organizations can improve productivity and save time and money. Automation enables a company to achieve this by reducing the number of technicians needed for tasks, such as routine maintenance.
Further, staff members can be reassigned to focus on more strategic initiatives, as the organization can reallocate personnel who are no longer needed for regular maintenance tasks to other projects. For example, withdrawing employees from server maintenance and retraining them in app development paves the way for shorter production times while boosting revenues. Automation also helps to reduce a company's vulnerability to exploits and lowers their risks of lost productivity by minimizing the possibility of human errors.
Greater Agility
Agility is one of the significant benefits of upgrading an outdated legacy server infrastructure with modern server infrastructure. A modern server environment allows organizations to modify their applications frequently, and then rapidly deploy updated versions to users. Leveraging modern server infrastructures, IT is no longer an impediment; instead, it accelerates digital transformation and application development.
The modern server infrastructure is crucial for businesses to be able to outperform their competitors consistently. With a legacy server infrastructure, they risk losing opportunities, customers, and revenue. The agility provided by a modern server infrastructure can accelerate the speed at which IT operates.
Enterprise Strategy Group (ESG) recently surveyed 4,000 IT executives to compare legacy server infrastructures to modern server infrastructures. Organizations utilizing modern server infrastructures were 2.5 times more likely to deploy applications ahead of schedule due to automation. The same survey found that only 14% of the organizations using legacy servers implemented applications ahead of schedule. Improved efficiency is a competitive advantage.

Integrated Security
Security is paramount in any server infrastructure. Security risks are among the most severe dangers of outdated server infrastructures. ESG found organizations that replaced their legacy server infrastructure with a modern server infrastructure to be 2.5 times more likely to be more secure than public cloud services. The task-automation features of a modern server infrastructure decrease the probability of security vulnerabilities.
Modern server infrastructures enable organizations to excel in the current digital economy. Companies that deploy an advanced server environment can benefit from improved agility, higher efficiency, advanced security, and reduced total cost of ownership. The modern server infrastructure enables IT organizations to shift from a tactical to a strategic role that reinforces transformation and serves as a catalyst for outstanding business performance.
Conclusion
Most importantly, companies that fail to modernize their server infrastructure risk a critical opportunity to leapfrog the competition. Don't let a legacy server infrastructure prevent you from reaching your competitive best. Accelerate your digital transformation with a modern server environment like Dell VxRail.
Next Steps: Download our tech brief, "Top Reasons Customers Choose VxRail," to learn the seven biggest reasons customers can't go wrong with this IT modernization decision.