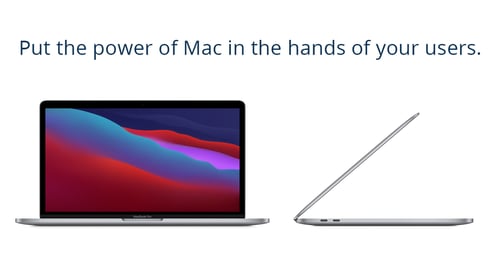 When we talk about Mac® in the workplace, many typecast the typical corporate Mac user as someone working in marketing or creative departments. Let's start out with a couple of statistics from the 2019 Global Survey of Mac Users. The purpose of the study was to determine the key drivers of Mac adoption within enterprises today. The one thing in common amongst all survey participants was that they used a Mac at work. Participants held multiple job roles working for companies of all sizes and industry sectors. Here are a few of the findings:
50% of respondents from the Engineering department along with 56% of those who held HR roles said they prefer Apple® products
Now, there is certainly nothing surprising here. Apple users are passionate about their beloved devices. But here is where the findings take an unexpected turn:
54% of HR employees stated that Apple devices work best with the apps and resources they need to do their job. 44% of Mac users in the Engineering department said the same.

54% of HR employees found Apple products more reliable. 58% of IT workers expressed similar sentiment.
In fact, 83% of respondents in the job roles of IT and HR felt that using a Mac was critical to their job function. This sentiment was expressed by 79% of respondents across the board.
Increased job performance
Regardless of their job role, these Mac users recognized the value that their Mac brought to their job roles. Some of their stated benefits of using a Mac included the following:
97% claimed increased productivity
95% claimed increased creativity
94% claimed self-sufficiency with technology
91% acknowledged increased collaboration
When asked to compare the usability of their Mac versus a PC, 89% stated that Mac applications are easier to use than Windows applications. Ease of use translates into greater productivity, which feeds greater innovation.
More application choice
While some may still cling to the idea that PCs offer a greater enterprise application selection, this outdated notion is not experienced by Mac users. 94% of respondents said it was very or moderately easy to find Mac applications and other resources that pertained to their job functions. Nearly 2 in 3 leverage the App Store to find the applications they need. It wasn't just choice that Mac users appreciated, however. 89% agreed that Mac applications are easier to use than applications on PCs.
Greater reliability
Of course, performance and app selection mean very little if your computer isn't functioning correctly. Here is what reliability looks like:
40% of respondents experienced no issues with their Mac for a 12-month period

70% cited having no more than 2 issues within the same 12-month period
Anyone familiar with helpdesk operations knows how disruptive and costly computer problems are for a business. But don't loop Mac in the same pool as PCs when it comes to performance irregularity. 74% of those survey participants stated that they experienced less problems with their Mac than a previous PC. Reliability was the second most touted reason amongst participants for using a Mac.
Employee choice programs
Most would agree that having a choice of options is a good thing. There are endless examples of businesses that discovered new opportunities by opening themselves up to new ways of doing things. Yet, so many enterprises today continue to only offer PCs to their employees.
Employees are like everyone else—they value choice. In fact, 94% of workers say they are more likely to choose an employer who offers an employee device choice program.
Some may scoff that these preferences attribute to the greater familiarity of Mac users who exclusively use Apple products at home. In actuality, this is good thing. Wouldn't you want your employees to use the same technology platform that they openly embrace and prefer in their personal lives? The familiarity and personal devotion that Mac users have to the Apple line of products will most likely encourage them to utilize these devices even more. Having a consistent computer platform at home and work eliminates the frustration of learning curves whenever new product features and updates are released.
Automated Zero-touch Deployment
Mac isn't just about individual choice and user preferences. IT admins will appreciate the greater manageability offered today with Apple products. IT can now automate zero-touch deployments for Mac by configuring their MDM system for Auto Advance. Upon arrival, simply power up your newly ordered Mac with an Ethernet connection and it will automatically locate the MDM solution assigned to it. Settings are then configured in the background, eliminating the need for setup assistant screens. Users only need to enter a username and password to begin working.
MDM management doesn't end with deployments, however. Some of the other capabilities include the following.
Mac can be started, shutdown and rebooted remotely, even if unresponsive.

Software updates now begin in the background and admins can defer them when necessary.

User-approved MDM enrollments are now considered supervised, giving internal IT more control and greater management flexibility.

Admins can now prevent users from removing mission critical managed apps.
Security is a priority
Mac offers best-in-class security thanks to the combination of its new Apple M1 chip and new Big Sur macOs®, which MacWorld touts as the biggest design upgrade since the introduction of Mac OS X. Enhanced security includes secure boot, automatic high-performance encryption for all files and new cryptographically signed system volumes that protect against malicious tampering. The software update processes now take place in the background, ensuring that the OS remains secure and up to date.
Greater choice of platforms
Freedom of choice isn't just about Windows or Mac. Apple offers different platform options for Mac users as well so that companies can match each job role with the device that also works for departmental budgets as well.
The MacBook Air® – Apple's thinnest and lightest notebook still offers the speed and performance that is expected of Mac products thanks to the new Apple M1 chip. It offers accelerated performance of both an 8-core CPU and 8-core GPU, all within a silent, fanless design that gives users up to 18 hours of battery life.
MacBook Pro® (13 inch) – Apples' most popular professional notebook that still boasts a 3-pound design that features an advanced 16-core Neural Engine provides more machine learning power for business apps. The perfect choice for even the most complex and robust workflows including video and photography editing. With superfast unified memory and a battery life of up to 20 hours, it is still the reigning champion.
Mac mini® – Still the desktop standard, this do-it-all productivity machine offers 3x faster CPU performance, 6x faster graphics and a powerful Neural Engine that offers 15x faster machine learning, all in an ultracompact design that can't be beat.
The question of choice
With all of these benefits and user accolades, the question is no longer "should we offer Mac to our employees?" The clear question is now, "why would we not offer Mac to our employees?"
NEXT STEPS: We've compiled all the Apple best practices, important questions to ask and the critical details for offering Mac as a Choice in your organization in our eBook below, "An IT Leader's Guide to Preparing for Apple in the Enterprise." Click below to start reading, and then contact us with all your Apple questions. WEI is an Apple Authorized Reseller and we're here to help!
Apple, the Apple logo, Mac, macOS, MacBook Air, MacBook Pro and Mac mini are trademarks of Apple Inc., registered in the U.S. and other countries.