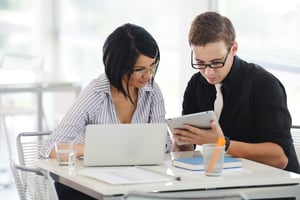 In 1981, the classic British rock group, The Kings, sang, "Give the people what they want." Companies are now giving their employees what they want as well when it comes to their company computing devices. What they want is choice. This should be of no surprise to anyone familiar with today's technology climate as it is simply a natural extension of the Consumerization of IT. IDG Enterprise defines the CoIT as "the propensity for users' experiences with technology as consumers to impact their expectations regarding their technology experiences at work." Employees today want to have a say in the technology and tools they use at work, which makes sense, because we all prefer working with what we are comfortable with.
Think about how much time people spend on their computing devices today outside of work. They use their preferred platforms to manage so many facets of their personal lives. For many employees, their work extends into their personal time as many work from home. Having to bounce back and forth between platforms can be aggravating, annoying and negatively impact productivity.
Companies and Users Both Want Control
For quite a while now it has been standard procedure that workplace technology purchases were made entirely by the company's IT department. All computer devices were preselected, centrally ordered, dictated, assigned and then distributed to users by a select few. For employees who are avid devotees to their own particular devices, they may look at these dictated devices foisted upon them as inferior instruments.
As organizations began recognizing the need to give users more influence concerning their devices, many turned to the new approach of BYOD or Bring Your Own Device. This allowed users to bring their own personal devices into the office and utilize them for work. While BYOD is embraced by many users, it has a number of shortcomings for the enterprise:
Internal IT must support a wide diversity of platforms, some which they may be unfamiliar with

BYOD computers are often times under equipped for the business environment

Enterprise business applications may not be compatible with all BYOD devices

It is extremely difficult to inventory spare devices when BYOD computers are out for repair

Complications arrive when a user with a BYOD machine leaves the company or is let go
And then, there is the problem of securing BYOD, which can be an utter nightmare, because it only takes a single BYOD machine for a hacker to infiltrate the enterprise at large. And so, many organizations are faced with the following conundrum:
"How do we offer the choice that users keenly seek today without sacrificing the ability to assure the proficiency and security of these devices?"
Here's the good news, there is a middle ground!
CYOD is NOT BYOD
The answer is a corporate-provisioned employee choice program, also referred to as Choose Your Own Device or CYOD. The only difference between the BYOD and CYOD acronyms is a single letter. Similarly, the difference between a BYOD initiative and an employee choice program is minimal as well. Rather than simply letting users bring whichever device they want to into the business environment, an employee choice program lets them choose from a predetermined list of approved devices. This subtle difference between the two results in major benefits and gives both sides, internal IT and the users they serve, what they want for the most part.
An employee choice program gives internal IT the opportunity to conduct a rigorous device selection process. Often times, it isn't necessarily a user's platform selection that is the problem but the fact BYOD machines often fall short of enterprise-grade. All proposed devices can be tested to be assure that each one is compatible with the company's applications, protocols, workloads, security and encryption standards. Internal IT can also meet the vendors themselves during the selection process and learn more about their warranty and repair processes.
These preselection processes can prove to be needless exercises however without the participation of the users themselves. Users should be able to submit their own device preferences and a concentrated effort should be allotted to explore popular choices. This includes the consideration of Apple products. While numerous industries have been Apple centric for years, many companies still hold on to their traditional tried and true platforms because it is what they know.
Leverage the Power of Employee Choice Programs
Every manager or business owner today knows the importance of attracting talent to their organizations and retaining it. Finding high-quality talent is a top challenge for business leaders in 2019. In a recent poll, 64 percent of HR professional said that sourcing quality applicants was "very or extremely challenging." As is the case in many instances, simply throwing more money at candidates isn't the "be all end all" solution either.
Talented professionals are attracted to employees for a number of reasons. A 2018 Harvard Business Review study showed that companies that offered more choices saw improved employee satisfaction, performance and retention. Many professionals today prefer Apple products over everything else on the market, the inclusion of Mas OS and iOS devices can be a way to distinguish yourself from other companies competing for these same workers. By offering high quality Apple devices, you give users the ability to utilize products they have come to know and love, while maintaining the strict corporate standards you can't afford to surrender. CYOD programs are a win-win approach to workplace device distribution as they empower the users that prefer them, as well as the work and value that the company produces.
Next Steps: Learn how to get started with offering Apple in the Enterprise by watching this episode of Real Tech with WEI.