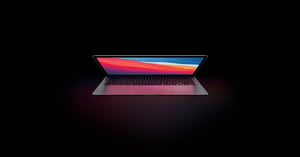 "One more thing." It became the immortal catchphrase made famous by Steve Jobs. It became a regular mantra that framed his announcements to the world when he was unveiling a new Apple product or idea that he felt would add value. He first used it in 2001 and Apple has used it intermediately ever since. Last week, Tim Cook used the company's historical catchphrase to spotlight a series of announcements concerning new products and innovations for the company. The event may have been called "one more thing," but was actually a number of "one more things" that we think enterprises should be excited about. Here is a short summary of what was announced during the event.
A New Dedicated Apple Processor
Introducing the next generation of Mac. The M1 silicon processor isn't a new product. It is the new underlying technology that will drive their product launches for the foreseeable future. The Mac as we know it will now feature Apple's in-house processor called M1. Cook's announcement concerning the dramatic change confirms the news made public over the summer that Apple would be abandoning its partnership with Intel. Mac products have been driven by Intel chips since 2006. That period is now over.
Cook describes the M1 as "the most powerful chip we've ever created." The 5nm chip is comprised of an octa-core processor, which according to Apple, contains the fastest CPU cores of any processor currently available; 3.5 times actually. This makes the M1 the fastest performing processor per watt of anything in its class. The new processor also boasts 15 times faster learning capabilities than anything comparable in the market. The message for enterprises is simple. The M1 is faster and demands less power than any PC laptop chips currently in the world. The M1 will give employees that next level of performance necessary to drive innovation in the coming years.
A New Line of Macs
Tim Cook used phrases such as "bold change" and "truly historic" when describing the three new Macs that will feature the M1 processor. At the forefront is the MacBook Pro 13-inch that now features the longest battery life of any Mac to date. According to Apple, the new MacBook Pro provides 20 hours of video playback. Thanks to the new M1 image signal processor, its camera capabilities are greatly enhanced. Couple that with 6K resolution thanks to Thunderbolt USB ports and Pro Display XDR technology, and the Mac Pro is the perfect tool to put in the hands of remote workers whose days are dominated by video calls and virtual meetings.
For those employees who don't need quite that much muscle, the MacBook Air provides M1 level of performance without breaking the $1,000 barrier. Still thin, still light, but completely transformed with faster CPU and GPU speeds thanks to an 8-core CPU. The MacBook Air features an advanced Neural Engine that supplies 9x faster machine learning. It too provides superior battery performance with up to 18 hours of video playback. Its M1 flash control provides faster read and write storage access. All of this proves that you don't have to forego performance with a lighter weight and price tag.
Finally, the new Mac mini desktop once again proves that big things come in small packages. While boasting a 7.7 inch square design, it can easily blow away computers many times its size. A small platform doesn't equate to small storage however, as it includes 2TB of SSD storage along with 3.4 GB/s access speed. By integrating the same revolutionary M1 technologies into its platform, its compact size allows you to take on intensive tasks. All of this, while consuming up to 60 percent less energy than the previous generation. Apple refers to the Mac mini desktop as towering performance without the tower. For home-based workers that must operate in cramped environments, the Mac mini desktop might just be the perfect solution.
Even the OS is New
It's not enough that Apple unveiled an entirely new processor technology. They also unveiled a new OS. The Big Sur operating system was designed with one purpose in mind – to unlock and maximize the full potential of the M1 chip. It features a beautiful new design along with powerful application updates. While your users will appreciate an enhanced user experience, your IT department will welcome its best-in-class security integrated design. Apple is committed to being a leader in personal privacy and cybersecurity and MacOS Big Sur fully demonstrates that. All three of Apple's new Mac products feature this new OS, giving your users a secure, yet simplistic interface that is designed to bring out greater creativity from your users.
Perfect Timing
Apple didn't know that the world of work would be changing to the dramatic level it has this year, yet it is obvious that the new line of Mac devices were designed for the world we live in today. For those companies that implement MacOS and iOS technologies within their enterprise, it is probably no surprise. Apple has and continues to understand the pulse of the modern business world. If your company has yet to discover the power of Mac in the workplace, we invite you to reach out to our team of Apple experts at WEI and educate you on how the new line of M1 machines of Apple can upgrade not only your hardware, but your company's performance as well. As an Apple Authorized Reseller, you can be confident in our ability to execute at the highest level and with all Apple best practices at the forefront of your strategy. Learn more about how we can help by visiting our Apple partner page.
NEXT STEPS: Prepare for Apple in your enterprise with our official eBook for IT Leaders. This comprehensive eBook includes tips for building/refining your Apple enterprise strategy, how to start offering a Mac as a Choice program, and best practices for device rollout, provisioning and lifecycle management. Click below to read it today.