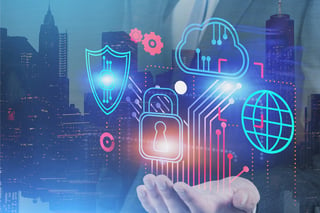 Batman and Superman. Iron Man and Captain America. Everyone loves when two giants in their own right come together for the common good. Simply put, everyone loves a superhero team up. Enter HPE and Nutanix.
Each offers a variety of solutions that propel enterprises through digital transformation and modernization efforts, including key cloud computing solutions. Through their partnership, HPE and Nutanix have gone one step further by offering enterprises a complete private cloud infrastructure integrated with Nutanix Enterprise Cloud software.
HPE And Nutanix Are Helping Enterprises Take Control Of The Cloud
As previously mentioned, HPE and Nutanix each stand in their own right when it comes to cloud computing.
In one corner you have HPE GreenLake, a fully managed, scalable IT infrastructure service, which offers enterprises a cloud-like consumption model for on-premises infrastructure. With GreenLake, HPE has cast aside the one-size-fits-all approach to supported technology by allowing enterprises to choose the most appropriate supported HPE or third-party technology. HPE also offers flexible pay-as-go models and makes it easy for enterprises to scale to their exact needs.
In the other corner is the Nutanix Enterprise Cloud Platform, a complete IT infrastructure which has the agility, scalability, and simplicity of the cloud, and the security, performance, and cost predictability of traditional on-premises infrastructure. Nutanix Enterprise Cloud offers additional benefit by spreading all data and processes across the entire cluster, which improves resource utilization, scalability, and performance predictability.
HPE And Nutanix Combined
Together, Nutanix and HPE are reinventing the way IT organizations build cloud infrastructure by combining the best of public cloud with the security and control of private cloud.
First up is HPE's ProLiant DX family of systems, which feature built in integration with Nutanix software. Engineered to provide an infrastructure stack which is delivered either as an up-front purchase or as-a-service, this joint venture offers support for virtual desktop infrastructure (VDI), built-in data protection, and additional third-party integrations right out of the box.
In terms of VDI, HPE ProLiant DX systems offer improved user performance and scalability, without the burden of high capital costs. IT organizations also have full remote replication capabilities, as well as backup to local systems, a remote site, or to the cloud.
In addition to the ProLiant DX systems, HPE and Nutanix have also collaborated to offer HPE GreenLake with Nutanix, which expands HPE GreenLake to run the Nutanix Enterprise Cloud as-a-service to support key areas.
For databases, HPE GreenLake with Nutanix mitigates common management challenges that come about due to the use of traditional infrastructure to support high-performance database operations. By streamlining database deployment, management, and operations, HPE GreenLake frees IT up for more complex and strategic projects.
Amongst its numerous other benefits, HPE GreenLake with Nutanix offers enterprises faster and easier deployment and management of VDI, as well as desktop-as-a-service (DaaS) infrastructure. HPE GreenLake with Nutanix also simplifies bring-your-own-device and choose-your-own-device programs through the distribution of applications through SaaS models.
Additionally, the focus on private cloud infrastructure, supported by hyperconverged infrastructure (HCI), allows enterprises to consolidate siloed workloads into just one management platform. HPE GreenLake with Nutanix also offers one-click database deployment, management, and operations, simplifying the management process even further.
[Featured Video]
The Hype is Real with Hyperconverged Infrastructure
Overall, HPE GreenLake with Nutanix and the ProLiant DX family of systems are offering enterprises additional flexibility, security, and efficiency when it comes to cloud computing, as well as flexible billing options and support for remote workforces.
Ready to Master The Cloud With HPE And Nutanix?
While many enterprises have made moves to adopt cloud computing, truly mastering the cloud is another thing entirely. HPE and Nutanix are both leading the charge in the development of cloud software and through their partnership, they are offering the cloud solutions enterprises need to succeed in today's digital world. If you're ready to make the change now, contact WEI to begin building a custom solution for your business.
[Featured Video]
Real Tech with WEI - Episode 1: HPE ProLiant Gen 10 Servers
Take a closer look at the HPE ProLiant family of servers and find out why the HPE Gen10 rack servers have earned the title of "World's Most Secure Industry Standard Servers" in this episode of Real Tech with WEI featuring WEI Solutions Architect, Jay Cardin.