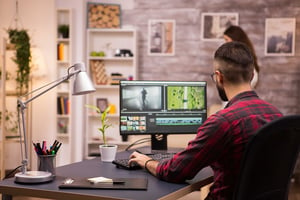 Although it may not seem like it, the pandemic crisis that is currently engulfing the world will one day pass. Its aftershocks however will be experienced for the coming decade. Governments, businesses, consumers and travelers are undergoing reassessments in order to determine a better way of doing things. Many things are going to change as a result. The process of determining the maximum capacity of a building has potential to change. The travel industry will undoubtedly perform density studies in how they transport people. Corporate executives are also examining the densification of their offices.
In fact, the great experiment is occurring before our eyes as many companies have sent millions of employees home in order to keep them safe. The fact is, work is getting done and companies are realizing that the traditional office might in fact be a ball and chain that unnecessarily ties down employees. The current times are merely confirming what we already knew; that employees can indeed work from anywhere.
How Nutanix DaaS creates resiliency
There is no doubt about it. The past six weeks have been a huge disruptor to economic activity and business operations. Business cannot afford another disruption of this magnitude and scale. Companies must not only consider their network architectures, but their personnel architecture as well. In the same way that companies have designed their computer networks with resilient and redundant designs, it is time to think of resiliency when planning company personnel structures. Having a dispersed workforce ensures that your critical business operations remain constant. Think of it as a human mesh.
The challenge is to ensure that your remote workers have the same workspace as their on-premises environment. That is where Desktop-as-a-Service (Daas) comes in. Nutanix Xi Frame is a DaaS solution that gives internal IT the ability to provision digital workspaces immediately no matter where your remote workers are located. Whether you need to issue desktops to workers at a temporary digital workspace or to temporary workers under short-term or temporary contracts, Nutanix Frame is an ideal solution. And it works perfectly as a permanent deployment solution too, ensuring that a user's desktop follows him/her from location to location, device to device.
DaaS and VDI are not the same
VDI is a very viable solution that many companies currently utilize to deliver digital desktops. However, DaaS is different. While traditional VDI relies on an on-premises infrastructure to host and deliver virtual desktops, DaaS solutions such as Nutanix Frame is a cloud hosted service that was built from scratch for the cloud. This makes Nutanix Frame highly scalable, elastic and easy to use. The elastic nature of DaaS allows it to be hosted in a multi-tenant public cloud or in your own private one.
The irony of hosting a VDI solution in your data center is that the more virtual machines you need to deliver, the more hardware you need in order to host it. It is indeed a paradox that you need to add greater density to your data center in order to reduce the desktop footprint of your employees. With VDI, there is a direct correlation between the number of virtual desktops users need, and the amount of hardware infrastructure required within the data center to deliver them. Nutanix thinks you should be able to reduce your footprint all throughout your enterprise, including the data center, and that is what Nutanix Xi Frame does. You also escape the significant upfront capital expenses that are associated with hardware-based solutions, as well as the reoccurring refresh cycles.
[Featured Video]
End user computing: VDI or Desktop as a Service?
It does not have to be either VDI or DaaS…
When considering remote work desktop solutions, don't think of it as a VDI vs. DaaS. VDI has its place and makes perfect sense for many companies. In fact, DaaS can compliment VDI environments by serving as a supplemental solution to meet fluctuating demand peaks without having to resize your VDI deployment. The same is true for seasonal and contract workers. DaaS solutions can be used as a disaster recovery solution in the event your data center is brought down. DaaS is a perfect solution for project-driven work in which project needs are ramped up and down in quick succession amongst a variety of employees, consultants and partners. For companies that have not yet begun cloud migrations, DaaS can serve as a great way to test the waters of cloud computing. Those organizations already using VDI can slowly transition their virtual desktops from traditional VDI to a cloud based solution such as Nutanix Xi Frame, thus fully transitioning from a CapEx environment to an OpEx one.
The digital workplace requires virtual desktops
The growing focus on densification is not the only reason to think about DaaS. The fact is that physical desktops and laptops are quickly becoming a poor fit for today's dynamic, digital workplace. In an era when a workspace can be anywhere, your users need a workspace that can indeed be anywhere without putting extra burden on your already stretched IT department. Talk to our DaaS experts at WEI to find out how DaaS can deliver virtual desktops along with greater scalability, elasticity and cost efficiency to your enterprise.