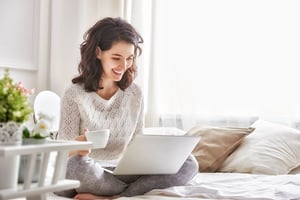 New realizations continue to be unveiled as a result of the global pandemic being played out. People are reevaluating how they shop, travel and work within their daily lives. Businesses are realizing that enterprise users don't have to be in the office at an assigned desk to do their jobs well. In fact, in the new normalized era of wireless mobility, going to the office everyday from 9 to 5 is starting to sound a bit antiquated.
Remote workers need a desktop, not a PC
When a new idea begins to be accepted, it usually brings other changes as well. As the old adage says, one thing leads to another. So if businesses are questioning the necessity to consolidate everyone into an office, then the next logical question becomes why assign them all computers?
The idea of issuing a traditional workstation to enterprise users dates back to the 90s. In a digitally connected mobile world where users now work from remote workspaces, it doesn't take long to realize the shortcomings of issuing a designated device to your employees.
Here are some challenges to consider:
Managing, troubleshooting and repairing a large number of physical desktops is time consuming
Computers and locally installed software require continual updates and security patches
The accelerating evolution of hardware is shrinking product life cycles
Physical computing devices dramatically amplify security risks when taken off premise
Users are making their own demands concerning device preferences presenting a variety of devices to secure and manage
The fact is, just as some employees don't need to be tied to an office desk, they don't need to be tied to a physical machine either. All they really need is a desktop, the same desktop that allows them to access their required applications in a predictable experience.
Desktop as a service
Because of the cloud, we have all become familiar with the concept of (Fill in the Blank)-as-a-Service or Anything-as-a-Service (XaaS). The concept of SaaS brings greater scalability and agility to businesses while decreasing support costs and capital expenses at the same time. Now it is time for another "as-a-service" concept: DaaS. In order to obtain greater agility to address the current uncertainty and disruption, companies are finding that DaaS is a winning alternative to costly desktops and laptops that are increasingly difficult to manage and pose far too many security challenges.
Unprecedented agility
Even the concept of "working from home" is limiting in itself. Workers don't have to work from any "one place." They can work from anywhere. Perhaps a user works from the corporate office in the morning, collaborates with a partnering vendor at their location in the afternoon and then picks up where he or she left off at home that evening. Now envision this same user utilizing a variety of machines depending on where they are at the time. Sometimes a desktop, other times a tablet or phone. The ability to bring up the same consistent desktop every time brings unbridled agility to your workforce. An employee's day should revolve around their work, not a physical computing device.
Nutanix Xi Frame provides total flexibility
Nutanix Xi Frame is a DaaS solution that ensures your workers have an optimal end-user experience regardless of device in order to accelerate their productivity. It does this by infusing the power of virtualization and the cloud into a single desktop deployment system. No longer are your users bound to any one device. All they need is an HTML5 compatible browser from which they can access their applications. With a DaaS solution from Nutanix, users can work from practically anywhere that has an internet connection and operation performance is less dependent on robust device resources or available local bandwidth. Flexibility also translates into redundancy. If a given device fails, a user can simply switch to a new device and carry on. DaaS eliminates the frenzy and burden of rushing users to a new location to preempt a pending storm, pandemic or other disrupting occurrence. DaaS can also accelerate the onboarding of new employees that join the company due to a merger or acquisition. In addition, users can rotate in and out of roles that require new desktop environments.
How Xi Frame simplifies the job of IT
It isn't just end-users that benefit from DaaS. Xi Frame provides a long list of benefits that eliminate the tedious burden of device support and the encumbering task of security for IT.
Here are some reasons to consider DaaS:
Company data remains within the data center or secured cloud environment
User applications are no longer installed locally on each and every device
Users gain access to applications and data only after proper authentication
Desktop admins retain full control of the user workspace environment at a granular level
Internal IT can quickly scale desktop availability up or down to meet fluctuating demands
The accountants love DaaS too
And let us not forget senior management and the bean counters. By hosting Nutanix Xi Frame in the cloud, there is no continual need for capital expenditure. There are no hardware support and troubleshooting costs. There is no need to plan out product lifecycles and device replenishments. You can now deliver high performance digital workspaces on demand, while only paying for what you use, trading CapEx for OpEx. Boom!
Summary
DaaS offers substantial benefits because it offloads much of the deployment, management and support burden from internal IT, while accommodating undeniable flexibility to your users. The times at hand certainly are not normal, but as a result, we are creating a new normal, and Nutanix Xi Frame plays a major role.